Ed Z'berg Sugar Pine Point State Park
Phone Number
(530) 525-9528
Max. Trailer Lengths
Trailer: Up to 26 Feet
Camper/Motorhome: Up to 32 Feet
Park Hours
Call for park hours
Dogs Allowed?
Yes
Dogs allowed in developed areas only, which include campsites, paved roads and paths, dirt fire roads, and paved parking areas. Dogs allowed in developed picnic areas and day-use areas. Dogs not allowed on beaches or dirt trails.
Driving Directions to Ed Z'berg Sugar Pine Point SP
The park is located on the west shore of Lake Tahoe, 10 miles south of Tahoe City on Highway 89.


Visitors will be able to reserve campsites and lodging six months in advance from the current date. Bookings may extend from the arrival date to the desired departure date – based on availability and the park's maximum stay rules.
Upcoming Park Events
No events scheduled at this moment.
BOATING
Boating
Boat Rentals

OVERNIGHT FACILITIES
En route Campsites
Family Campsites
Group Campsites
RV Dump Station
RV Access

TRAIL USE
Bike Trails
Hiking Trails

DAY-USE ACTIVITIES & FACILITIES
Historical/Cultural Site
Picnic Areas
Env. Learning/Visitor Center
Exhibits and Programs
Fishing
Guided Tours
Interpretive Exhibits
Scuba Diving/Snorkeling
Beach Area
Swimming
Nature & Wildlife Viewing
Museums
Family Programs
Geocaching

OTHER FACILITIES & VISITOR INFORMATION
Parking
Restrooms / Showers
Restrooms
Drinking Water Available

UPDATES
Winter Camping in Sugar Pine Point Campground is open to visitors. The campsites are first come/first serve and vehicles must display a paid receipt (cash/credit card accepted) upon selection of site. Be prepared for cold temperatures and changing weather. Campfires are allowed in designated campfire rings - firewood is available at local stores. Showers and Dump station have closed for the season. Restrooms and potable water are available.
Sugar Pine Point
Day Use
is open sunrise to sunset. Self pay winter parking fee - $5.
Propane/gas bbq allowed - No charcoal or wood bbqs in the day use area.
Mansion tours have closed for the season. Grounds are available for walks and visiting.
Please lend a hand and help make your parks cleaner than you found them
. Thank you.
Updated 11/20/23
Dogs
Dogs on a 6' leash are allowed on paved areas, in the campground, and in the historic zone of the day use area. Dogs are not allowed on beaches, unpaved trails, or in undeveloped areas. Leashed dogs are allowed on the General Creek Fire Road during the summer. Dogs will be allowed on the blue and red ski trails this winter. Dog regulations are enforced YEAR-ROUND.


Celebrate Winter With Us!
The ski trails at Sugar Pine Point State Park will be groomed starting Dec 5th as weather permits. Updates will be posted on this website Please be advised that dogs will be allowed this year ON LEASH on the red and blue loops only. Please always pick up after your pet. For information on special events, guided snow shoe tours or donations, visit the Sierra State Parks Foundation.
Cross Country Skiing
Follow the path of the Nordic events of the 1960 Winter Olympics that occurred in what is now Sugar Pine Point State Park. Starting at the Blue Trailhead, located at the day use parking on the campground (west) side of the highway, you will come across a series of interpretive panels that share our Olympic and Nordic skiing history. Free snow trail maps are available at the park entrance stations. Snowshoers and hikers, please do not walk on the ski tracks. Be prepared for changing weather conditions. $5 parking fee.
Winter Camping
OFF-SEASON: CAMPING is OPEN
Throughout the winter season, the campground will have a limited number of sites that will remain open. During the winter season the campground is on a first come / first serve basis. Fees are $25 per night. Fees include one vehicle. Extra vehicles are $5 per night each. The showers and dump station are closed for the season. The campground has a centrally located restroom with potable water. Fees are due by self-payment at the entrance station immediately after selecting a vacant site. The campground roads and parking areas as will be plowed (unless overwhelming amounts of snow) - campers are responsible for shoveling out fire rings, food lockers, and picnic benches. All camping regulations are in effect year-round. Closest firewood sales are available in the local stores between Tahoe City and Tahoma.
Camping
For camping reservations for 2023, call Reserve California at 1-800-444-PARK (7275) or visit www.reservecalifornia.com. Reservations can be made 6 months in advance of the date you would like to arrive. The Lake Tahoe area is a popular destination and reservations are recommended.
During the 2024 season there will be family camping and group campsites available. There is a new group camp reconfiguration and will be on reservations for May starting November 23rd. There will be 6 new sites ranging from 16 person to 100 person sites from $70-330 a night. Fees for family camping are $35 per night. Fees include one vehicle (towed vehicles exempt). Occupancy and vehicle limits are posted on reserve CA . The campground does not have hook-ups, there are showers and a dump station for registered campers.

Check In 2 pm Generator Hours 10am - 8pm
Check Out Noon Quiet Hours 10pm - 6am
2 Vehicles allowed per campsite Children must have helmets for bicycles/scooters/skateboards
8 people allowed per campsite Dogs must be leashed and never unattended
Vehicles must be parked on pavement Amplified music is only allowed with a permit
Food must be stored DAY and NIGHT No Drones

Food Storage Locker Information - Important and required.

All food, beverages, toiletries, and trash containing food/smells are required by law to be stored in provided food lockers except when food is being prepared or eaten. Black bears are currently very active at Sugar Pine as they are just waking from a long winter and are very interested in ALL items that smell like food. Metal bear-resistant food lockers are provided in each campsite. Ice chests may NOT be stored in vehicles and shall be stored in the food storage locker. The inside dimensions of the food lockers 36" deep, 43" wide, and 22" high. Violations will be cited.
Are you considering a Trailer/RV Rental? If you are interested in having an RV or trailer delivered and set up on your campsite, the following concessionaire is the approved contract provider. Tahoe RV Rentals 530-721-5183
Please note: No other RV vendors will be permitted to deliver RV's into the campground.
Attention: Bear-Proof Cooler Owners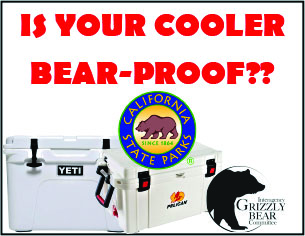 BEAR-PROOF COOLERS
(Yeti, Pelican, Yukon etc.) MUST be secured with locks per manufacturer instructions in order to meet Interagency Grizzly Bear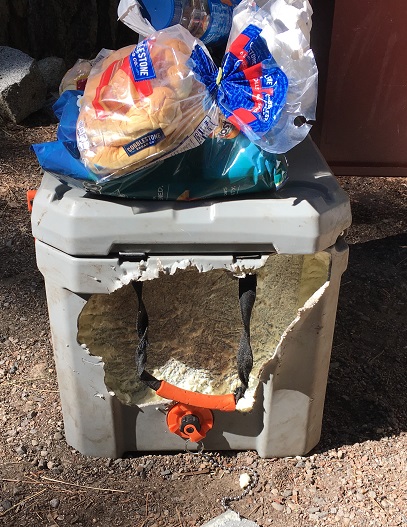 Committee (IGBC) standards. Failure to do so may result in a Food Storage Citation and up to a
$1000 Fine
Title XIV CCR 4323(b).
It is recommended that a cable lock is also used to attach the bear cooler to a non moveable item. Bears are known to take off with and/or toss coolers around to try to open them. More information available in our
Black Bear Brochure.
Day Use - open
Sugar Pine Point Day Use Area - Hellman-Ehrman Estate
Day Use facilities, including the historic Hellman-Ehrman Estate, picnic area, beach and pier are 3/4 mile south from the campground. Day Use parking is $10 per vehicle during the peak season, $5 per vehicle in the winter, or free if you are camping at Sugar Pine Point. Fees are required year round and due by self-payment when the kiosk is unstaffed. There is a separate fee for historic tours of the Hellman-Ehrman Estate. Please contact the Sierra State Parks Foundation for tour schedule information. Dogs are welcome on-leash in the historic areas and paved bike trails. Restrooms are available. The visitor center will be open during the summer season.
About the Park
Ed Z'berg - Sugar Pine Point State Park contains one of the finest remaining natural areas on Lake Tahoe. With nearly two miles of lake frontage, the park has dense forests of pine, fir, aspen and cedar.

Another attraction is the Hellman-Ehrman Mansion (also known as Pine Lodge), a summer home built in 1903 in a grove of pine and cedar. From the turn of the century until 1965, the lands of what is now Ed Z'berg - Sugar Pine Point State Park were owned by financier Isaias W. Hellman, and later by his daughter Florence Hellman Ehrman. The mansion provides an interesting view into the lifestyles of the wealthy on Lake Tahoe.

Location/Directions
The park is located on the west shore of Lake Tahoe, ten miles south of Tahoe City on Highway 89.

Seasons/Climate/Recommended clothing
Summer temperatures range from about 75-80 degrees during the day to the low 40s at night, and winter temperatures average from a high of 40 to lows in the teens or 20s. Winter temperatures may drop below 0. High Sierra weather is varied and can change abruptly. It is recommended to bring layered clothing and check weather updates. The weather forecast is available from NOAA.gov.
Chains and/ or 4 wheel drive are frequently required during the winter season. For up to date road conditions, call the Caltrans road hotline at 1800-427-ROAD, or visit the Caltrans website.

Facilities - Activities
Hiking & Swimming
Many miles of hiking trails within the park and a swimming beach provide visitors with a variety of relaxing summer activities.

Fishing
Ed Z'berg - Sugar Pine Point State Park is comprised of conifer forests in the General Creek drainage. The waters of General Creek are among the clearest waters flowing into Lake Tahoe and the stream is open to fishing from mid July to mid September.A fishing license is required.

Cross-Country Skiing
Winter visitors to the park will find over 20 kilometers of marked cross country ski trails and a heated restroom in the General Creek campground. Interpretive presentations on a variety of winter related subjects are presented most weekends, from January through March.

Nature Center
When you're at Ed Z'berg - Sugar Pine Point State Park, be sure to stop at the Nature Center located in the day use area by the Ehrman Mansion. We now have a bird display, where visitors can view several species of bird life that occur in the Tahoe Basin. In addition to birds, visitors can see most of the mammals and the four major game fish that occur here. Other exhibits include: Biology, Lake Ecology, Wildflowers, Trees, and a "Touchy-feely" table for the kids (adults also!).

About the area...
Lake Tahoe lay at the heart of the Washoe Indian territory, and Ed Z'berg - Sugar Pine Point State Park was the summer home for generations of Washoe Indians who came to these peaceful shores to hunt and fish.

In 1860, the first permanent settler of record on Lake Tahoe's west shore built a cabin at the mouth of General Creek. This was the trapper and fisherman William "General" Phipps, and his cabin can still be seen today just north of the Ed Z'berg - Sugar Pine Point State Park pier. In 1884, a resort called Bellevue Hotel was constructed just north of what is now the South Boathouse, and remained a popular summer destination for Lake Tahoe visitors for nine years.
Sugar Pine Point Information Video

Additional Visitor Services
Park Regulations