Weddings and Special Events
Event Information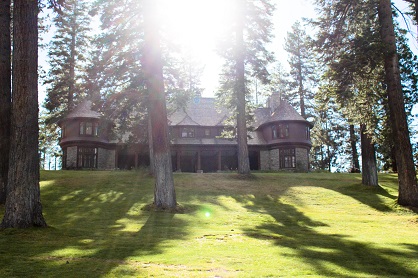 Sugar Pine Point State Park provides a spectacular location for special events such as wedding ceremonies and receptions, reunions, music events, festivals, corporate and farm-to-table dinners, and athletic events. The Hellman-Ehrman Mansion serves as a beautiful backdrop to your event and offers amazing views of Lake Tahoe. The inside of the mansion is not available for special events, but we recommend registering your group for one of the public tours of the historic home offered throughout the summer season.
The event site in front of the mansion, appropriate for wedding receptions, performances, dinners, and other celebrations, can accommodate up to 100 seated guests. The lakefront site, appropriate for wedding ceremonies and unplugged performances, can accommodate seating for up to 100 guests.
If you are interested in hosting your special event at Sugar Pine Point State Park, see the Related Documents on the right to review more detailed information. If you would like to book an event or have further questions, please contact our Special Events Coordinator at LSSEC@parks.ca.gov or by phone at (530) 525-5060.
2024 WEDDING INFORMATION
2024 SUMMER IS BOOKED FOR WEDDINGS AND SPECIAL EVENTS. Please monitor this website for updates or cancellations.

Registration: Starting from 5:00 am PST on June 26th, 2023
Important notes:
Please review the pricing and self-guided tour links on our website before reaching out.

Reservable dates span from June 1st to September 16th, with some exceptions.
No reservations on holiday weekends or on August 2nd – August 4th or on August 23rd – August 26th.

Thank you for your interest in getting married at Sugar Pine Point State Park!
Please follow the following 6 steps carefully to ensure that we can process your request.
Registration: Starting from 5:00 am PST on June 26th, 2023, please email us at LSSEC@parks.ca.gov to express your interest in reserving a 2024 wedding date. Make sure to include your name, contact information, anticipated number of guests, whether you're requesting a ceremony or a combination ceremony/reception, and a MAXIMUM TWO dates you are requesting in priority order.
Review: Requests will be considered first-come first-served in order of time received after 5:00 am PST on June 26th.

Emails sent prior to 5:00 am PST on June 26th will not be considered.
Emails without dates will not be considered.
Emails with more than two dates will not be considered.
Weddings with more than 100 guests will not be allowed.
Dates for combination Ceremony/Receptions are only Fridays, Saturdays, and Sundays.



Confirmation: Once we receive your email, we will respond as soon as possible to confirm that we have received your request. We will let you know at that time if your requested date is available.
Deposit: To secure your date, you must submit a $1000.00 non-refundable deposit and a Save The Date form within three weeks from the date of your confirmation email. Details regarding the payment, forms, and payment options will be provided once a date is agreed upon. You will also be given forms to review regarding park rules and schedules.

If we do not receive a $1000.00 non-refundable deposit and a Save The Date form within three weeks, your hold will be lifted.

Holding the Date: Once we have received your deposit, your spot will be reserved for your wedding day. We'll notify you once the payment has been successfully processed, ensuring that you have peace of mind knowing your reservation is confirmed.
Next Steps: After we have your date secured, you will receive a timeline for the remaining steps that must be completed leading to your wedding.

Thank you for considering us to host your wedding celebration. California State Parks looks forward to hearing from you via email and creating unforgettable memories together!