Phone Number
(530) 541-3030
Max. Trailer Lengths
Trailer: Up to 15 Feet
Camper/Motorhome: Up to 18 Feet
Park Hours
The park is open from sunrise to sunset. Please call the park for the current visitor center hours.
Dogs Allowed?
No
Dogs are not allowed in most areas of Emerald Bay State Park. Please refer to the Emerald Bay SP dog information section for more specific areas and descriptions.
Driving Directions to Emerald Bay SP
The park is located 22 miles south of Tahoe City.
Vikingsholm can be reached by parking in the Harvey West parking lot by Highway 89 at Emerald Bay. Take the trail, which is one mile in length and drops 500 feet in elevation to the house.
Fannette Island is located in the bay on the west shore of Lake Tahoe.
The Boat Camp is on the north side of Emerald Bay, about 1/2 mile east of Fannette Island located in the bay on the west shore of Lake Tahoe, at the site of the old Emerald Bay Resort.


Visitors will be able to reserve campsites and lodging six months in advance from the current date. Bookings may extend from the arrival date to the desired departure date – based on availability and the park's maximum stay rules.
Upcoming Park Events
No events scheduled at this moment.
BOATING
Boating
Boat Rentals

OVERNIGHT FACILITIES
Family Campsites
Boat-in/Floating Camps
RV Access

TRAIL USE
Hiking Trails

DAY-USE ACTIVITIES & FACILITIES
Historical/Cultural Site
Picnic Areas
Env. Learning/Visitor Center
Exhibits and Programs
Fishing
Guided Tours
Interpretive Exhibits
Scuba Diving/Snorkeling
Beach Area
Swimming
Nature & Wildlife Viewing
Museums
Geocaching

OTHER FACILITIES & VISITOR INFORMATION
Restrooms / Showers
Restrooms
Outdoor Showers
Drinking Water Available

UPDATES
Vikingsholm tour information - Tours for 2023 are closed for the season.

Eagle Point Campground has closed to for camping. Visitors may walk in from Hwy 89. It is almost a mile to the Rubicon trailhead and 2.5 miles to Vikingsholm from Hwy 89. No dogs on the trail.
Boat In Campground has closed for the season.
For 2024 summer reservations - Reserve California
Notification - DL Bliss State Park is closed to vehicles and pedestrians.
Rubicon Trail hiking will need to be out and back. The roads in Bliss are inaccessible during the construction project. NO PEDESTRIAN ACCESS IN DL BLISS SP
Balancing Rock parking and kayak launching will not be available.
Information
Emerald Bay State Park is located 12 miles north of South Lake Tahoe. Vehicles cannot drive down to the lake, however, there are many vistas and hiking trails.

Vikingsholm can be reached by parking in the Vikingshom parking lot by Highway 89 at Emerald Bay. Access to lower Vikingsholm is via a steep one mile pedestrian trail that drops 400 feet in elevation to the house. Restrooms and water fountain available near the mansion during the summer.WARNING: Visitors with medical conditions or mobility issues should not attempt this hike. THERE ARE NO RIDES OUT.

Fannette Island is located within Emerald Bay on the west shore of Lake Tahoe. The island is only accessible by watercraft.

Regulations:
No Dogs - Dogs are not allowed on any trails or roads into Emerald Bay, nor on the beach. Dog regulations are enforced year-round.
No Fires
No Drones
No bicycles or motors on the trails.
No camping except within the designated campgrounds
Vikingsholm Parking Lot - CLOSED UNTIL 10/20/23
Notice: Parking Lot will be closed 9/18-10/19 due to Trail construction

Maximum vehicle length is 18 feet. No Motorhomes over 18'. No trailers.
Hours - The park and parking lot are open from sunrise-sunset. Overnight parking is not allowed, even with a valid USFS backcountry permit, or a Boat Camp reservation.

Parking - $5 per vehicle for the day, or $2 per vehicle for one hour. Fees are required by self-payment. The pay machine accepts cash (exact change) or credit card. Fees for parking are good for any California State Park during the date of purchase. Annual CA State Park Day Use Pass displayed is accepted.

The Emerald Bay area has limited parking and visitors are encouraged to either arrive early, come later (after 3pm), and avoid weekends to obtain parking. Please park in parking allowed areas and do not park on the Highway 89 roadway. Vehicles will be towed. Be sure to lock your vehicle and do not leave valuables.. Access to the parking lot may be reduced/ unavailable in winter conditions.
Parking regulations in Emerald Bay are strictly enforced. Please avoid bringing children, dogs, and strollers along the 55 mph highway. Most areas have little to no shoulder.
DOGS
For the protection of our wildlife, natural resources and for the comfort and enjoyment of all our park visitors, dogs are not allowed in most areas in Emerald Bay State Park. Dogs are not allowed in any areas on land, including beaches, dirt trails, service roads from highway 89 going down into Emerald Bay, Boat camp, and Vikingsholm. Dogs are not allowed on the Rubicon Trail or the entire grounds surrounding the Vikingsholm Mansion or Fannette Island. Dogs are allowed within the two campgrounds only—the Boat Camp paved campground loop and Eagle Point paved campground road and campsites Dogs are allowed on boats and at the vista overlook at the Vikingsholm Trail parking lot.
Please do not leave your dog in a vehicle and plan accordingly. Here are some boarding options if you are away from home and more information on Dogs in CA State Parks
Please help keep Lake Tahoe clean.
Some other areas that do allow dogs:
Please respect their regulations.
US Forest Service - Eagle Falls Trail, Bayview/Cascade Trail
City of South Lake Tahoe
Tahoe City PUD
Drones
In the interest of public safety and the preservation of resources, all State Park Units in the Sierra District are closed to unmanned aircraft, also known as "drones," "quad-copters" and similar, over the state lands under the operational control of California State Parks.
CAMPING - Eagle Point Campground and Emerald Bay Boat Camp
Eagle Point Campground is closed for the 2023 summer season. Hikers are welcome to walk in to access the Rubicon trailhead. It is almost a mile to the trailhead. No dogs on the trail. From Eagle Point entrance to Vikingsholm, it is almost 2.5 miles.
Reservations for camping can be made six months in advance of the date of your arrival. 1-800-444-7275.
Quiet Hours 10pm - 6am Check In - 2 pm
Generator Hours 10am - 8pm Check Out - Noon
1-2 Vehicles per campsite (site specific) Children must have helmets for bicycles/scooters/skateboards
4-8 people per campsite (site specific) Dogs must be leashed and never unattended
Vehicles must be parked on pavement Amplified music is only allowed with a permit
Food must be stored DAY and NIGHT All CA vehicle regulations apply - no passengers in truckbed
Food Storage Locker Information - Important and required.
All food, beverages, and toiletries are required by law to be stored in provided food lockers during DAY and NIGHT, except when food is being prepared or eaten. Black bears are currently very active in Emerald Bay! Metal bear-resistant food lockers are provided in each campsite. Ice chests may NOT be stored in vehicles and shall be stored in the bear locker. The inside dimensions of the food lockers 36" deep, 43" wide, and 22" high. Violations will be cited.
Food, beverages, ice chests, and trash must be stored in food lockers during NIGHT and DAY hours.

Are you considering a Trailer/RV Rental at Eagle Point campground? If you are interested in having an RV or trailer delivered and set up on your campsite, the following concessionaire is the approved contract provider.
Tahoe RV Rentals 530-721-5183
Please note: No other RV vendors will be permitted to deliver RV's into the campground.
Emerald Bay Boat in Camp is closed for the 2023 season. Reservations can be made six months in advance of the date of your arrival. 1-800-444-7275.
The Boat In campground is located on the north side of Emerald Bay, at the site of the old Emerald Bay Resort. Buoys are available, and camping takes place on land in the lakefront campsites. There is no designated boat launch area in Emerald Bay or at D.L. Bliss State Park. DL Bliss State Park is closed for the 2023 season. There is no public vehicle access to Boat In Campground. Vehicles may NOT park overnight at the Emerald Bay Vikingsholm Parking lot. All regulations at Eagle Point Campground apply at Emerald Bay Boat Camp (except for vehicles). Dogs are only allowed in the campground area. Campsites are $35 a night. Firewood is $10 a bundle and ice is $5 - cash only. If late arrival call Eagle Point Campground. 530-541-3030.
Attention: Bear-Proof Cooler Owners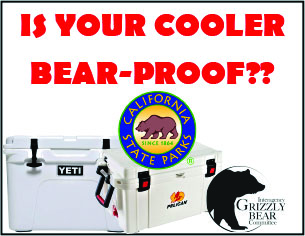 BEAR-PROOF COOLERS
(Yeti, Pelican, Yukon etc.) MUST be secured with locks per manufacturer instructions in order to meet Interagency Grizzly Bear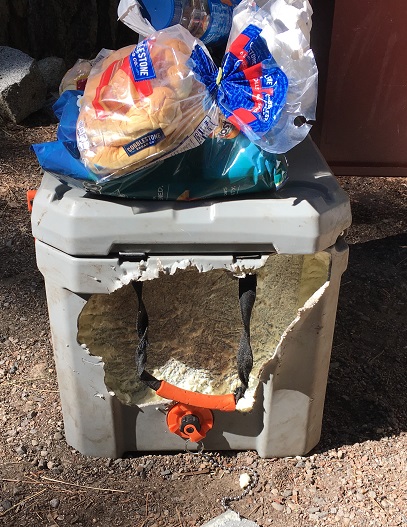 Committee (IGBC) standards. Failure to do so may result in a Food Storage Citation and up to a
$1000 Fine
Title XIV CCR 4323(b).
It is recommended that a cable lock is also used to attach the bear cooler to a non moveable item. Bears are known to take off with and/or toss coolers around to try to open them. More information available in our
Black Bear Brochure.
Maritime Heritage Underwater Trail
California State Parks and the Sierra State Parks Foundation Debut California's First Maritime Heritage Underwater Trail at Emerald Bay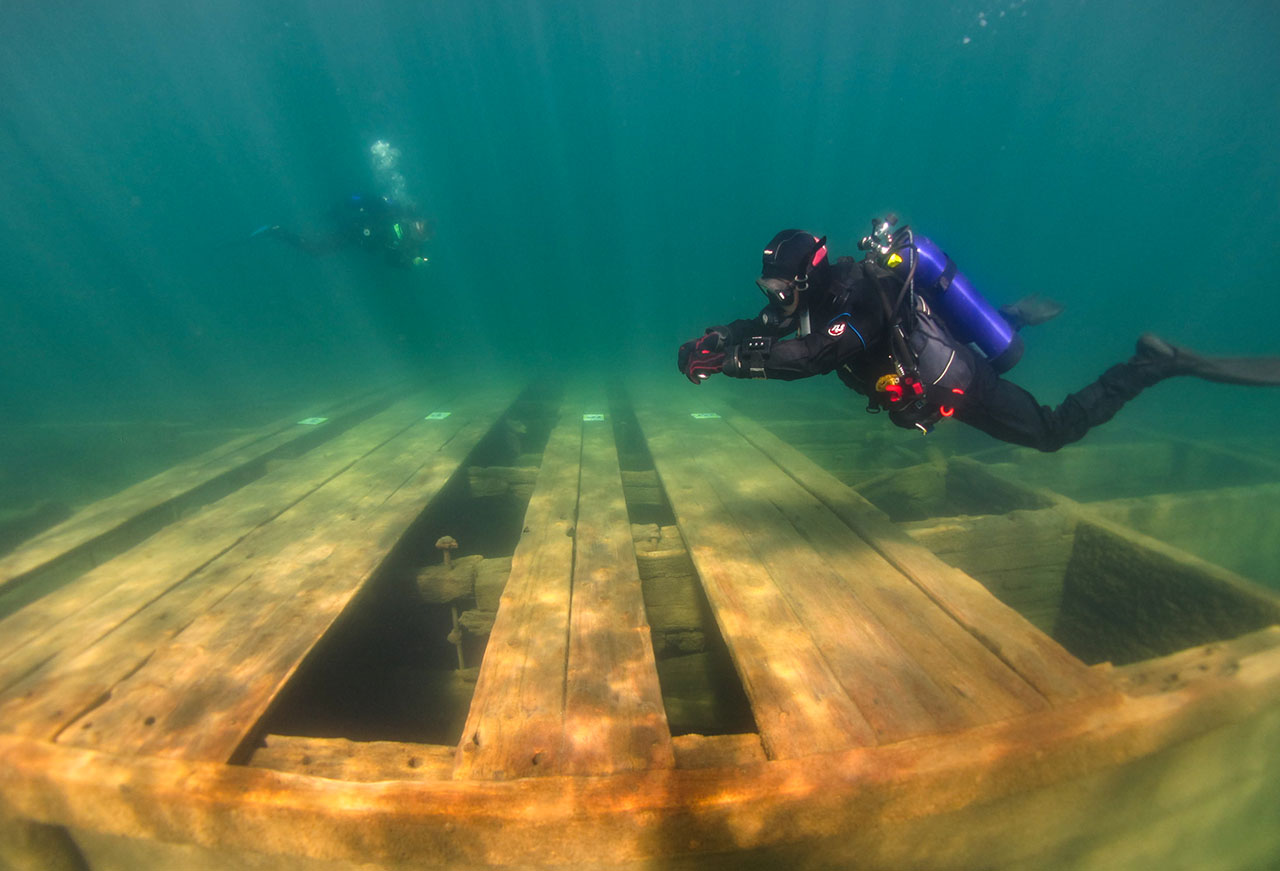 Starting October 1, 2018, the public is officially able to experience California's first maritime heritage underwater trail devoted to showcasing Lake Tahoe's historic recreational watercraft and barges, that now rest below the surface of Emerald Bay.
Scuba and snorkel diving visitors will be able to explore an underwater "trail" of historic features at several sites along the shoreline of Emerald Bay State Park, Lake Tahoe. Currently, divers have access to the Historic Barge Dive Site established by California State Parks in 1998. The department has never publicly released the location and information about three additional sites highlighted in this underwater trail until now.
Learn more about the Emerald Bay Maritime Heritage Trail
.
Seasons/Climate
Summer temperatures range from about 75 degrees during the day to the low 40s at night, and winter temperatures average from a high of 40 to a low of 20 degrees; during extremely cold winters Emerald Bay freezes over.
High Sierra weather is varied and can change abruptly. It is recommended to bring layered clothing and check weather updates. Weather forecast is available at NOAA.
Chains and/ or 4 wheel drive are frequently required during the winter season. For up to date road conditions, call the Caltrans road hotline at 1800-427-ROAD, or visit the Caltrans website.
Emerald Bay State Park is located off of Highway 89.
Information and History
In 1969, Emerald Bay was designated a National Natural Landmark for its brilliant panorama of mountain-building processes and glacier carved granite. The natural beauty, geology and history of this unique island make it one of the highlights of any visit to the Lake Tahoe area.

Emerald Bay State Park includes 2 campgrounds: Boat-In Camp (accessible by boat or foot only) and Eagle Point Campground. The scenic Rubicon foot trail wraps around Emerald Bay, with trailheads at Eagle Point campground, Vikingsholm, and DL Bliss State Park. The park features Vikingsholm, one of the finest examples of Scandinavian architecture in the western hemisphere and the "Tea House" on Fannette Island, the only island to be found in all of Lake Tahoe.

There is no vehicle access to the lakeshore of Emerald Bay or Vikingsholm. Visitors walk to the lake from the Vikingsholm Parking Lot (1 mile walk) or via the Rubicon Trail. Some visitors arrive by kayak or private boat.

Emerald Bay was designated an underwater state park in 1994. It is the resting place for many boats, launches and barges used in the lake before the turn of the century, during the heyday of Emerald Bay Resort and used in the construction of Vikingsholm.

Visitors to Emerald Bay State Park enjoy hiking, swimming, kayaking, scuba diving, boating, sightseeing and touring Vikingsholm in the summer months.

Visitors are welcome to hike down to Vikingsholm any time of year, but please be aware: In the winter, snow and ice can lead to hazardous conditions. Before deciding to hike in the snow, consider if you have appropriate footwear, clothing, food and water supply, and stamina level. Cell phones may not have reception. There are no services or drinking water from Oct - May. Restrooms are available year-round at the bottom. Round-trip to Vikingsholm and back is 2 miles with 400 feet elevation gain.
Emerald Bay Information Video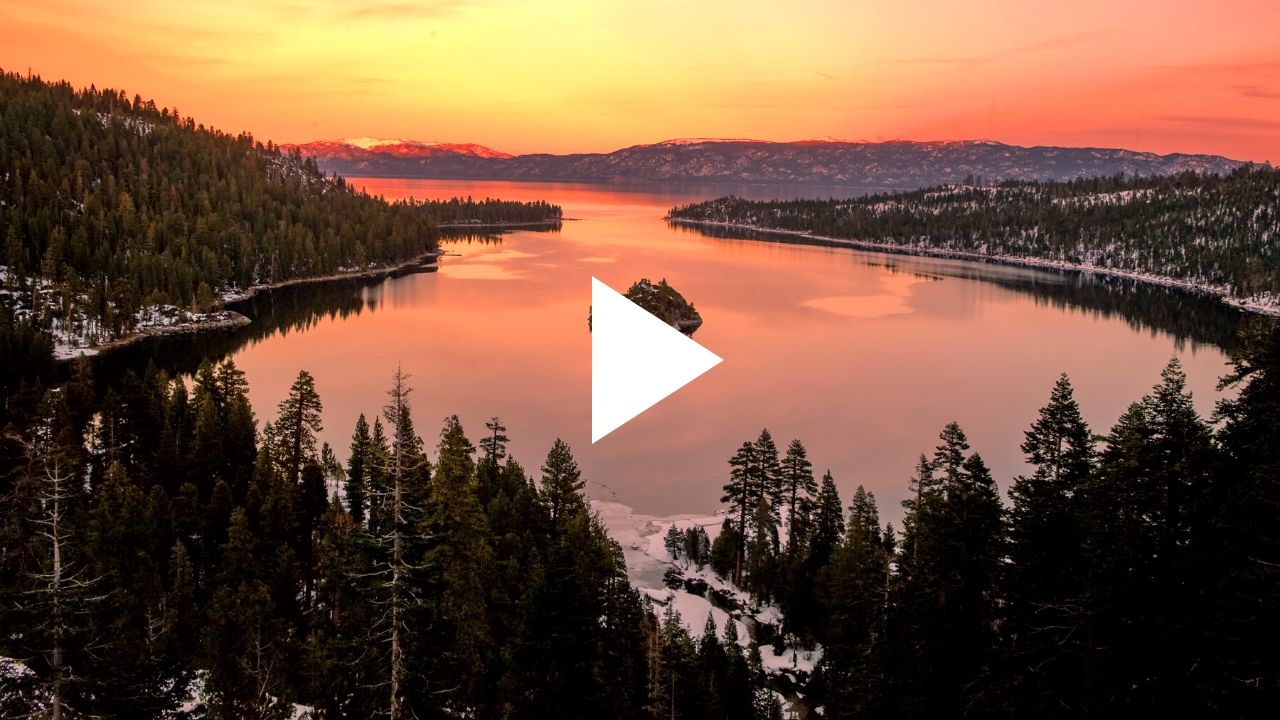 Vikingsholm Accessibile Information-CLOSED for the SEASON
For people who have a valid ADA placard, special arrangements are necessary to reach the Vikingsholm area which is located down a very steep gravel road that is not open to private vehicles. Call (530) 525-3384 to check on the availability of our service to escort people with mobility disabilities to Vikingsholm area. Reservations for this service must be made at least 72 hours in advance when space is available. This service is offered during Vikingsholm tour season: June - September.
Boating Emerald Bay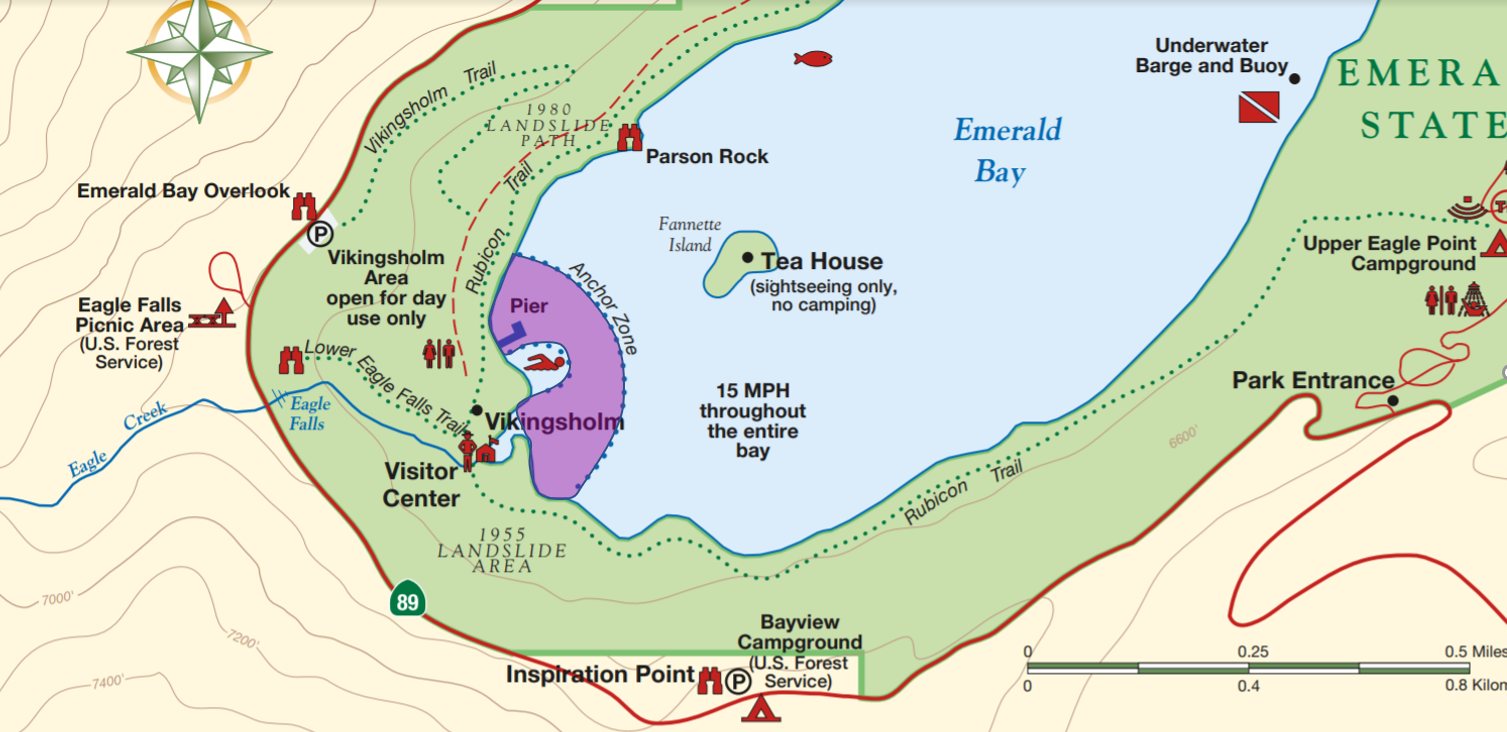 Swimming and Boating in Lake Tahoe - Water temperature.
Keep it slow through Emerald Bay. Within 600 feet of shore it is 5 mph around all of Lake Tahoe. There are many logs, kayaks, paddle boarders, and swimmers in the water.
Music and radios shall not be at a volume which is, or is likely to be, disturbing to others - CCR 4320(b)
Do not drive boats through buoy field - buoys are for registered campers only. Anchoring allowed in the anchor zone. Anchors can damage historic artifacts underwater.
Visiting Fannette Island - Pack it in/ Pack it out - Please help keep the island clean.
Restrooms are available behind the Vikingsholm Residence - 50 yards straight in from the pier.
Please do your part to protect Lake Tahoe - boating inspections and launching facilities
New Boating information on Tahoe for 2019 - TRPA

Kayaks and Paddleboards - Please note that winds in Emerald Bay often pick up in the afternoon. Mornings are best. For safety, please avoid on a wind advisory day.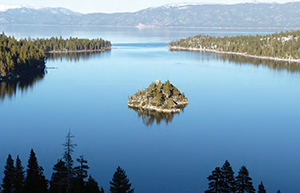 (Photograph by Mike Fuller)
Emerald Bay State Park
Emerald Bay State Park is the California State Park system's premier glacial park – owing its spectacular scenery and dramatic alpine peaks, ridges, and crystalline lake to the scouring action of glaciers that existed at various times during the Pleistocene Epoch (11,500 to 1,800,000 years ago). Glaciers as thick as several hundred feet buried all but the highest peaks of the Sierra and tongues of ice pushed down from the Sierren crest and gouged out stream canyons, scraped off soil and weathered rock, deposited moraines and carved out lake basins.