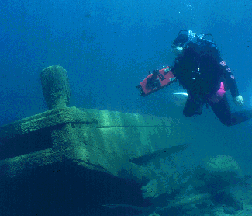 The waters offshore of Emerald Bay State Park were identified as a special underwater area in 1994. As a scuba diver in Emerald Bay, you will enjoy an experience unavailable to most visitors to the lake. You have the opportunity to view and touch the artifacts of an age long past.
The area is the resting place for many boats, launches and barges used in the lake before the turn of the century, during the heyday of Emerald Bay Resort and used in the construction of Vikingsholm.
Please be aware as you view and enjoy these artifacts that we all have the responsibility of protecting them for others to see and enjoy. All artifacts you find while diving in the State Parks are protected by state law and may not be taken or disturbed regardless of size or value.
In 1994 the Los Angeles Maritime Museum in cooperation with the California Department of Parks and Recreation installed a mooring buoy at the barge dive site located on the southern shore of Emerald Bay. Two historic barges lay in 35' of water at this site. This is also the location of a dump site possibly used by Emerald Bay Resort and others from 1884 until 1953. Small artifacts from the dump may be found at the Northwest corner of the western most barge. Please leave in place all artifacts you may find.
Emerald Bay Resort was situated on the North shore of Emerald Bay where Boat Camp is currently located. If you dive in this area you will find a variety of artifacts from the resort including telephone batteries, old tires, sinks, toilets, an old pier, a diving platform, at least five dories and two launches. One diver even reported seeing a model A Ford!