This park unit is partially open.
Please take the time to read the information contained on this webpage to find out what is open and closed, and what COVID-19 guidelines are in place. - (June 17, 2022)
What is open now?
Parking lots.
Day use areas.
Beaches and trails
Camping is now available. Walk-ins are allowed. For more information about camping, visit www.parks.ca.gov/COVID19Camping. To make a reservation, visit www.ReserveCalifornia.com or call 800-444-7275.
Special events as directed by the guidelines in the Blueprint for a Safer Economy.
---
COVID-19 Guidelines - (February 16, 2022)
Recreate Responsibly
Protect yourself, family, friends and your community by following these prevention measures:
Know Before You Go – Prior to leaving home, check the status of the park unit you want to visit to find out what restrictions and guidelines are in place. Have a back-up plan in case your destination is crowded. Stay home if you are sick
Plan Ahead – Some restrooms will be temporarily closed to keep up with cleaning schedules. Bring soap/hand sanitizer.
Play It Safe – Find out what precautions you should take when exploring the outdoors, especially if this is your first time visiting the State Park System. Learn more at parks.ca.gov/SafetyTips.
Be COVID-19 Safe – State Parks continues to meet guidance from local and state public officials as COVID-19 is still present and still deadly. Effective March 1, 2022, state guidance recommends that all individuals, regardless of vaccine status, continue masking in indoor settings, such as museums and visitor centers. Universal masking remains required in specified high-risk settings. Please plan ahead as local county guidelines may differ from state guidance and visitors are urged to follow county guidelines when required. Read the latest COVID-19 guidance at COVID19.ca.gov.
Leave No Trace – Leave areas better than how you found them by staying on designated trails and packing out all trash. Do not disturb wildlife or plants.
Phone Number
(707) 895-3141
Max. Trailer Lengths
Trailer: Up to 35 Feet
Camper/Motorhome: Up to 35 Feet
Park Hours
8:00 AM to Sunset

Dogs Allowed?
Yes
Dogs allowed in campground and day-use area. Dogs not allowed on trails.
Driving Directions to Hendy Woods SP
The park is located less than a three hour drive from the San Francisco Bay Area, eight miles northwest of Boonville, a half-mile south of Highway 128 on Philo-Greenwood Road.
The park is located on one of the scenic by-ways, the Greenwood Road, in southwestern Mendocino County just off State Highway 128.



Visitors will be able to reserve campsites and lodging six months in advance from the current date. Bookings may extend from the arrival date to the desired departure date – based on availability and the park's maximum stay rules.
Upcoming Park Events
No events scheduled at this moment.
BOATING
Boating

OVERNIGHT FACILITIES
Family Campsites
RV Dump Station
Alternative Camping
RV Access

TRAIL USE
Hiking Trails

DAY-USE ACTIVITIES & FACILITIES
Historical/Cultural Site
Picnic Areas
Env. Learning/Visitor Center
Exhibits and Programs
Fishing
Interpretive Exhibits
Beach Area
Swimming
Nature & Wildlife Viewing
Family Programs
Geocaching

OTHER FACILITIES & VISITOR INFORMATION
Camp Store
Parking
Restrooms / Showers
Restrooms
Drinking Water Available

No Drones Allowed in Park
The noise and sight of drones can alter other people's enjoyment of nature
A drone hovering nearby can feel intrusive and threatening.
Drones can capture photographs and video without someone's permission
Drones mimic the behavior of predatory birds and can frighten wildlife
For these reasons State Park units in the Sonoma-Mendocino Coat District do not allow launching, landing or the operation of drones on State Park property.
Camper Information
Hendy Woods Campground is currently open to existing reservations and has a limited number of first come first serve camping sites available.
Due to COVID restrictions new reservations will not be accepted now through early February. All reservations are made through
reservecalifornia.com
or by calling 1-800-444-7275. For further information please contact the Sonoma Mendocino District Office at (707) 937-5804 Monday - Friday 8:00 a.m. to 5:00 p.m.
Less than three hours from San Francisco in the heart of the Anderson Valley wine region, Hendy Woods State Park protects two groves of towering redwoods. Some of its trees may be more than 300 feet tall and 1,000 years old. Five miles of trails, including Big Hendy Grove's wheelchair-accessible Discovery Trail, lead through the fern-filled forest.
To reach the park, drive 8 miles northwest of Boonville on Highway 128. Turn left on Philo-Greenwood Road. In 0.5 miles, turn left at the Hendy Woods State Park sign and proceed 0.2 miles to the ranger station.
THINGS TO DO
Warmer and less foggy than most redwood parks along the coast, Hendy Woods is a popular spot for swimming in the summer and canoeing and kayaking in late winter and early spring. The park is also known for the Hendy Hermit, a Russian immigrant who lived near the park for 18 years.
Open year-round for camping and day use, four cabins and 92 campsites are available year round. The park's gentle trails lead through a spacious riverside meadow and the skyscraping redwoods of the Big Hendy and Little Hendy groves. The meadow (day-use) area has two shade ramadas, several picnic tables, barbecues, and bathroom facilities—all are wheelchair accessible. In the woods between the two old-growth groves, visitors can camp, stay in cabins, attend programs at the campfire center, or (during certain hours) get souvenirs, supplies, and information at a small, volunteer-staffed visitor center.
If you have an hour, hike the 0.6-mile wheelchair-accessible Discovery Trail through Big Hendy Grove to see the park's finest old-growth coast redwoods.

If you have half a day, try Big Hendy's 1.6-mile Upper Loop Trail, which includes the highlights of the Discovery Trail as well as the splendid old-growth trees that lie just beyond. Afterward, head upward (out of the biggest trees) on the Hermit Hut Trail. In 0.6 miles, you'll reach the turnoff to the downed redwood that sheltered a Russian immigrant for a couple of
decades in the middle of the last century. A bit farther down the trail is another of his improvised dwellings and a fascinating interpretive sign.

If you have a full day, explore Big Hendy, Little Hendy, and the hermit huts; picnic beside the river; and sleep beneath the stars at one of the park's woodsy, well-maintained campgrounds.
PLEASE REMEMBER
Dogs must be on a leash no longer than six feet and in a tent or vehicle at night (Please carry proof of rabies inoculation). Except for service animals, dogs are not allowed on trails.
Build fires only in the camp or picnic stoves provided.
Do not gather dead wood. It enriches the soil for surrounding vegetation. You may purchase firewood at the ranger station or from the camp host.
Bicycles are restricted to paved roads.
WEATHER
High and low temperatures between November and March can range from the high 50s to the low 30s at night. From April through October, daytime temperatures range from the low 60s to low 100s, and from the low 40s to the low 50s at night.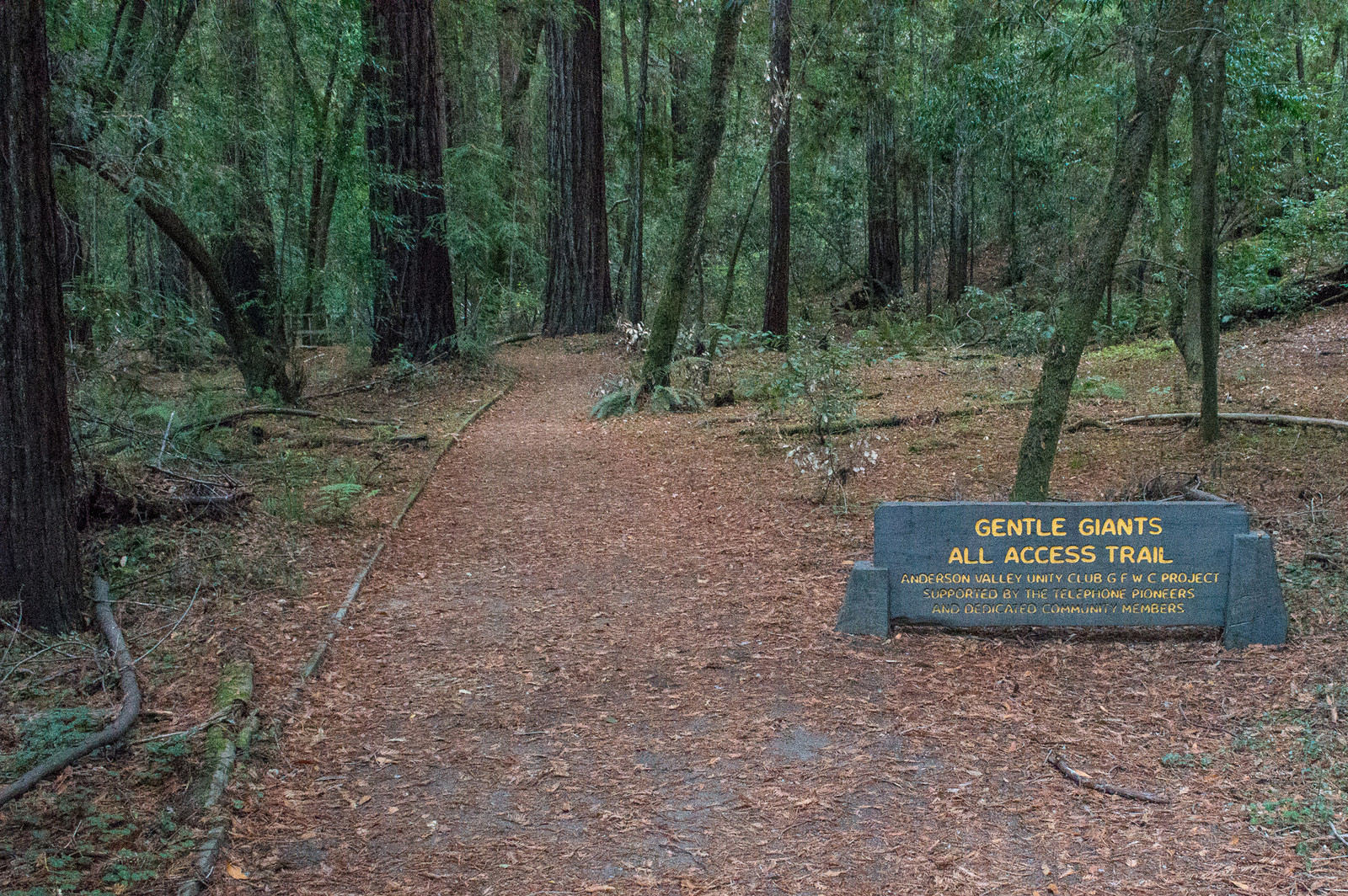 ACCESSIBILITY
Hendy Woods' accessible features include
The Azalea Loop: four campsites; restroom accessibility varies.
The All-Access Trail near the day-use area, about one-half mile long.
One-room Puma Cabin at Wildcat Campground has a ramp, with accessible restrooms nearby.
The day-use area, opened in 2015, and its two ramadas with barbecues; bathroom building; drinking fountain and faucet; interpretive signs explaining natural, cultural, and recreational points of interest; concrete paths that connect visitor facilities; ADA-compliant parking.
For additional information, visitors are encouraged to click on the accessible features link at the top right of this page.