Del Norte Coast Redwoods State Park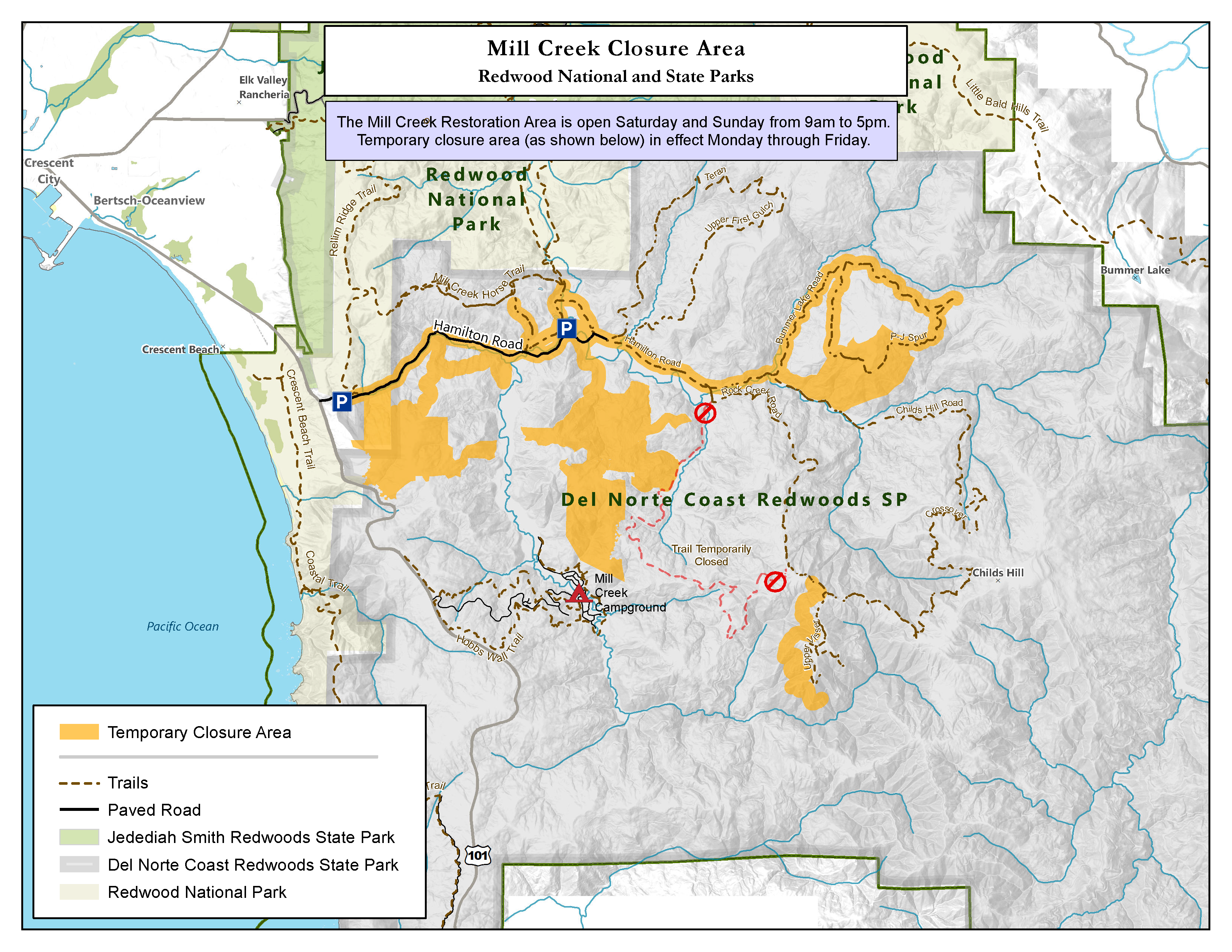 Updated: 9/28/2023
Notice 1:

The Mill Creek Restoration Area is open Saturday and Sunday from 9am to 5pm. Access via Hamiton Road is closed Monday through Friday for public safety while restoration crews are operating heavy equipment at various locations to restore watershed function. This notice does not apply to the Mill Creek campground.
Notice 2:

Within the Mill Creek Restoration Area, a section of the multi-use trail along West Branch Road, west of Rock Creek Road, is closed temporarily due to a failed bridge crossing.
Mill Creek Restoration Area Closure Map
Phone Number
(707) 464-6101
Max. Trailer Lengths
Trailer: Up to 24 Feet
Camper/Motorhome: Up to 28 Feet
Park Hours
Please call park.


Dogs Allowed?
Yes
Except for service animals, dogs not allowed on trails.
Driving Directions to Del Norte Coast Redwoods SP
7 miles south of Crescent City, CA turn east on the campground road. The camp is 2 miles east of the highway.


Visitors will be able to reserve campsites and lodging six months in advance from the current date. Bookings may extend from the arrival date to the desired departure date – based on availability and the park's maximum stay rules.
Upcoming Park Events
No events scheduled at this moment.
OVERNIGHT FACILITIES
Family Campsites
Hike or Bike Campsites
RV Dump Station
RV Access

TRAIL USE
Hiking Trails
Horseback Riding

DAY-USE ACTIVITIES & FACILITIES
Historical/Cultural Site
Exhibits and Programs
Fishing
Interpretive Exhibits
Scuba Diving/Snorkeling
Beach Area
Windsurfing/Surfing
Family Programs
Geocaching

OTHER FACILITIES & VISITOR INFORMATION
Parking
Restrooms / Showers
Restrooms
Drinking Water Available

Welcome to Del Norte Coast Redwoods State Park
To keep up to date on events happening in north coast parks, visit the North Coast Redwoods Facebook and Instagram pages and the Redwood National and State Parks Facebook and Instagram pages.
The park, established in 1927, has approximately 50% old growth coast redwood and eight miles of wild coastline.
The mixed understory includes tanoak, madrone, red alder, big leaf maple, and California bay. Ground cover is dense with a wide range of species. Vegetation is predominately red alder which will eventually give way to fir and second growth redwood.
The topography is fairly steep with elevations from sea level to 1277'. The predominant mountain range is oriented in a north-south direction with steep cliffs adjacent to the Pacific Ocean, making the bulk of the rocky sea coast generally inaccessible except by Damnation Creek Trail.
Wilson Beach or False Klamath Cove
This 1/2-mile of sandy beach is meant for strolling and provides excellent tidepool viewing at low tide. It is not safe for swimming due to the steep beach slope, rocky conditions, frequent rough seas, and cold water.
Redwood National and State Parks
This park, along with Prairie Creek, Jedediah Smith, and the National Park Service's Redwood National Park, are managed cooperatively by the National Park Service and the California Department of Parks and Recreation. These parks make up 45 percent of all the old-growth redwood forest remaining in California.
---