Museum, Workshops, Campfire Programs

---
Ya'i Heki' Regional Indian Museum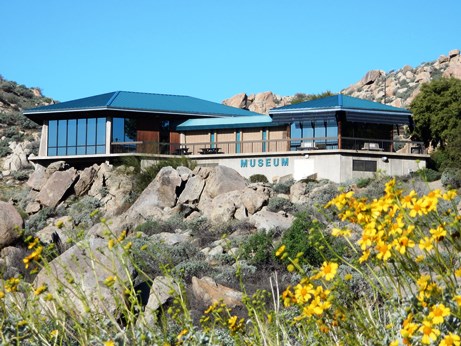 Ya'i Heki' (pronounced yahee ehkey) is translated from the Cahuilla language meaning "Home of the Wind". This museum is one of a series of regional museums funded by the State of California.
The museum is open to the public on Saturday and Sunday from 10:00 a.m. until 4:00 p.m., and Fridays from 10:00 a.m. until 2:00 p.m. The museum provides a comprehensive interpretation of Native American history and an educational experience into the cultures of the Indigenous peoples of inland southern California. Additionally, it features displays on the local flora and fauna of the southern California bio-region, and early Spanish explorers. Come in and explore!
We invite you to become involved in this important cultural resource on your next visit to Lake Perris. You can view the park's calendar here.
Engaging and free School Tours are available by appointment for the Fall 2019 Wednesdays and Fridays at one of two-time options, either 9:30am-11:00 a.m., or 10:00am-11:30 p.m. The museum will travel to schools in a "Parks to Classroom" experience, free of charge as well. We also provide museum tours and free customized events to non-school organizations and offer educational presentations to private and public community groups. Please find all the appropriate forms to request one of these programs at the bottom of this page.
Our standard school tours have 3 parts: Regional Indian Museum Tour, a Craft Making or Game Activity, and a Natural Sciences component.
Special topics may be available upon request.
Download the School Tour Reservation Request Form Here: School Tour Program Form
Download the Onsite School Presentation Form Here: Onsite School Presentation Form
Download the School Bus Funding Request Form Here: School Bus Funding Form
Downland the Private Museum/Park Tours for Groups Form Here: Group Tour (Non-School) Program Form
Download the Non-School Onsite Special Presentation Form Here: On-Site (Non-School) Program Form
For more information on School Trips/Tours, volunteer opportunities, general museum and park education event questions, please contact Park Interpretive Specialist Joseph Esparza at joseph.esparza@parks.ca.gov