Southern California Hiking Opportunities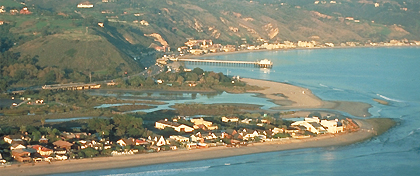 State parks located in Southern California offers myriad opportunities for outdoor recreation in remarkable scenery at little or no cost.
Malibu Lagoon State Beach offers the quintessential California experience with world-class surfing, kayaking, and fishing. After a tour of the historic Adamson House and a hike around the newly restored saltwater lagoon, you can enjoy the sunset from one of the fantastic restaurants on Malibu Pier.
Located just down the road is the ranch of famed cowboy legend Will Rogers. Now preserved as a state historic park (SHP), the Will Rogers SHP tour includes both Rogers' family home and stables. You can also hike some of the trails designed by him. An easy to the top of Inspiration Point on a clear day has views of the Santa Monica Bay, the San Gabriel Mountains, and Catalina Island.
Heading inland into the Santa Monica Mountains, you come to Malibu Creek State Park. This park with its meandering creek, enormous oaks, and impressive rock formations offers numerous hikes of various difficulties. The park is popular with film crews, and has been the site of many television shows and movies, including M*A*S*H. Explore this park to find the location of your favorite show!
Get away from the fast-paced life in the city at Chino Hills State Park. Situated in Orange, Riverside and San Bernardino counties, the park offers leisurely hikes with panoramic views.
Escape the summer heat of San Diego at Palomar Mountain State Park. Located at an average elevation of 5,000 feet, you can hike through cool forests of cedars, firs, and pines, and take breathtaking views from the desert to the sea.
Another escape from the summer heat is Mount San Jacinto State Park . In just minutes, you can ride an aerial tram from the desert floor in Palm Springs to the cool pine forests 8,000 feet up the mountain. Once atop, enjoy a hike through the Switzerland-like environment of rugged peaks, lodgepole pines, and open meadows.
Explore diverse desert environments at Anza-Borrego Desert State Park. Depending on the time of year, hikes for all ability levels are available to take you through blankets of wildflowers, cascading waterfalls, and extraordinary rock formations. Don't forget your camera!

Escape from the heat with a two hour tour of Mitchell Caverns Natural Preserve located in the Providence Mountains State Recreation Area. On the tour, learn about the area's natural history and the park's previous inhabitants, the Chemehuevi Indians, all at a constant and cool 65 degrees.

With 280 parks located throughout the state, there are no excuses for not getting out and experiencing California's unique natural and cultural history. California State Parks offer something for everyone!!
To search for a park by region, county/city, or activities go to Find-A-Park. Contact the Statewide Trails Section at 916-653-9901 or trails@parks.ca.gov.