UPDATE (May 15, 2020) - As California State Parks begins working with locals on a phased and regionally-driven approach to increase access to state park units where compliance with state and local public health ordinances can be achieved, it is important for visitors to continue to practice physical distancing and avoid congregating with people outside their immediate household. Everyone has the responsibility to mitigate the spread of COVID-19.
Here are some guidelines for people visiting Malibu Creek State Park:
What is open now?
Malibu Creek SP is open from dawn to dusk to active recreation with restrictions in place to encourage social distancing and reduce group gatherings.
Very limited parking is now available to the public. Only Lower Lot is open.
No transactions at entrance station. APM or Pay by Phone only. District will continue to offer $1.00 off for all-day pass through the Pay by Phone App (https://www.passportparking.com).
Trails - all active recreation will be permitted such as hiking, running, mountain biking, bird watching, and equestrian use rules and regulations are now posted at all trailheads and will continue to be enforced.
Only restrooms in the proximity of the parking lots will be available.
What is currently closed at this park and throughout the State Park System?
At this park:
Parking: Upper Lot closed.
Rock Pool and Century Lake.
BBQ's, picnic tables, and benches.
Backcountry restrooms
Statewide:
Campgrounds.
High public-use indoor facilities, including museums and visitor centers.
Special events and tours continue to be canceled until further notice.

Are there any new visitor guidelines? Yes, please see below:
Stay Local: Stay close to home. Walk or bike into the park. Parking is very limited. Do not take road trips to parks and beaches or to neighboring states.
Stay Active: Keep walking, jogging, hiking and biking. Watch for one-way trails.
Stay Safer at 6 Feet: Maintain a physical distance of 6 feet or more. Gatherings, picnics and parties are not allowed. Visitors will be asked to leave if there are too many people at the park, beach or on trails to allow for the required physical distance.
Stay Clean: Be prepared. Bring soap/sanitizer and pack out all trash.
Stay Covered: The state now requires you to wear a face covering in most indoor settings and public outdoor spaces when you cannot maintain physical distancing of six feet or more from people outside of your immediate household. For details, please visit CDPH's guidance here. Visitors should also abide by their local county health orders.
Thank you for your patience and continued support of California State Parks as we work to limit your risk for exposure to COVID-19 in the outdoors. For more information, please visit
parks.ca.gov/FlattenTheCurve
.
Phone Number
(805) 488-1827
Max. Trailer Lengths
Trailer: 30 Feet
Camper/Motorhome: 30 Feet
Park Hours
The gates are open from 8am-10pm.
Dogs Allowed?
Yes
Dogs allowed on paved road and in campground. Dogs not allowed on trails.
Driving Directions to Malibu Creek SP
The park is located four miles south of Highway 101 on Las Virgenes/Malibu Canyon Road.


Camping and Lodging
Visitors will be able to reserve campsites and lodging six months in advance from the current date. Bookings may extend from the arrival date to the desired departure date – based on availability and the park's maximum stay rules.
Upcoming Park Events
No events scheduled at this moment.
OVERNIGHT FACILITIES
Family Campsites
Group Campsites
RV Dump Station
RV Access

TRAIL USE
Bike Trails
Hiking Trails
Horseback Riding

DAY-USE ACTIVITIES & FACILITIES
Historical/Cultural Site
Picnic Areas
Env. Learning/Visitor Center
Exhibits and Programs
Fishing
Guided Tours
Interpretive Exhibits
Swimming
Nature & Wildlife Viewing
Geocaching

OTHER FACILITIES & VISITOR INFORMATION
Parking
Restrooms / Showers
Restrooms
Drinking Water Available

Malibu Creek State Park, just 25 miles from downtown Los Angeles, features hiking, fishing, bird watching, mountain biking, rock climbing and horseback riding opportunities.

Fourteen-mile Malibu Creek is the principal watercourse of the Santa Monica Mountains that ends at Malibu Lagoon. . There are 15 miles of streamside trail through oak and sycamore woodlands on chaparral-covered slopes. Following the trail along Malibu Creek, the visitor will be treated to spectacular vistas, including volcanic rock gorges, scenic pools, and breathtaking views of the Las Virgenes Valley and Malibu Canyon.

Culturally, this area was the center of Chumash Native American life for centuries. One of the park's most significant points of interest is the Sepulveda Adobe, which was constructed in 1863 on what had been part of an early Spanish land grant. This historic structure was restored in 2003, but unfortunately was destroyed in the 2018 Woolsey fire. In the early 1900's another adobe was built along Malibu Creek by Johnny Mott, a famous LA attorney. With only the dramatic stone fireplace left standing, it is known today as the Mott Adobe ruins. Perhaps the most prominent frequent guest at the Mott Adobe was President Herbert Hoover.

Previous to being opened to the public in 1976, the park was used extensively to film numerous movies and TV shows, such as Planet of the Apes and M*A*S*H. Most of the park's land holdings were donated by Bob Hope, with later significant acquisitions from Ronald Reagan and 20th Century Fox.
Location:
The park is located four miles south of Highway 101 on Las Virgenes/Malibu Canyon Road.
1925 Las Virgenes Road, Calabasas, CA 91302
Driving Directions:
From the 101exit on Las Virgenes Road.
Go south on Las Virgenes Road (toward the ocean)
Continue straight.
Park entrance will be on the right, a little past the Mullholland Drive intersection.
Parking fees:
All day – $12.00 per car, per day
3 hrs – $9.00 per car
2 hrs – $6.00 per car
1 hr – $3.00 per car
Popular trails and hikes:
o Rock Pool (easy)
o M*A*S*H site (easy)
o Malibu Lake Trail (moderate)
Showers: The park's showers are token-operated. The token machines accept ONLY one dollar bills. Change for larger bills is not available at this time.
Firewood policy: Firewood is allowed to be burned in a fire rings in the campground on LOW (Green) level Fire Safety Day(s). Burning firelogs (ex: Duraflame log) and charcoal briquettes in the fire rings is allowed when fire level is at Medium (Yellow) and weather permits. On a HIGH (Red) level wood, firelogs, or briquettes are NOT allowed to be burned. Check the sign near the campground entrance to see the day's fire level.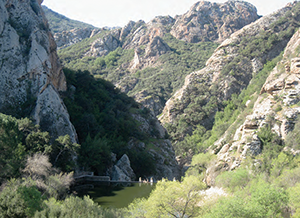 (Photograph by Pam Irvine)
Malibu Creek State Park
Malibu Creek State Park contains excellent exposures of the Conejo Volcanics that cover large portions of the modern Santa Monica Mountains of the Transverse Ranges geomorphic province. The Conjeo Volcanics are one of several Miocene volcanic fields along the California coast that erupted in response to a major reorientation of the tectonic plate boundary between the North American tectonic plate, the subducting Monterey microplate, and the better-known Farallon Plate. The reorientation caused local areas of extension and crustal thinning. The molten rocks below the thin oceanic crust ascended through the crust along fractures to the surface and erupted as volcanic rocks.
Social Feed