Mount San Jacinto State Park
Update (June 1, 2021): Whether an experienced outdoor enthusiast or a new one, park visitors must continue to recreate responsibly in the outdoors as the pandemic is far from over.
COVID-19 Guidelines
Recreate Responsibly
Protect yourself, family, friends and your community from COVID-19 by following these prevention measures while recreating in California's State Park System:
Know Before You Go – Prior to leaving home, check the status of the park unit you want to visit to find out what restrictions and guidelines are in place. Have a back-up plan in case your destination is crowded. Stay home if you are sick.
Plan Ahead – Some restrooms will be temporarily closed to keep up with cleaning schedules. Bring soap/hand sanitizer.
Play It Safe – Find out what precautions you should take when exploring the outdoors, especially if this is your first time visiting the State Park System. Learn more at parks.ca.gov/SafetyTips.
Keep Your Distance – Avoid crowds. If there are too many people at a park or beach, please visit on a different day.
Wear a Mask – State Parks continues to follow guidance provided by the California Department of Public Health:

Everyone:

In indoor settings, such as museums and visitor centers, face coverings are required regardless of vaccination status.

Fully Vaccinated Persons

: Face coverings are not required outdoors except when attending crowded outdoor events.

Unvaccinated Persons

: Face coverings are required outdoors any time physical distancing cannot be maintained.

Leave No Trace – Leave areas better than how you found them by staying on designated trails and packing out all trash. Do not disturb wildlife or plants.
Although law enforcement entities have the authority to issue citations, the expectation is that the public is responsible for adhering to the advice of public health officials, visitor guidelines and closures.
This park unit is partially open.
Please take the time to read the information contained on this webpage to find out what is open and closed, and what COVID-19 guidelines are in place.
What is open now?
Mount San Jacinto Sector Office, located at 25905 Highway 243 Idyllwild, CA 92549.
Day-use hiking within the Mount San Jacinto State Park Wilderness - permits must be obtained and are available for free on the front porch of the Mount San Jacinto Sector office located at 25905 Highway 243 Idyllwild, CA 92549.
Both Idyllwild Campground and Stone Creek Campground are open to both walk-ins and advanced reservations. For reservations, please visit www.reservecalifornia.com.
All primitive wilderness campgrounds are open.
The tram is open to seven days a week with the following hours:

Monday thru Thursday, operating hours will be 10 a.m. to 8 p.m. First car up at 10 a.m., last car down at 8 p.m..
Friday, Saturday, Sunday and holidays: operating hours will be 8 a.m. to 9 p.. with the first car up at 8 AM and last car down at 9 PM.

Long Valley Ranger station hours:

Monday – Thursday: 10 a.m. to 6 p.m
Friday – Sunday: 8 a.m. to 7 p.m.
---
Phone Number
(951) 659-2607
Max. Trailer Lengths
Trailer: Up to 24 Feet
Camper/Motorhome: Up to 24 Feet
Park Hours
Park Headquarters (Idyllwild)
Everyday 8:00 AM to 4:00 PM
Long Valley Ranger Station
Thursday-Monday 8:00 AM to 4:30 PM
Dogs Allowed?
Yes
Dogs allowed only in the Idyllwild and Stone Creek Campground. Dogs not allowed in the wilderness or on the Palm Springs Tram, with exception of service animals.
Driving Directions to Mount San Jacinto SP
From Riverside, take Interstate 10 East to Hwy 243 South to the park. From San Diego, take Interstate 15 North to 215 North, exit Hwy 74 east to Hwy 243 north to the park.


Camping and Lodging
Visitors will be able to reserve campsites and lodging six months in advance from the current date. Bookings may extend from the arrival date to the desired departure date – based on availability and the park's maximum stay rules.
Upcoming Park Events
No events scheduled at this moment.
OVERNIGHT FACILITIES
Environmental Campsites
Family Campsites
Hike or Bike Campsites
Primitive Camping
RV Sites w/Hookups
RV Access

TRAIL USE
Hiking Trails
Horseback Riding

DAY-USE ACTIVITIES & FACILITIES
Historical/Cultural Site
Picnic Areas
Env. Learning/Visitor Center
Exhibits and Programs
Guided Tours
Interpretive Exhibits
Vista Point
Nature & Wildlife Viewing
Museums
Family Programs
Geocaching

OTHER FACILITIES & VISITOR INFORMATION
Parking
Restrooms / Showers
Restrooms
Drinking Water Available

Park Locations
Park Headquarters:
25905 Highway 243, Idyllwild, CA 92549
Long Valley Ranger Station (via Palm Springs Aerial Tramway):
1 Tramway Road, Palm Springs, CA 92262
---
Wilderness Permit Information
Mount San Jacinto State Park and Wilderness is located at a high altitude where the growing season is short. Plant life has little opportunity to recover from overuse from one season to the next, and unless we take the steps to protect these areas, they could be lost to us forever. To ensure the preservation of the natural environment and assure the visitor of a quality visitor experience, the Department of Parks and Recreation has instituted a Wilderness Permit System.
Everyone entering the Mount San Jacinto State Wilderness, both for the day and overnight camping, must have a permit in their possession. Groups are limited to 15 people, and juvenile groups must have at least one adult leader for each 14 juveniles. Dogs are not permitted in wilderness areas of the State Park System.
Day Use Wilderness Permits are free and available 24 hours at:
Park Headquarters in Idyllwild
Long Valley Ranger Station on the Palm Springs Aerial Tramway side
Wilderness Camping Permits are $5.00 per person and are available at:
Park Headquarters in Idyllwild
Long Valley Ranger Station on the Palm Springs Aerial Tramway side
Online application (must be printed and mailed): Wilderness Camping Permit
The San Bernardino National Forest has a similar permit system in effect for its federal wilderness area known as the San Jacinto Wilderness. Both the State Park and National Forest honor each other's DAY USE PERMITS; however, each agency has its own camping permit system that you must apply for separately. San Bernardino National Forest
permits are issued at the
San Jacinto Ranger District
located at 54270 Pine Crest, Idyllwild, CA 92549, (909) 382-2921.
---
Winter Conditions
Winters are highly variable in Mount San Jacinto State Park. Wet winters can dump several feet of snow, while dry winters may only result in a few inches here and there. Regardless, always be prepared for snowy/icy conditions. Traction devices like microspikes or crampons are highly recommended if you plan to hike into the wilderness. For up-to-date trail conditions, call the Long Valley Ranger Station at (760) 327-0222.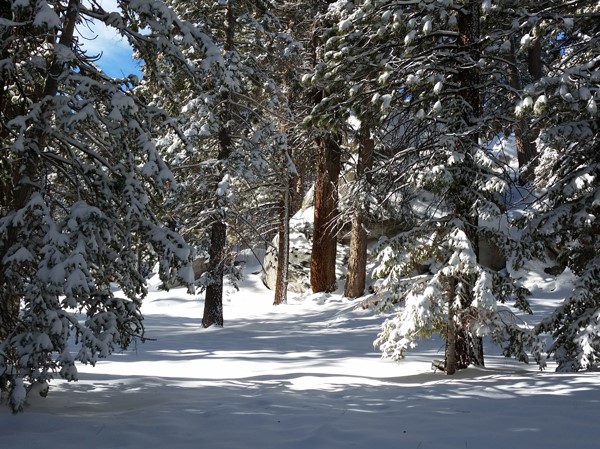 ---
This fall, California State Parks is piloting a new iOS mobile app in 8 parks around the state. If you visit Mount San Jacinto State Park, download OuterSpatial and try it out! This new app gives you information about amazing destinations - including special events, maps, photos, and official trail guides - right at your fingertips.
For more information on the pilot program and to download the app directly from the Apple store, visit OuterSpatial (http://bit.ly/SanJacintoCSPapp). Tag us on Facebook, Twitter, or Instagram: #CAStateParks and #InventYourAdventure #CAStateParksOuterSpatial