The Forest of Nisene Marks State Park
Update (Feb. 5, 2021):
With the Regional Stay at Home Order lifted, State Parks is reopening campground sites for existing reservation holders. The department will be using a phased approach to reopen other campground sites for new reservations, starting January 28. The public is advised that not all campground sites are open to the public due to the pandemic, wildfire impacts and other issues. Additionally, group campsites remain closed. Day use outdoor areas of park units currently open to the public remain open.
As State Parks increases access to the State Park System, it is critical that Californians continue to recreate responsibly in the outdoors as the pandemic is far from over.
Please take the time to read the information contained on this webpage to find out what is open and closed, and the COVID-19 guidelines for this park unit.
What is open now?
Limited parking at Kiosk lot. No parking along the road or at picnic areas.
Visitors must wear masks at the kiosks for day use entry
What is currently closed at this park and throughout the State Park System?

At this park:
Statewide:
Some park units and campground sites continue to be temporarily closed due to the pandemic, impacts from wildfires or other issues. Please visit the webpage of your local outdoor destination to find out if it is open.
High public-use indoor facilities, including museums and visitor centers.
Special events and tours continue to be canceled until further notice.
Are there any new visitor guidelines?

State Parks has implemented the following guidelines to reduce the risk of exposure to COVID-19 in the outdoors:
Stay Local: Stay close to home during this pandemic period. If you or anyone in your household is feeling sick, please remain at home and plan your trip for another time.
Plan Ahead:

The ongoing pandemic response continues to be dynamic and fluid. Prior to leaving home, check the webpage of your outdoor destination you plan to visit to find out if it is open, if parking is available, and what visitor guidelines are in effect.
Learn what safety precautions you should take when exploring the outdoors at parks.ca.gov/SafetyTips.
SNO-PARKS: Make sure your vehicle is snow ready. A permit is required for each vehicle parked at a SNO-PARK site. Parking is on a first come, first-serve basis at all SNO-PARK sites. The public is advised that parking lots are filling up early in the day. Illegal parking is prohibited. More information can be found at ohv.parks.ca.gov/SNOPARKS.

Stay Safer at Six Feet: No matter the recreational activity, maintain a physical distance of six feet or more. Your guests should only include those within your immediate household. This means no guests or friends, and no gatherings or parties. If there are too many people to maintain the required physical distance, please visit us on a different day.

Boating: Do not raft up to other boaters or pull up onto a beach next to other recreators.
Off-highway Vehicle Recreation: Do not ride next to others or pull up next to someone else as it could put you in close proximity to others. Stage 10 feet or more from each other during unloading and loading.

Keep Clean: Be prepared as not all services may be available. Some restrooms will be temporarily closed to keep up with cleaning schedules. Bring soap/hand sanitizer. Please pack out all trash. Park units are experiencing heavy use and you can help alleviate the impact on park facilities.
Stay Covered: The state requires you to wear a face covering when you cannot maintain a physical distance of six feet or more. Individuals must have a face covering with them at all times.
Although law enforcement entities have the authority to issue citations, the expectation is that the public is responsible for adhering to the advice of public health officials, visitor guidelines and closures.
California State Parks continues to work with local and state officials on a phased and regionally driven approach to increase access to state park units where compliance with state and local public health ordinances can be achieved. However, the situation remains fluid and park operations can change at any time. For information on statewide current closures and available services, please visit
parks.ca.gov/FlattenTheCurve
.
Phone Number
(831) 763-7063
Park Hours
Sunrise to Sunset
Dogs Allowed?
Yes
Dogs allowed below Portner Picnic Area.
Driving Directions to The Forest of Nisene Marks SP
The park is four miles north of Aptos on Aptos Creek Road.


Online reservations are not available for this park.
Upcoming Park Events
No events scheduled at this moment.
OVERNIGHT FACILITIES
Environmental Campsites

TRAIL USE
Hiking Trails

DAY-USE ACTIVITIES & FACILITIES
Historical/Cultural Site
Picnic Areas
Interpretive Exhibits
Geocaching

OTHER FACILITIES & VISITOR INFORMATION
Parking
Restrooms


Road and Trail Closures
The Upper Aptos Creek/Buzzard Lagoon Roadside Fuelbreak Project is a high priority CAL Fire project that will address Governor Newsom's Emergency Proclamation on Wildfire Risk. This project covers sections of The Forest of Nisene Marks State Park and the Soquel Demonstration Forest. Due to public safety hazards associated with heavy equipment operation, temporary road and trail closures are necessary.

Closures in effect: August 12, 2019 until project completion; Monday–Friday, daylight hours

All sections of Aptos Creek Fire Road and Ridge Trail in the Soquel Demonstration Forest are currently open. Phase I, II and IV are mostly completed with follow up work to continue when road conditions dry up. The beginning of Phase III is still pending available funding. Updates will be provided here when available.


Closure Details:
Phase I: Upper Buzzard Lagoon Road and upper Aptos Creek Fire Road from Buzzard Lagoon Road intersection to Santa Rosalia Overlook at Ridge Trail intersection.

Phase II: Upper Aptos Creek Fire Road, from Ridge Trail intersection to Sand Point Overlook.

Phase III: Hinckley Fire Road from Sandpoint Overlook to Westridge Trail intersection.

Phase IV: Ridge Trail in Soquel Demonstration Forest.


Visiting The Forest of Nisene Marks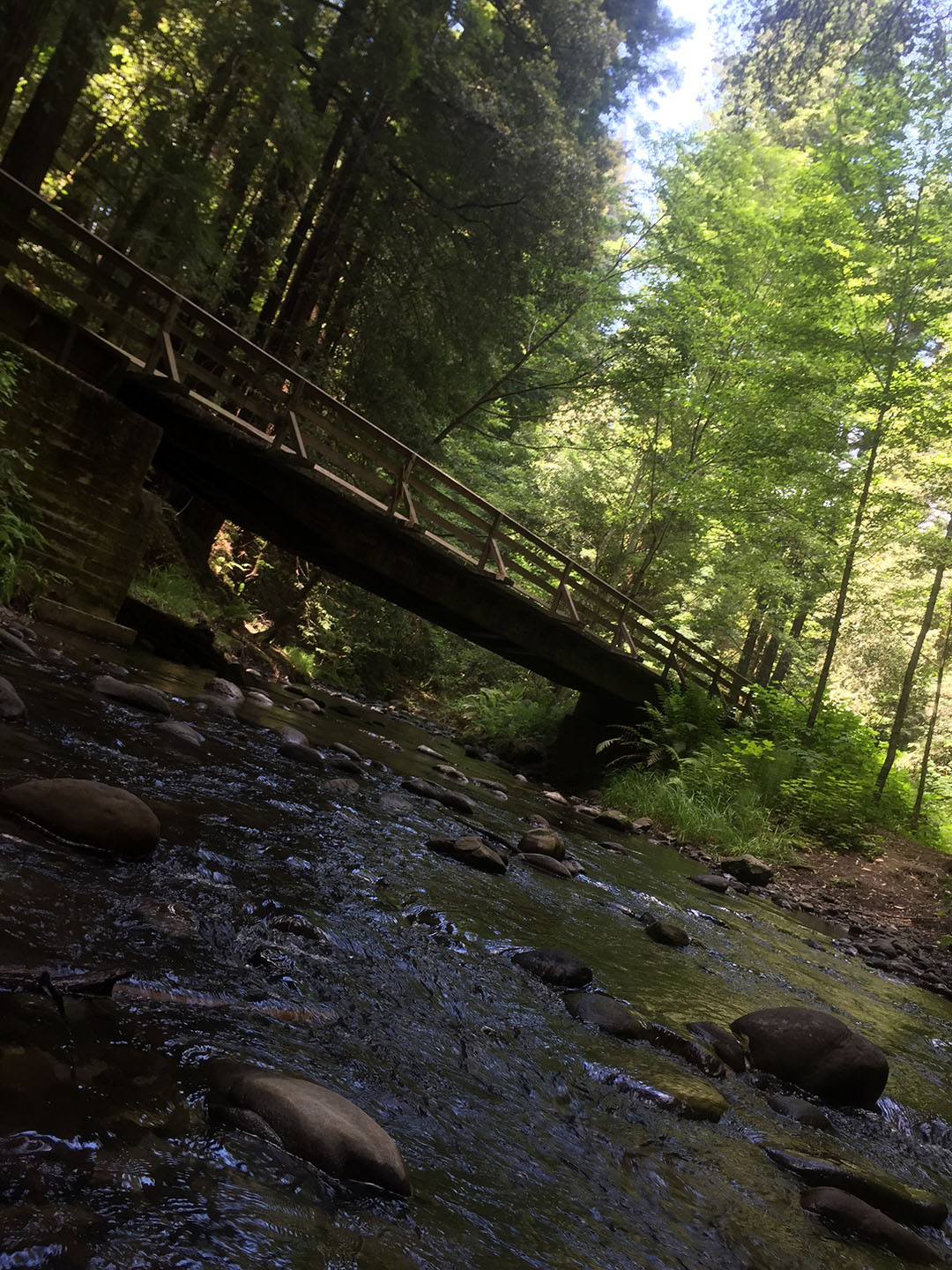 Off the beaten path, The Forest of Nisene Marks is a refreshing retreat from the busy towns and beaches along Highway 1 near Santa Cruz. Its dense second- and third-growth redwood forest rises from near sea level to steep coastal mountains.

Most visitors come to picnic near Aptos Creek or to hike, jog, or bike on 30 miles of trails in rugged semi-wilderness, rising from sea level to steep coastal mountains of more than 2,600 feet.

The park's land has a bittersweet beauty. Almost all of today's redwood forest was clear-cut in a 40-year logging frenzy from 1883 to 1923. When the loggers left the Aptos Canyon, the forest began to heal itself; now, the scars grow fainter with each passing year. The Forest of Nisene Marks is a monument to forest regeneration and the future—it is a forest in a perpetual state of becoming.

The park's name honors Nisene Marks, the nature-loving mother of the Salinas farm family that bought the land in the 1950s. Her children donated approximately 9,700 acres to the state in 1963 with the provision that the land never be developed. Today, the park showcases a forest in recovery, with rugged canyons and remnants of its once-bustling railroad and logging industry. A grove of ancient old-growth redwood trees near the Pourroy picnic area was preserved under private ownership and added to the park in recent years.
Basic Park Information
FEES - There is a $8 vehicle day-use fee. [Regular Sized Auto: $8 (Senior $7, age 62 or older); Bus Parking (10-24 passengers): $50; Bus Parking (25+ passengers): $100]
BICYCLES are allowed only on Aptos Creek Fire Roak and four "hike-and-bike" single track trails below the steel bridge - the four trails are Aptos Rancho Trail, Split Stuff Trail, Terrace Trail, and Vienna Woods Trail.
DOGS are only allowed on Aptos Creek fire Road and the four single-track trails below the steel bridge (named above). Except for service animals, dogs are prohibited beyond the gate at the Porter picnic area parking lot. Dogs must be attended and on leashes no longer than six feet at all times. For a list of locations you can take your dog in Santa Cruz County, please click here.
HORSES are only allowed and the four single-track trails below the steel bridge (named above). Horses are not allowed past the steel bridge.
CAMPING - there is currently no camping in the park. West Ridge Trail Camp is closed.

FIRES are not allowed anywhere in the park.
Community Groups
Please click here to arrange an interpretive talk or guided experience for your organized community group (minimum 10 total participants, minimum 2 weeks' lead time). These interpretive services are contingent upon staff availability.
Volunteer with the Trail Crew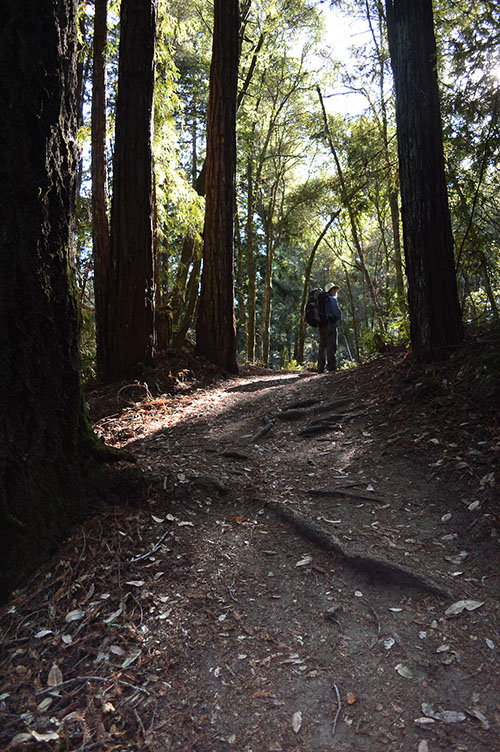 Visit http://www.advocatesfnm.org/ for details.
The Nisene Marks Volunteer Trail Crew helps make it possible for everyone to safely enjoy the beauty of our park. The Trail Crew meets the third Sunday of each month at 9:30am at the entrance kiosk, rain or shine. A typical workday lasts until mid-afternoon. Please bring your own work gloves, lunch, and water. Gain a unique perspective of The Forest of Nisene Marks State Park; enjoy a lively and productive experience with others who share a love of these redwood forests. Learn the satisfaction of participating in a vital part of the park's ability to educate and inspire the public! Event made possible by the Advocates of Nisene Marks and the Nisene Marks Trail Crew.