EFFECTIVE (November 14, 2020) - Thank you for your patience and continued support of California State Parks as we work to limit your risk for exposure to COVID-19 in the outdoors.
The COVID-19 pandemic continues to be dynamic and fluid. As such, information on this webpage may change. Prior to visiting us, please check this webpage again right before you visit the park to find out if new guidelines are in place.
As a reminder, Californians are encouraged to avoid road trips and stay close to home, maintain physical distancing, wear a face covering when a physical distance of six feet cannot be maintained from others, and avoid congregating. Everyone has the responsibility to slow down the spread of COVID-19. Visitors should also abide by their local county health orders.
Here are some additional guidelines for locals visiting Torrey Pines State Beach:
What is open now?
The beach is open for passive and active recreation.
Parking and restrooms are available at South Beach Lot, North Beach lot (chemical toilets only), and the upper reserve. (chemical toilets only)
Day-use fees may be paid through the automated pay machines installed at the park or at the entrance station when staffed
The adjacent Torrey Pines State Natural Reserve including all hiking trails, the park road, and the Extension trails are open.
What is currently closed?
Group activities & athletics are prohibited at this time.
Park amenities such as drinking fountains are closed. Bring water with you.
Are there any new visitor guidelines?
Yes, please see below:
Stay Safer at 6 Feet: No matter the recreational activity, maintain a physical distance of 6 feet or more. No more than three households in a group is permitted. Mixing between group gatherings, large gatherings or parties is not allowed. Visitors are being asked to leave if there are too many people to allow for the required physical distance.
Stay Clean: Be prepared. Bring soap/sanitizer and pack out all trash. Restrooms will be temporarily closed in order to keep up with cleaning schedules.
Stay Covered: The state requires you to wear a face covering when you cannot maintain physical distancing of six feet or more. For details, please visit www.covid19.ca.gov.
Statewide, California State Parks continues to work with locals on a phased and regionally-driven approach to increase access to state park units where compliance with state and local public health ordinances can be achieved. However, the situation remains fluid and park operations can change at any time. The need for Californians to slow the spread of COVID-19 in the outdoors remains critical.
For information on statewide current closures and available services, please visit
parks.ca.gov/FlattenTheCurve
.
Phone Number
(858) 755-2063
Park Hours
Gates open at 7:15 am and close at Sunset.
Driving Directions to Torrey Pines SB
Torrey Pines State Beach is located between La Jolla and Del Mar, California, north of San Diego. There are two locations where you can park to enter the beach. From Hwy 5 going southbound, exit on Carmel Valley Road and drive west for about 1.5 miles until you reach McGonigle Road. Turn left on McGonigle Road to enter the parking lot where you can self-pay to park and walk to the beach. Or you can continue driving straight to North Torrey Pines Road. Turn left and proceed along the beach for about a mile. The park entrance is on your right just before the highway begins to climb the Torrey Pines grade, where you also pay to park.

From Hwy 5 northbound, exit Genesee Ave and turn left. Continue on Genesee Ave, veering to the right onto N. Torrey Pines Road for approximately 4.5 miles. Turn left when you reach the bottom of the grade to enter the park. To access the north end of Torrey Pines State Beach, continue northbound on N. Torrey Pines Road until you reach Carmel Valley Road. Turn right until you reach McGonigle Road then turn right into the parking lot.


Camping and Lodging
Torrey Pines State Beach does not have camping facilities as it is a day-use only area. To make reservations for docent led educational programs K-12, College, Scouts and Senior groups go to:

(To make reservations for large group hikes with over 25 people, special/private hikes or weddings go to: https://torreypine.org/contact-us/special-events/).
Upcoming Park Events
No events scheduled at this moment.
OVERNIGHT FACILITIES
RV Access

TRAIL USE
Bike Trails

DAY-USE ACTIVITIES & FACILITIES
Fishing
Scuba Diving/Snorkeling
Beach Area
Swimming
Nature & Wildlife Viewing
Windsurfing/Surfing
Geocaching

OTHER FACILITIES & VISITOR INFORMATION
Parking
Restrooms / Showers
Restrooms
Drinking Water Available
Wheelchair Accessible

Notice:
Accessibility improvements are underway at Torrey Pines State Beach, North Beach Parking Lot. The fee lot will remain open throughout construction, and visitors can use the beach access at High Bridge (northernmost corner of the parking lot). Portable restrooms will be in place for public use. This project entails the replacement of the restroom building, some underground infrastructure work and the installation of new rinse showers and drinking fountains. The project should be complete by December 1, 2020. We apologize for any inconvenience this may cause and we thank you for your patience during this time.
General Information:
State beaches are areas with frontage on the ocean, or bays designed to provide swimming, boating, fishing, and other beach-oriented recreational activities. This wide, sandy beach stretches 4 1/2 miles from Del Mar past Los Peñasquitos Lagoon to the base of sandstone cliffs at Torrey Pines Mesa. Swimming, surfing and fishing are popular. Red-hued bluffs and wet sand make strolling on the beach popular at low tide. A picnic area and parking lot are near the entrance on North Torrey Pines Road.

The beach can also be reached by trail from the Torrey Pines State Natural Reserve.
Annual Passes are now sold at the entrance kiosk station operated by our concessionaire, LAZ Parking. The entrance kiosk station is open from 8:00am to approximately a 1/2 hour before sunset 365 days a year. For more park information go to Torreypine.org/reserveinfo.

Torrey Pines prohibits dogs anywhere within the reserve and beach boundaries (even within a vehicle).

(click here to view the web cam)
Additional Visitor Services
LAZ Parking California, LLC of San Diego (Parking Lot Management)
Annual Passes are now sold at the entrance kiosk station operated by our concessionaire, LAZ Parking
Brats Berlin, Inc. (Mobile Food Truck)
The Pura Vida Project LLC dba Del Mar Surf Rentals (Beach Equipment Rental, Sale of Beach Items & Vending Machine)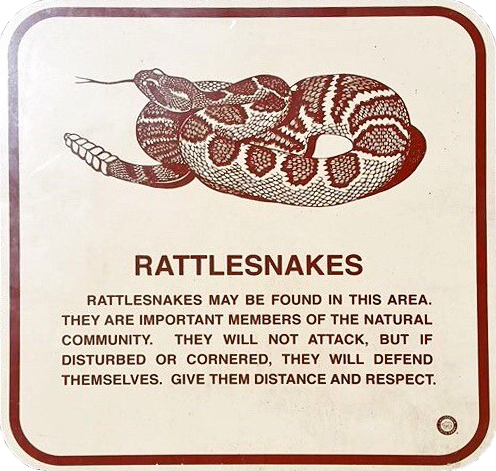 Are there any rattlesnake? -
The answer is, "
Yes!
"
The 2 most common rattlesnakes you will see here are the Southern Pacific Rattlesnake and the Red Diamond Rattlesnake. The Southern Pacific Rattlesnake is the one you will most likely run into in the park. If you do see a rattlesnake while hiking, stop and wait until the snake leaves the area. It has mostly likely felt you coming from the vibrations you've mad
e walking on the trail. If it doesn't leave, turn around and notify a park employee or volunteer. Snakes are more willing to leave you alone and find something more manageable to strike and eat (unless you try to take a selfie with it). On rare occasions, snakes do land on the beach having been pushed or fallen off the cliffs. Notify a park employee so that the snake can be returned to a more suitable location to live. Do not try to relocate or pickup the snake yourself.
Torrey Pines SNR Parking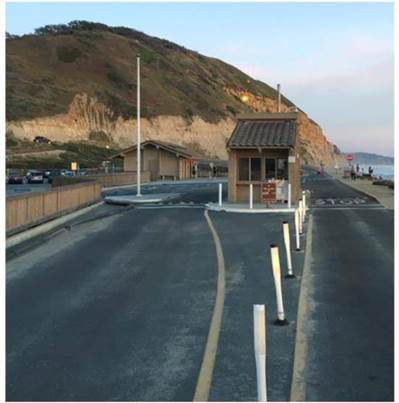 One of the more common complaints in the summer time at Torrey Pines is the parking. When the South Beach lot fills up, we close the entrance and visitors need to head to North Beach for parking. There is now a flashing light on the top of the kiosk to alert visitors when the gate is closed. This early alert system will enable visitors to go directly to the North Beach parking lot and avoid having to make a u-turn at the closed entrance to the South Beach lot. Once you know exactly where to look, you can even see the light from the top of High Bridge or Carmel Valley Rd. See map below for some locations to look for the flashing light.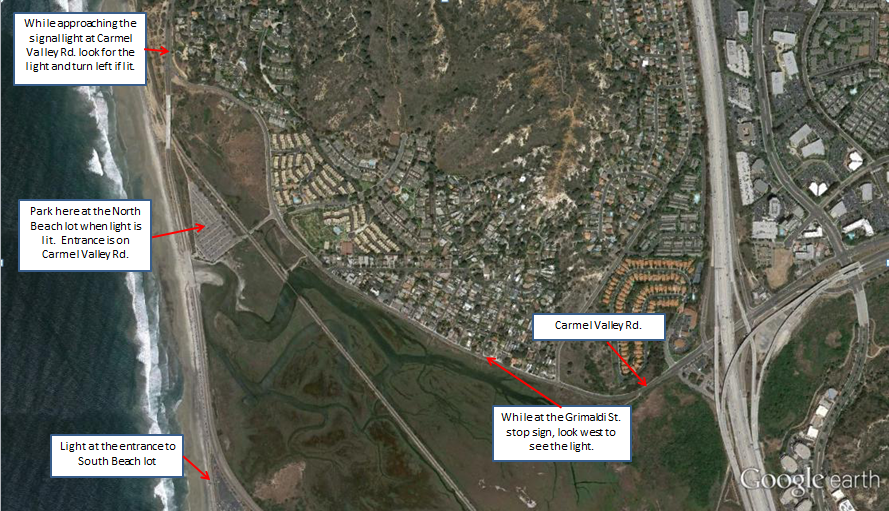 Torrey Pines is one of the most popular State Parks in San Diego. As a result of this, Torrey Pines becomes very crowded during the summer time. The hours between 10:00 AM - 1:00 PM tend to be the busiest hours of the reserve, so it is best to plan around these times!
Please click HERE for Rules and Regulations of the Reserve
Rules of the Reserve:
NO DOGS IN THE RESERVE OR STATE BEACH
Stay on trail – Walking off trail causes erosion, tramples plants and frightens wildlife.
No pets – Dogs frighten wildlife and their waste causes nesting animals to abandon their young.
No food in the reserve – Help keep our animals wild and healthy by picnicking only at the beach.
No alcohol
No drones – To Prevent possible resource damage from accidents and to avoid frightening animals.
No picking/collecting natural features – Pinecones and flowers must be left to produce seeds to grow new plants. It also allows fellow visitors to enjoy the fauna.
No smoking/open flames – Torrey Pines has a high fire danger. The plants found here are dry and flammable.
No amplified music – Respect your fellow hikers and enjoy the sounds of nature while in the reserve.
---