Torrey Pines State Natural Reserve
Phone Number
(858) 755-2063
Park Hours
Gates open at 7:15 am and close at Sunset.
Driving Directions to Torrey Pines SNR
Torrey Pines State Natural Reserve is located between La Jolla and Del Mar, California, north of San Diego. From Hwy 5, exit on Carmel Valley Road and drive west for about 1.5 miles till you reach the Coast Highway 101. Turn left and proceed along the beach for about a mile. The park entrance is on your right just before the highway begins to climb the Torrey Pines grade, where you can pay to park. You can also enter the park from the North Beach parking lot. From Hwy 5 going southbound, exit on Carmel Valley Road and drive west for about 1.5 miles until you reach McGonigle Road. Turn left on McGonigle Road to enter the parking lot where you can self-pay to park and walk to the reserve by walking towards the beach and going underneath the bridge to access a ramp that will lead you to a sidewalk to get to the trails at the Reserve.

From Hwy 5 northbound, exit Genesee Ave and turn left. Continue on Genesee Ave, veering to the right onto N. Torrey Pines Road for approximately 4.5 miles. Turn left when you reach the bottom of the grade to enter the park. To access the north end of Torrey Pines State Beach, continue northbound on N. Torrey Pines Road until you reach Carmel Valley Road. Turn right until you reach McGonigle Road then turn right into the parking lot.

To access the trails at the Extension, free public parking is allowed near the trail heads.


Online reservations are not available for this park.
Upcoming Park Events
No events scheduled at this moment.
---
Notice:
On Monday May 7, the Guy Fleming trail will be temporarily closed. Contractors will be applying herbicide to control long flowered veldt grass (Ehrharta longiflora) along the Park road and within the Ellen Browning Scripps Natural Preserve at Torrey Pines State Natural Reserve. Long flowered veldt grass is very invasive and if left untreated it will almost completely displace native flower fields and other rare habitats within Torrey Pines State Natural Reserve. To preserve this biodiversity, long flowered veldt grass is currently treated with a combination of careful hand pulling by dedicated volunteers and spot spray herbicide use. Because of the large size of the infestation and the difficult terrain, we are compelled to use an herbicide to keep the infestation manageable.


Reserve Information: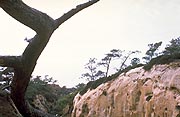 State Natural Reserves have outstanding or unusual natural or scenic values. Torrey Pines State Natural Reserve is a wilderness island in an urban sea. This fragile environment is the home of our nation's rarest pine tree - Pinus torreyana. Once this tree covered a larger area. It now grows only here and on Santa Rosa Island off the coast near Santa Barbara. The park preserves not only the trees, but also one of the last salt marshes and waterfowl refuges in Southern California. The reserve features high broken cliffs and deep ravines on headlands overlooking the ocean. Hikers can follow trails through stands of wind-sculpted pines. A picturesque, pueblo-style structure that served as a restaurant when it was built in 1923 houses the visitor center, featuring interpretive displays. Picnicking and camping are prohibited in the reserve. The reserve's rich plant community features wildflowers in the spring and visitors can see the California quail gathered in coveys in the early mornings of fall and winter.

Torrey Pines State Beach can also be reached by trail from the Reserve.

Annual Passes are now sold at the entrance kiosk station operated by our concessionaire, LAZ Parking. The entrance kiosk station is open from 8:00am to approximately a 1/2 hour before sunset 365 days a year. For parking information see Torreypine.org/reserveinfo
Please click HERE for Rules and Regulations of the Reserve
On-Going Events:
Docent-Led Hikes: Every weekend day and nationally-observed holidays at 10:00 a.m. and 1:00 p.m.


Docent-Led Children's Program: Offered September through May of the school year: First Friday morning of the month plus Tuesday and Thursday mornings, excluding Thanksgiving, Christmas, and New Year's Day weeks. More information on the reservation process is available at: Group Field Trips and Hikes (Torrey Pines Docent Society)
Notice of Broken Hill Trail Closure
Due to extensive damage to the trail, California State Parks will be working in conjunction with the CCC (California Conservation Corps) to repair Broken Hill Trail. During this time, the section of the North Fork trail to the Beach trail wil be closed. Areas that have been washed out will be bridged and the trail surface will be leveled and repaired. These repairs are expected to last for approximately one year. While the beach will not be accessible from these trails, the ADA upgraded South Fork trail to Broken Hill overlook will remain open. We thank you for your cooperation during this critical time.
---
(Photograph by Mike Fuller)
Torrey Pines State Natural Reserve
Torrey Pines State Natural Reserve preserves habitat for North America's rarest and most geographically restricted type of pine tree species. Several natural processes interact to form the habitat for the pines. The reserve and beach are perfect places for visitors to see vestiges of past environments and their continuing influence on the landscape and to envision the dynamics of shoreline processes.
---
Available Activities and Facilities at Torrey Pines State Natural Reserve
TRAIL USE
Hiking Trails

DAY-USE ACTIVITIES & FACILITIES
Historical/Cultural Site
Env. Learning/Visitor Center
Exhibits and Programs
Guided Tours
Interpretive Exhibits
Vista Point
Nature & Wildlife Viewing
Museums
Family Programs
Geocaching

OTHER FACILITIES & VISITOR INFORMATION
Parking
Restrooms / Showers
Restrooms
Drinking Water Available