Update (May 4, 2021)
: As State Parks increases access to the State Park System, it is critical that Californians continue to recreate responsibly in the outdoors as the pandemic is far from over. The public is advised that not all campground sites are open to the public due to the pandemic, wildfire impacts and other issues. Day use outdoor areas of park units currently open to the public remain open.
Please take the time to read the information contained on this webpage to find out what is open and closed, and the COVID-19 guidelines for this park unit.
What is open now?
All day-use parking lots.
Park office/beach headquarters.
Bolsa Chica Campground.
Park road and multi-use trail.
Pacific Kitchen, Seasalt Beachside Burger, and SeaLegs at the Beach.
Bonfire pits.
Volleyball Nets.
Filming permits.
What is currently closed at this park and throughout the State Park System?

At this park:
Visitor Center.
In-park interpretation and education programs.
All special events outside of a single-family household.
Statewide:
Some park units and campground sites continue to be temporarily closed due to the pandemic, impacts from wildfires or other issues. Please visit the webpage of your local outdoor destination to find out if it is open.
Some high public-use indoor facilities, including museums and visitor centers.
Some special events and tours continue to be canceled until further notice.
Are there any new visitor guidelines?

State Parks has implemented the following guidelines to reduce the risk of exposure to COVID-19 in the outdoors:
Plan Ahead:

The ongoing pandemic response continues to be dynamic and fluid. Prior to leaving home, check the webpage of your outdoor destination you plan to visit to find out if it is open, if parking is available, and what visitor guidelines are in effect.
Learn what safety precautions you should take when exploring the outdoors at parks.ca.gov/SafetyTips.

Stay Safer at Six Feet: No matter the recreational activity, maintain a physical distance of six feet or more. Your guests should only include those within your immediate household. This means no guests or friends, and no gatherings or parties. If there are too many people to maintain the required physical distance, please visit us on a different day.

Boating: Do not raft up to other boaters or pull up onto a beach next to other recreators.
Off-highway Vehicle Recreation: Do not ride next to others or pull up next to someone else as it could put you in close proximity to others. Stage 10 feet or more from each other during unloading and loading.

Keep Clean: Be prepared as not all services may be available. Some restrooms will be temporarily closed to keep up with cleaning schedules. Bring soap/hand sanitizer. Please pack out all trash. Park units are experiencing heavy use and you can help alleviate the impact on park facilities.
Stay Covered: The state requires you to wear a face covering when you cannot maintain a physical distance of six feet or more. Individuals must have a face covering with them at all times.
Although law enforcement entities have the authority to issue citations, the expectation is that the public is responsible for adhering to the advice of public health officials, visitor guidelines and closures.
California State Parks continues to work with local and state officials on a phased and regionally driven approach to increase access to state park units where compliance with state and local public health ordinances can be achieved. However, the situation remains fluid and park operations can change at any time. For information on statewide current closures and available services, please visit
parks.ca.gov/FlattenTheCurve
.
Phone Number
(714) 377-5691
Max. Trailer Lengths
Trailer: Up to 40 Feet
Camper/Motorhome: Up to 40 Feet
Park Hours
6:00 AM - 10:00 PM
Monday - Sunday
Gates close at 9:00 PM
Dogs Allowed?
Yes
Dogs allowed only on the multiuse trail (bike path). Dogs not allowed on sand.
Driving Directions to Bolsa Chica SB
The beach extends from Pacific Coast Highway at Golden West to Pacific Coast Highway at Warner Ave.


Camping and Lodging
Visitors will be able to reserve campsites and lodging six months in advance from the current date. Bookings may extend from the arrival date to the desired departure date – based on availability and the park's maximum stay rules.
Upcoming Park Events
No events scheduled at this moment.
OVERNIGHT FACILITIES
Family Campsites
RV Sites w/Hookups
RV Dump Station
RV Access

TRAIL USE
Bike Trails
Hiking Trails

DAY-USE ACTIVITIES & FACILITIES
Picnic Areas
Env. Learning/Visitor Center
Fishing
Interpretive Exhibits
Beach Area
Swimming
Windsurfing/Surfing
Family Programs
Geocaching

OTHER FACILITIES & VISITOR INFORMATION
Food Service
Parking
Restrooms
Outdoor Showers
Drinking Water Available
Wheelchair Accessible

#BolsaChicaStateBeach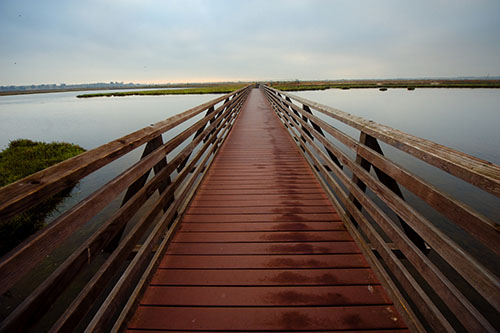 Bolsa Chica State Beach is a popular state beach, drawing hundreds of thousands of visitors to its location south of the community of Sunset Beach in Orange County. This area was once called "Tin Can Beach" and became a state beach in 1960. Bolsa Chica is a perfect place to go surfing, sunbathing, play volleyball, enjoy water sports, hold family outings or to watch the sun set. Average summer temperatures range in the high 70's-80's, while winter brings slightly cooler temperatures to the mid-60's. The beach consistently draws prime waves and the surf breaks in shallower water, causing incoming waves to form a desirable curled shape as they crest.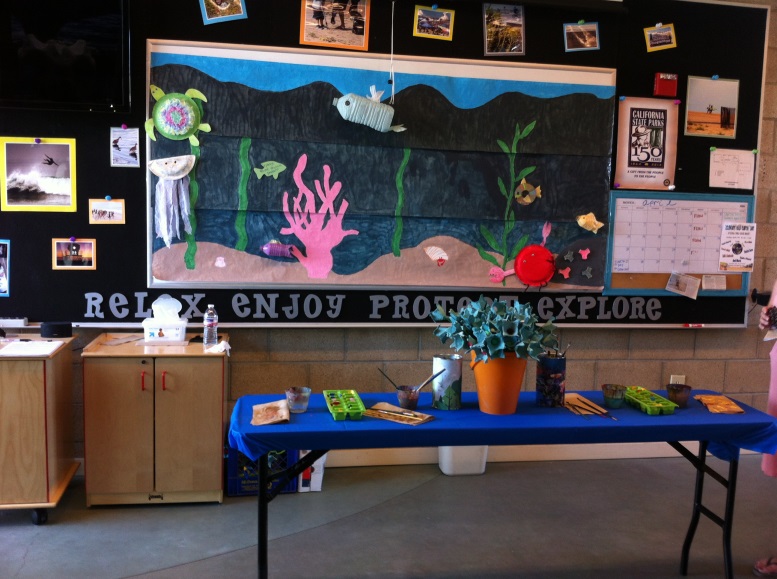 Bolsa Chica is also a place for surf fishing of perch, corbina, California corbina, croaker, cabezon, shovelnose guitar fish and sand shark. At new and full moons during the summer, visitors can enjoy bare-handed fishing for California grunion, a species that only spawns on sandy southern California beaches. Under state law, these fish may be caught by hand with a fishing permit. Wildlife and bird watching are also popular at this state beach.
The Bolsa Chica Ecological Reserve is located across the Pacific Coast Highway (PCH) from the beach and is operated by the California Department of Fish and Game.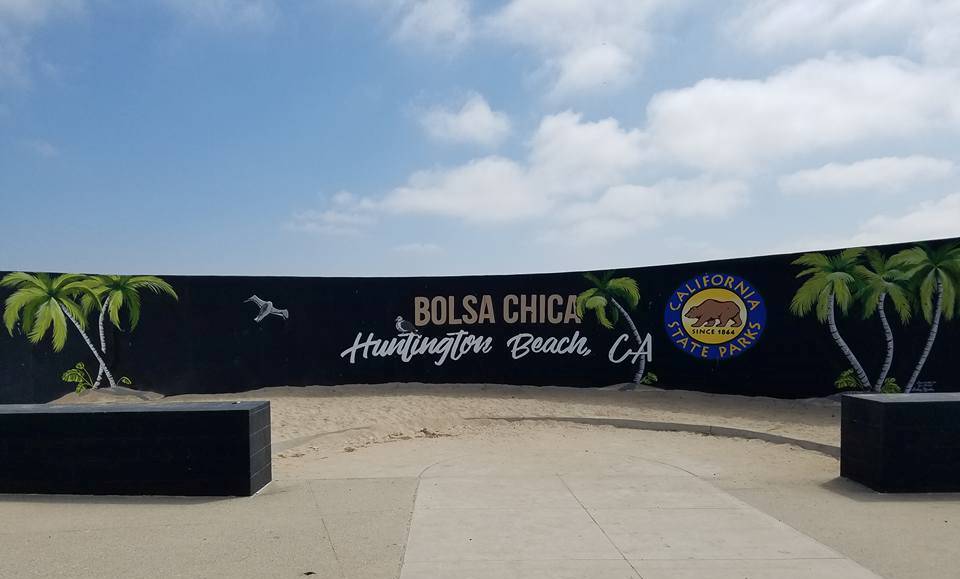 The Bolsa Chica State Beach Visitor Center features year-round interpretative displays and exhibits. The State Beach has 50 campsites with electric and water hookups for self-contained RVs. Picnic tables, outdoor showers and restrooms are accessible. A beach wheelchair is available for loan, with ramps for sand access. There is a paved beachside trail that runs for 8.5 miles between Bolsa Chica and Huntington State Beaches.
Note: Tent camping is not allowed at Bolsa Chica State Beach. Fire rings are available every day of the year from 6 am to 10 pm.
Location – Directions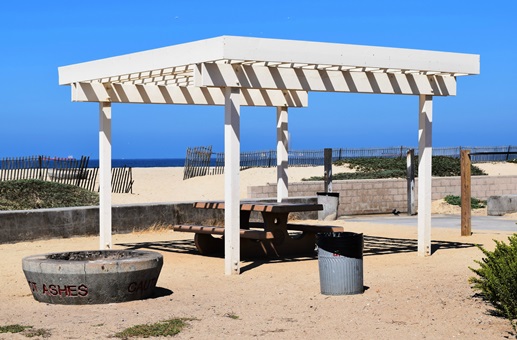 Bolsa Chica State Beach is located in Huntington Beach, California and extends three miles from Warner Avenue to Seapoint Avenue along Pacific Coast Highway.
Physical Address:
17851 Pacific Coast Highway, Huntington Beach, CA 92649
(not a USPS mailing address)
Lifeguard Service
Lifeguard Services at Bolsa Chica State Beach are provided by the California State Parks Lifeguard Service. Lifeguards patrol the beach year round while lifeguard towers are staffed roughly from Memorial Day weekend through Labor Day weekend.
---
GENERAL INFORMATION
Our 200 fire rings are first come first serve, unless reserved with a picnic area (view our page regarding picnic reservations).

NO charcoal grills allowed. Coal and wood may be used in the fire rings only. You may bring your own propane grill but it must be at least 18" off the ground. Propane grills can be put anywhere on the beach behind the line of Lifeguard Towers.
NO alcohol allowed, unless approved with a Special Events Permit (view our page regarding Special Events).
NO balloons or piñata type items allowed. Please help us keep our wildlife safe from eating these items.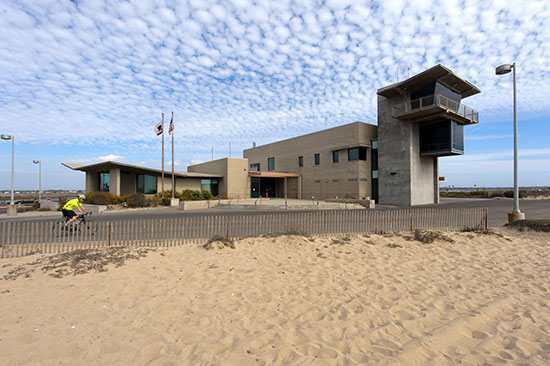 NO enclosed tents, ez-ups and open tarps only.
NO dogs on sand, they can be on a leash on the multi-use trail (bike path) only. View this document for information on Service Animals in State Parks
RVs: NO pop-outs/awnings allowed. You may bring your RV but you must be inside it or on the beach. Each parking space must be available for a paid parked vehicle at all times.
Additional Visitor Services
LUV-2-CAMP, LLC (Camp trailer rentals)
City of Huntington Beach (Operate and maintain property adjacent to Bolsa Chica Pier.)
The Prjkt Concessions LLC (Food and Beverage Beach Stands)