---
#BolsaChicaStateBeach
This fall, California State Parks is piloting a new iOS mobile app in 8 parks around the state. If you visit Bolsa Chica State Beach, download OuterSpatial and try it out! This new app gives you information about amazing destinations - including special events, maps, photos, and official trail guides - right at your fingertips.
For more information on the pilot program and to download the app directly from the Apple store, visit OuterSpatial (http://bit.ly/BolsaChicaCSPapp). Tag us on Facebook, Twitter or Instagram
#CAStateParks and #InventYourAdventure #CAStateParksOuterSpatial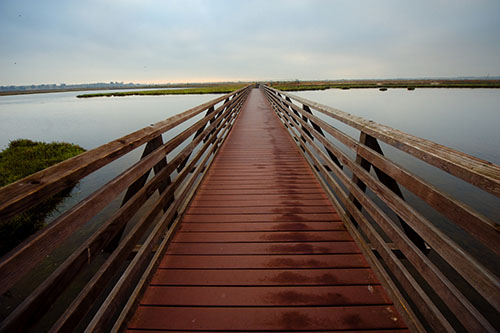 Bolsa Chica State Beach is a popular state beach, drawing hundreds of thousands of visitors to its location south of the community of Sunset Beach in Orange County. This area was once called "Tin Can Beach" and became a state beach in 1960. Bolsa Chica is a perfect place to go surfing, sunbathing, play volleyball, enjoy water sports, hold family outings or to watch the sun set. Average summer temperatures range in the high 70s, while winter brings slightly cooler mid-60- degree weather. The beach consistently draws prime waves and the surf breaks in shallower water, causing incoming waves to form a desirable curled shape as they crest.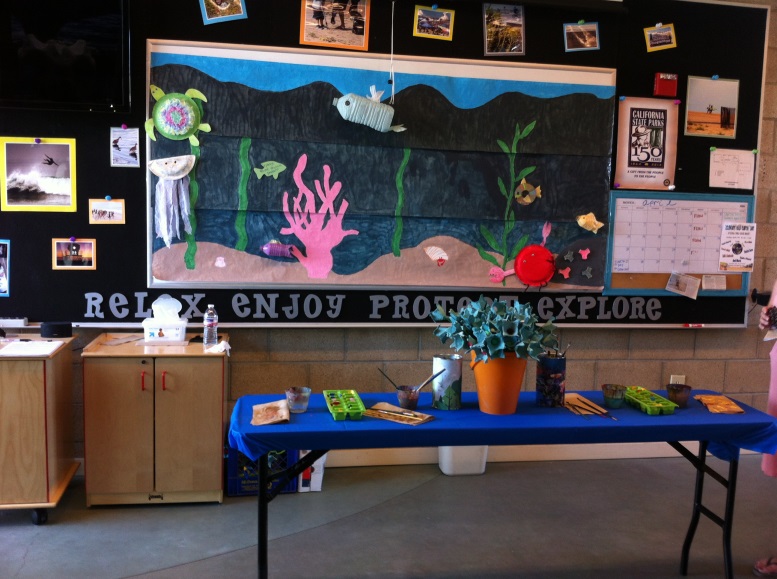 Bolsa Chica is also a place for surf fishing of perch, corbina, California corbina, croaker, cabezon, shovelnose guitar fish and sand shark. At new and full moons during the summer, visitors can enjoy bare-handed fishing for California grunion, a species that only spawns on sandy southern California beaches. Under state law, these fish may be caught by hand with a fishing permit. Wildlife and bird watching are also popular at this state beach. The Bolsa Chica Ecological Reserve is located across the Pacific Coast Highway (PCH) from the beach and is operated by the California Department of Fish and Game.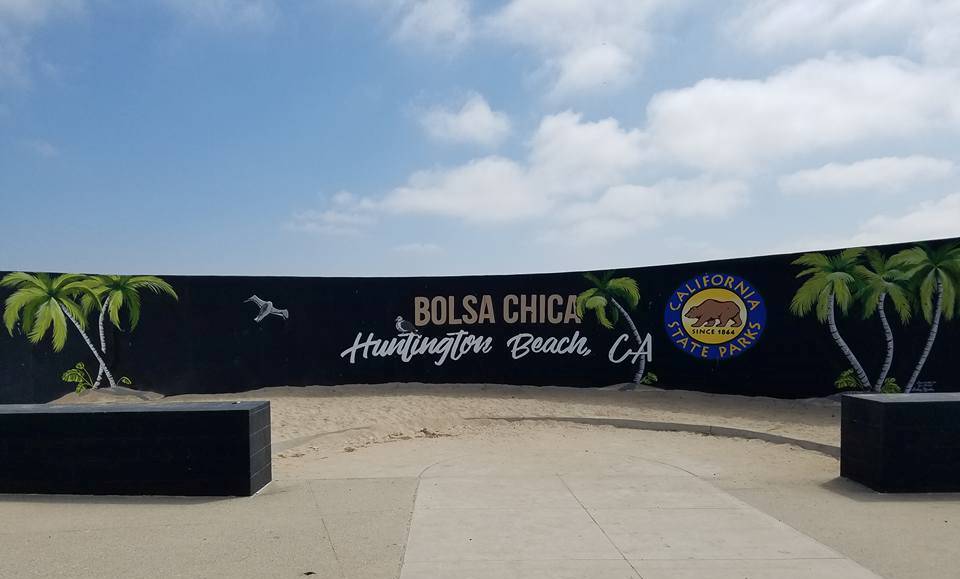 The Bolsa Chica State Beach Visitor Center features year-round interpretative displays and exhibits. The State Beach has 50 campsites with electric and water hookups for self-contained RVs. Picnic tables, outdoor showers and restrooms are accessible. A beach wheelchair is available for loan, with ramps for sand access. There is a paved beachside trail that runs for 8.5 miles between Bolsa Chica and Huntington State Beaches.
Note: Tent camping is not allowed at Bolsa Chica State Beach. Fire rings are available every day of the year from 6 am to 10 pm.
Additional Visitor Services
LUV-2-CAMP (LLC Camp trailer rentals)
Code 3 RV (LLC Camp trailer rentals)
Location – Directions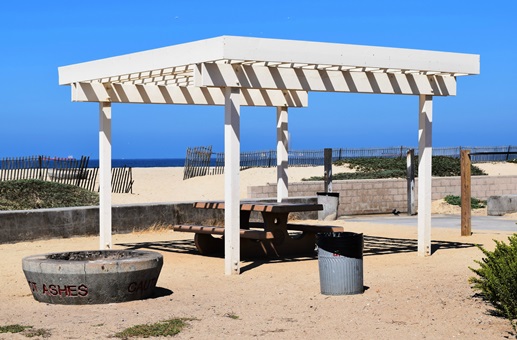 Bolsa Chica State Beach is located in Huntington Beach, California and extends three miles from Sunset Beach to Seapoint Avenue along Pacific Coast Highway.
Lifeguard Service
Lifeguard Services at Bolsa Chica State Beach are provided by the California State Parks Lifeguard Service. Lifeguards patrol the beach year round while lifeguard towers are staffed roughly from Memorial Day weekend through Labor Day weekend.
---
FIRE RINGS AND MOST ASKED QUESTIONS
Yes we have them! There are 200 on Bolsa Chica State Beach and they are first come first serve unless reserved with a picnic area (see Event and Picnic Reservation Information).

Coals and Wood can be used inside the Fire Rings only (No charcoal grills allowed).

You may bring your own PROPANE GRILL, it must be at least 18" off the ground and can be put anywhere on the beach behind the line of Lifeguard Towers.

NO ALCOHOL ALLOWED

No balloons or piñata type things allowed anywhere on the beach (think environmental awareness). We do have wild life that like to eat unedible things they find.

No enclosed tents, ez-ups and open tarps only.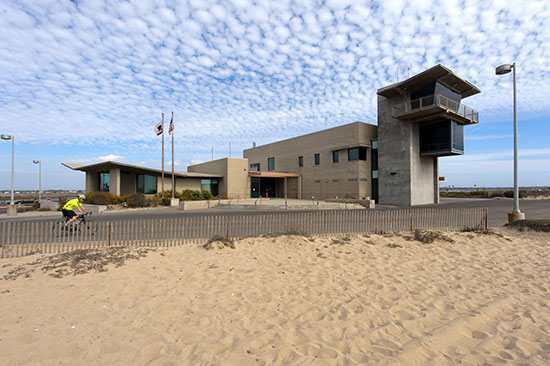 No Dogs on sand, they can be on a leash on paved multi-use trail (bike path) only.
Service Animals in State Parks; https://www.parks.ca.gov/pages/735/files/Insert_ServiceDog.pdf

RV's: no pop-outs or awnings allowed. You may bring your recreational vehicle but you must be inside it or on the beach. Each parking space must be available for a paid parked vehicle at all times.
---
Available Activities and Facilities at Bolsa Chica State Beach
OVERNIGHT FACILITIES
Family Campsites
RV Sites w/Hookups
RV Dump Station
RV Access

TRAIL USE
Bike Trails
Hiking Trails

DAY-USE ACTIVITIES & FACILITIES
Picnic Areas
Env. Learning/Visitor Center
Fishing
Interpretive Exhibits
Beach Area
Swimming
Windsurfing/Surfing
Family Programs
Geocaching

OTHER FACILITIES & VISITOR INFORMATION
Food Service
Parking
Restrooms
Outdoor Showers
Drinking Water Available
Wheelchair Accessible