Phone Number
(805) 968-1033
Park Hours
Day Use 7:00 a.m. to Sunset
Driving Directions to Gaviota SP
The park is located 33 miles west of Santa Barbara on U.S. 101.


Camping and Lodging
Visitors will be able to reserve campsites and lodging six months in advance from the current date. Bookings may extend from the arrival date to the desired departure date – based on availability and the park's maximum stay rules.
Upcoming Park Events
No events scheduled at this moment.
BOATING
Boating

OVERNIGHT FACILITIES
Family Campsites
Hike or Bike Campsites
RV Access

TRAIL USE
Hiking Trails
Horseback Riding

DAY-USE ACTIVITIES & FACILITIES
Picnic Areas
Fishing
Scuba Diving/Snorkeling
Beach Area
Swimming
Vista Point
Windsurfing/Surfing
Geocaching

OTHER FACILITIES & VISITOR INFORMATION
Camp Store
Parking
Restrooms / Showers
Restrooms
Outdoor Showers
Drinking Water Available
Wheelchair Accessible

---
Now Hiring!
RV Rental Delivery Policy
Trailers may be rented from 101 RV Rental Concession. This is the only permitted business for delivery of RVs in this state park. For any questions contact Channel Coast District office at (805) 585-1850.

101 RV Rental 805-210-7391


Gaviota State Park
The coastal bluffs at Gaviota State Park reveal a 500-foot-thick cross-section of the geographically extensive Monterey Formation. Offshore and inland, petroleum geologists have extensively explored underground for oil reservoirs within this rock sequence and probed its depths to understand the genesis of this important oil source. The naturally cemented, bluff faces resist wave erosion and are tilted to display multiple layers like the pages of a book. The geologic layers contain some nicely preserved fossils, even the complete skeleton of a halibut-like fish.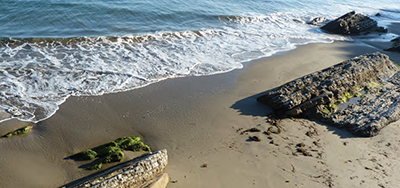 (Photograph by Mike Fuller)
Social Feed