Update

(March 12, 2021)
:
State Parks initiated phase I of the three-phased reopening plan for Oceano Dunes SVRA and Pismo SB on Oct. 30, 2020 and has observed successful balancing of vehicle access, environmental protections and public health protocols during that phase. In consultation with state and local public health departments and other regional public land managers, State Parks is preparing to move into the next phase for these popular outdoor destinations.


Detailed information on the phases can be viewed here:
Phase One
I Phase Two I
FAQs
.
Updates on the three-phased reopening plan will also be shared on Oceano District
Twitter
and
Facebook
social media accounts.


Please take the time to read the information contained on this webpage to find out what is open and closed, and the COVID-19 guidelines for this park unit.
What is open now?
Campsites for the developed Oceano Campground and North Beach Campground within Pismo SB are available for booking.
What is currently closed at this park and throughout the State Park System?

Statewide:
Some park units and campground sites continue to be temporarily closed due to the pandemic, wildfire and weather-related impacts, and other issues. Please

visit the webpage of your local outdoor destination

to find out if it is open.

High public-use indoor facilities, including museums and visitor centers.
Are there any new visitor guidelines?
State Parks has implemented the following guidelines to reduce the risk of exposure to COVID-19 in the outdoors:
Stay Local

: Stay close to home during this pandemic period. If you or anyone in your household is feeling sick, please remain at home and plan your trip for another time.

Plan Ahead

:

The ongoing pandemic response continues to be dynamic and fluid. Prior to leaving home, check the webpage of your outdoor destination you plan to visit to find out if it is open, if parking is available, and what visitor guidelines are in effect.

Learn what safety precautions you should take when exploring the outdoors at

parks.ca.gov/SafetyTips

.
Stay Safer at Six Feet

: No matter the recreational activity, maintain a physical distance of six feet or more. Only travel/camp with those in your household. This means no guests or friends, and no gatherings or parties. If there are too many people to maintain the required physical distance, please visit us on a different day.

Boating:

Do not raft up to other boaters or pull up onto a beach next to other recreators.

Off-highway Vehicle Recreation:

Do not ride next to others or pull up next to someone else as it could put you in close proximity to others. Stage 10 feet or more from each other during unloading and loading.
Keep Clean

: Be prepared as not all services may be available. Some restrooms will be temporarily closed to keep up with cleaning schedules. Bring soap/hand sanitizer. Please pack out all trash. Park units are experiencing heavy use and you can help alleviate the impact on park facilities.

Stay Covered

: The state requires you to wear a face covering when you cannot maintain a physical distance of six feet or more. Individuals must have a face covering with them at all times.
The public is responsible for adhering to the advice of public health officials, visitor guidelines and closures. If visitors fail to comply with health guidance, State Parks and law enforcement entities have the authority to issue citations.
For information on statewide current closures and available services, please visit
parks.ca.gov/FlattenTheCurve
.
Public Comments
Thank you for your feedback on the future of Oceano Dunes State Vehicular Recreation Area (SVRA). The department
continues to receive significant public feedback on this popular outdoor destination. Although we may not be able to directly respond to each individual comment, all comments are taken seriously and will be considered in the management decisions for Oceano Dunes SVRA.
If you would like to comment on the Public Works Plan for Oceano Dunes, please submit your comment to
OceanoDunes.PWP.EIR@parks.ca.gov
.
Phone Number
(805) 473-7220
Max. Trailer Lengths
Trailer: Up to 31 Feet
Camper/Motorhome: Up to 36 Feet
Park Hours
Pedestrian Day Use hours are from 6:00am-10:00pm.
Vehicle Day Use hours are from 7:00am - 8:00pm.
Dogs Allowed?
Yes
Dogs not allowed in Pismo Dune Preserve.
Driving Directions to Pismo SB
The beach is located in the town of Oceano off Highway 1.


Camping and Lodging
Visitors will be able to reserve campsites and lodging six months in advance from the current date. Bookings may extend from the arrival date to the desired departure date – based on availability and the park's maximum stay rules.
Upcoming Park Events
No events scheduled at this moment.
OVERNIGHT FACILITIES
Family Campsites
RV Sites w/Hookups
RV Dump Station
RV Access

TRAIL USE
Hiking Trails
Horseback Riding

DAY-USE ACTIVITIES & FACILITIES
Env. Learning/Visitor Center
Exhibits and Programs
Fishing
Guided Tours
Interpretive Exhibits
Scuba Diving/Snorkeling
Beach Area
Swimming
Nature & Wildlife Viewing
Windsurfing/Surfing
Family Programs
Geocaching

OTHER FACILITIES & VISITOR INFORMATION
Food Service
Restrooms / Showers
Restrooms
Drinking Water Available
Wheelchair Accessible

Draft Environmental Impact Report (EIR) Available for Review
State Parks has prepared a Draft Public Works Plan and associated Draft EIR for Pismo State Beach and Oceano Dunes State Vehicular Recreation Area for compliance with the California Coastal Act and recommendations for improvement in additional Park Management Programs and Plans. The Draft Plan (Volume 1), Existing Conditions (Volume 2), and Draft EIR (Volume 3) are available for review at www.oceanodunespwp.com/en/documents/draft-eir.
The Draft EIR is available for public review and comment beginning December 31, 2020 and comments are due on April 19, 2021, at 5 pm to accommodate a California Coastal Commission hearing for these draft documents.
Please submit written comments to:
By Mail:
California State Parks
Strategic Planning and Recreation Services Division
1725 23rd Street, Suite 200
Sacramento, CA 95816
By email: OceanoDunes.PWP.EIR@parks.ca.gov
Welcome to Pismo State Beach! Located along the beautiful Central Coast of California, Pismo State Beach has a pleasant year round climate making it ideal for outdoor recreation and exploring! Visitors at Pismo State Beach enjoy many diverse outdoor activites including: camping, surfing, swimming, fishing and bird watching. There are also walking trails along the coastal sand dune habitat and around the freshwater Oceano Lagoon. Be sure to stop by the Oceano Dunes District Vistor Center to learn about our free educational programs and don't miss the special opportunity to observe Western Monarch Butterflies in the Pismo State Beach Monarch Butterfly Grove (November-February)!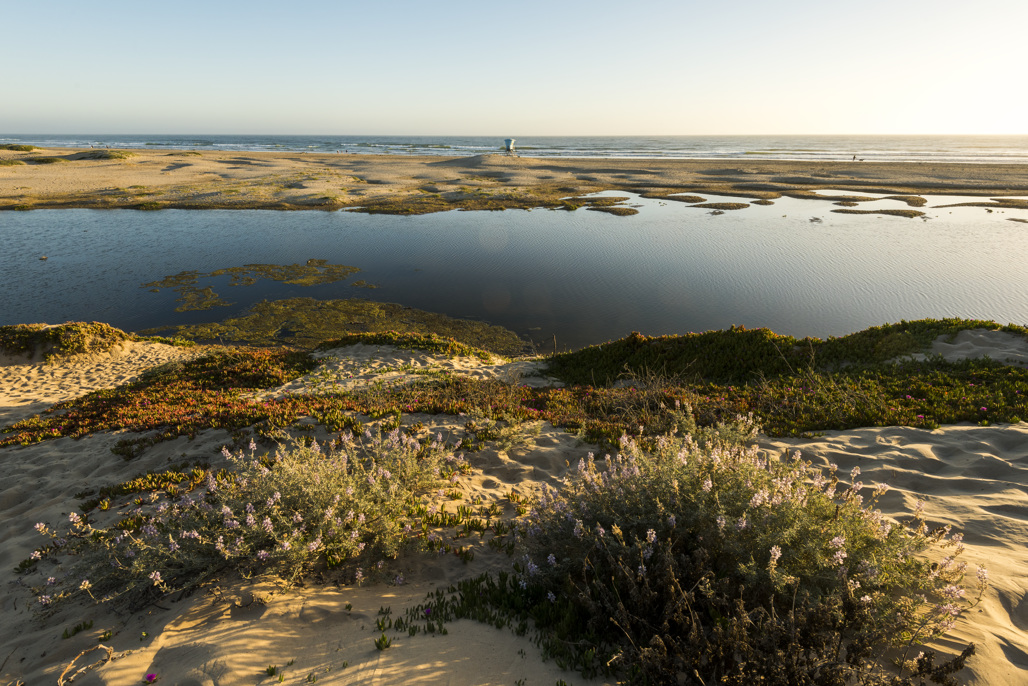 Day Use
Visitors wanting to access the beach by foot may park their vehicles in the lot located off of West Grand Avenue near Fin's Bar & Grill Restaurant. A boardwalk to the beach and public restrooms are available for visitors.
Day use passes are $5.00 per vehicle entering the beach. Motor vehicles may access the beach at the end of West Grand Avenue located in Grover Beach. The speed limit on the beach is 15 MPH. It is strongly recommended that only those with four-wheel drive vehicles access the beach.
Campfires are allowed on the beach but must not be greater than three feet in diameter and two feet in height. Only wood and untreated wood products free of metal, petroleum products or other toxic substances shall be used. Fires must be fully extinguished with water and left exposed, never burried in sand.
Dogs are allowed on the beach and park trails but must be kept on a leash, not longer than six (6) feet, at all times. Dogs are not allowed at the Pismo Dune Preserve or at Oso Flaco Lake.
Camping
All camping reservations must be made online at Reserve California or by calling Reserve California at 1-800-444-7275 8:00am - 6:00pm Pacific Time (PT). Reservations are required during peak season and holiday weekends. Reservations may be made up to six (6) months in advance, but they must be made at least 48 hours prior to arrival. A maximum of two (2) licensed vehicles (including motorcycles, trailers and RVs) are allowed per campsite. Vehicles may be parked only in your assigned campsite. Check-out time is noon and check-in time is 2pm. Both campgrounds within Pismo State Beach provide conventional amenities such restrooms, pay operated hot-showers, picnic tables and a camp fire ring. Fire wood is also available for sale at the Camp Host Campsites or by inquiring at the kiosk.
If you are seeking information about the primitive beach camping, please visit the Oceano Dunes SVRA Website.
North Beach Campground features tent camping facilities and a campfire center. There are no hook-up sites available in this campground. Visitors can access the beach from the campground and enjoy the the views along Carpenter Creek. The Pismo State Beach Monarch Butterfly Grove is also accessible from the campground. In the summer months, Jr. Ranger Programs and Campfire Programs are held at the campfire center. Click here to view a map of the North Beach Campground: North Beach Campground Map
Oceano Campground features both hook-up RV sites and tent camping sites. Visitors can access the beach from the campground, explore wildlife along a freshwater lagoon, and enjoy the Visitor Center. In the summer months, Jr. Ranger Programs and Campfire Programs are held at the campfire center. Click here to view a map of the North Beach Campground: Oceano Campground Map
Oceano Dunes District Visitor Center
Located at 555 Pier Avenue at the entrance to the Oceano Campground, the newly remodeled Oceano Dunes District Visitor Center is a one stop place to learn about the park and local area. Friendly staff and volunteers will help answer your questions about the park and local area. This interpretive center will introduce you to the history of the area, teach you about local wildlife and give you fun ideas for adventuring in the park! Kids can pick up an interpretive activity booklet.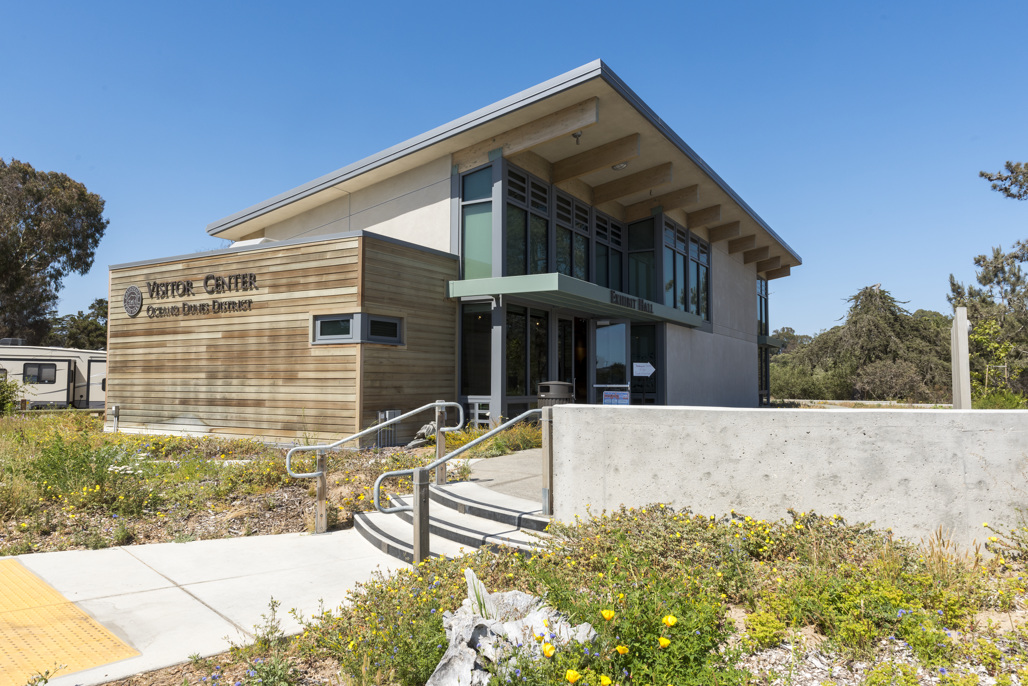 Interpretive Education Programs
Due to the COVID-19 pandemic, all in-person interpretive programming has been suspended until further notice. The Summer 2020 interpretive programs were hosted online in a digital format and are now available for streaming on the links listed below. For the 2020-2021 School Year, all field trips will be hosted digitally
Virtual Field Trips
Parks Online Resources for Teachers and Students (PORTS) program provides FREE live interactive videoconference programs, also known as virtual field trips. K-12 students from California and around the world are connecting with live State Park Interpreters and learning academic content standards within the context of California's dynamic state park system. Using platforms like Zoom, Skype and Google Meets, we will connect with your students for these live video conferencing programs. Student participation is encouraged as we design these programs to be very interactive! Teachers can learn more about these programs and register their class by visiting our School Programs Page or by visiting https://www.ports-ca.us/ports-programs/ports-on-demand/pismo-state-beach
Campfire Programs
Join State Park Interpreters around the virtual community campfire for fun and interactive presentations about local wildlife and cultural topics. All ages welcome. Please visit our district YouTube Channel to view our Campfire Program video playlist: https://www.youtube.com/watch?v=Aaluoc7TtYw&list=PL3_0PQwwlzA21bO45auCmR3kZ_TbbbqD9
Junior Ranger Programs
Children ages 7 - 12 years old are invited to virtually join State Park Interpreters for fun online programs to learn about science, nature and history! Participants can earn digital Junior Ranger certificates! To view the programs, please visit our district YouTube Channel to see the Junior Ranger video playlist: https://www.youtube.com/watch?v=58pwLpBHIic&list=PL3_0PQwwlzA1dtH8egFtBQL47O6_-lEb1
Little Ranger Programs
Families with young children ages 2 - 6 years old are invited to virtually join State Park Interpreters for our Oceano Dunes District Little Ranger Programs! To view the programs, please visit our district YouTube Channel to see the Little Ranger video playlist: https://www.youtube.com/playlist?list=PL3_0PQwwlzA1uDEoLkVbuqJFXyNJQwLjP
Become a Discovery Agent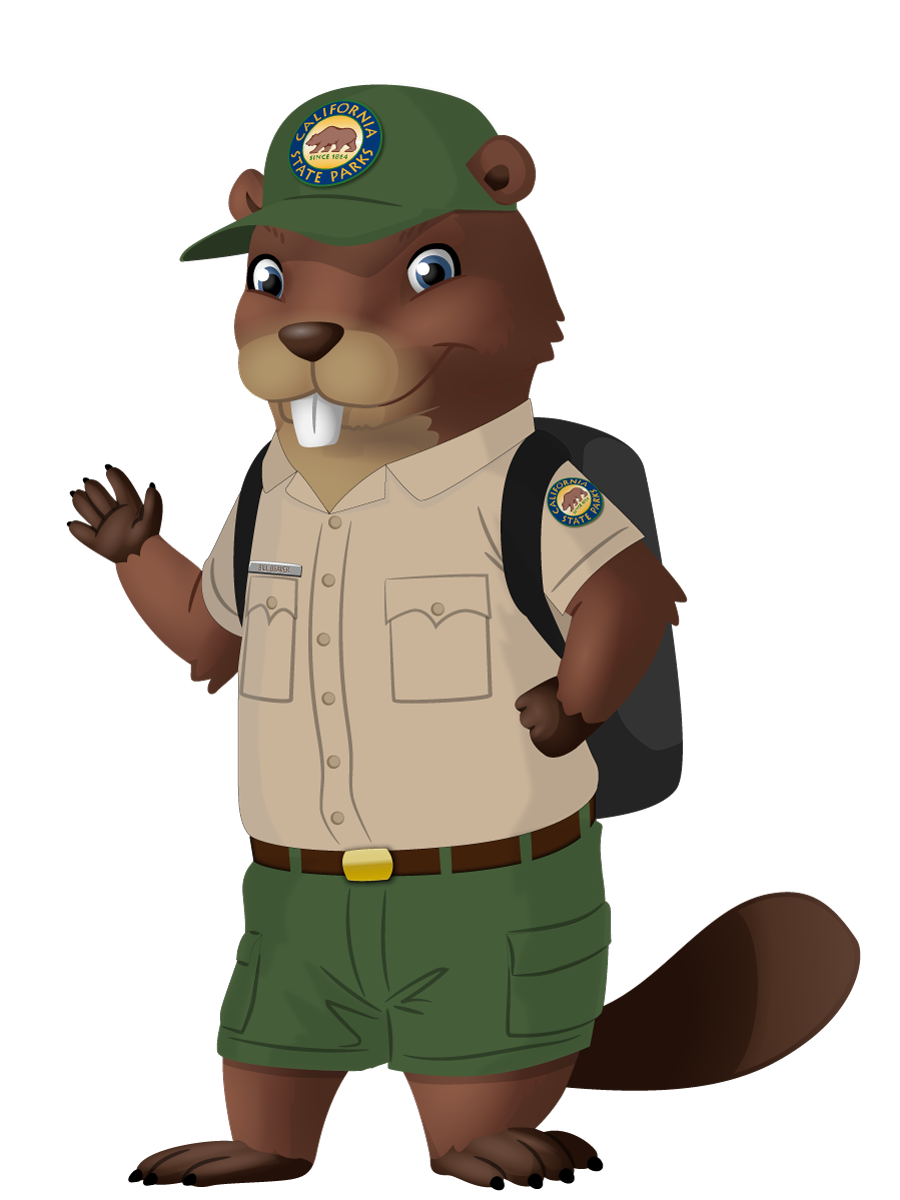 Help Secret Agent Bill the Beaver on his mission to discover the Oceano Lagoon at Pismo State Beach. Download the Agents of Discovery App on your smartphone or tablet and select the Oceano Lagoon mission!
The App is FREE and does not require WiFi or cellular data to play once installed! Agents of Discovery is an augmented reality App that allows users to independently explore the park through playing interactive games and triva. At the park, users are able to search for challenges and answer questions about wildlife and the cultural history of the Northern Chumash Native Americans.
Fishing
Pismo Clams
Pismo Clams are bivalves, which means they have two siphons and a two halfed shell. These clams bury themselves a few inches below the wet sand using their digging foot. The intake valve draws seawater into the body of the clam to capture diatoms, algae and plankton! In 1947, Pismo Beach deemed itself the "Clam Capital of the World". The Pismo Clam and the Pacific Razor Clam made up most of the catch by clammers. The largest Pismo Clam recorded in California came from Pismo Beach and was 7.37 inches across and estimated to be 26 years old. An influx of clammers and sea otters (natural predators to the Pismo Clam) led to the depletion of the Pismo Clam population. Pismo clam populations fluctuate dramatically due to a variety of natural influences.
A fragile and valuable resource, Pismo clams may be taken under the following regulations:
Clammers must possess a

valid

fishing license

and an accurate (rigid) measuring device.
Pismo clams must measure at least

4 1/2"

in length to be possessed.
Undersized Pismo clams must be immediately reburied in the area where dug.
Bag limit is 10 Pismo clams.
Hours of clamming are 1/2 hour before sunrise to 1/2 hour after sunset.
The Pacific Razor Clam can be taken at all times during the year, with a valid fishing licence. There is a limit of 20 clams per person.
Surf Fishing
Surf fishing is a popular activity along the shoreline here at Pismo Beach State Beach. A valid fishing licence is required. For information on licensing, species, size, and take limits, please visit California Fish and Wildlife at www.wildlife.ca.gov. The ocean can be dangerous and unpredictable. Never turn your back on the waves and be aware of your surrounding at all times while fishing. Sand bars are evershifting and strong ripcurrents are prevalent along this coastline.
Freshwater Fishing
The Oceano Lagoon is located behind the Oceano Dunes Visitor Center and the Oceano Campground. A valid fishing licence is required. For information on licensing, species, size, and take limits, please visit California Fish and Wildlife at www.wildlife.ca.gov. There is an ADA accesible fishing platform.
Park History
The dunes at Pismo State Beach and to the south in the Guadalupe-Nipomo Dune Complex are considered the finest and most extensive along the California coast. Most of the sand that formed these dunes was carried down to the ocean by rivers and streams, deposited on the beach by ocean currents, and then shaped by the wind into the dunes seen today, a process that took millions of years.
The Chumash Native Americans have lived in this area for thousands of years and continue to do so today. Evidence of their historical presence can be seen in several locations in the dunes in the form of "middens," which are piles of discarded shells that were left behind after being harvested for food. These middens are protected by state and federal law; please do not enter or disturb these areas.
In 1769, members of Gaspar de Portola's inland Spanish expedition traveled through our coastal dunes, encountering not only the Chumash but an area full of native black bears and grizzly bears. While Portola's group was traveling through Oso Flaco they tracked and killed the skinniest bear (un oso flaco) they had ever seen, giving the area its current name.
The Dunites were a primitive settlement of free thinkers, artists, writers, and mystics that lived in the dunes beginning in the 1930s. They predominantly lived in the area they named Moy Mel (Gaelic for "pastures of honey"). Many Dunites considered this area to have mystic vibrations. The last Dunite, Bert Schievink, died in 1974. The area today is still known by its given name and is a popular location in the park.
In 1934, California State Parks first aquired the land that is now know as the Oceano Campground. Over the following decades, more land was aquired and the Oceano Dunes District was formed. Today, the Oceano Dunes District includes Pismo State Beach and the Oceano Dunes State Vehicular Recreation Area.
Accessibility
There are ADA accessible restrooms at Grand Avenue and Pier Avenue beach access ramps. Sand wheel chairs are available at all park entrance stations free of charge, on a first come first serve basis. California State Parks supports equal access. Visitors who need assistance should contact the Oceano Dunes District Ranger Station at (805) 473-7220 or 711 TYY relay service prior to arrival.
California State Parks is piloting a new iOS mobile app in 8 parks around the state. If you visit Pismo State Beach, download
OuterSpatial
and try it out! This new app gives you information about amazing destinations - including special events, maps, photos, and official trail guides- right at your fingertips.
For more information on the pilot program and to download the app directly from the Apple store, visit
OuterSpatial
(
http://bit.ly/PismoCSPapp
). Tag us on
Facebook
,
Twitter
or
Instagram
#CAStateParks and #InventYourAdventure #CAStateParksOuterSpatial