October 2, 2019:
Day-use facilities at Plumas-Eureka
State Park
are subject to periodic closures due to snow and road conditions. Updates will be posted here. Thank you for your patience and understanding.
This park unit is partially open.
Please take the time to read the information contained on this webpage to find out what is open and closed, and what COVID-19 guidelines are in place. - (May 31, 2021)
Fire Ban - Campfires and briquette grills are banned in all Day Use Areas of all California State Parks in the Sierra District, including Plumas-Eureka State Park. This is due to extreme fire danger and lack of emergency response resources.
What is open now?
Plumas Eureka State Park is open from 7 a.m. to 8 p.m. with COVID-19 guidelines in place.
Day Use parking is now available to the public. Parking is free at this time.
Campgrounds.
All trail systems are available and active recreation will be permitted.
Outdoor restrooms will be available.
Visitor Center during business hours for fee collection, information, restrooms, and gift shop. Limited visitor access to exhibits inside building. Masks are required in public buildings.

What is currently closed?

---
COVID-19 Guidelines - (June 21, 2021)
Recreate Responsibly
Protect yourself, family, friends and your community by following these prevention measures:
Know Before You Go – Prior to leaving home, check the status of the park unit you want to visit to find out what restrictions and guidelines are in place. Have a back-up plan in case your destination is crowded. Stay home if you are sick
Plan Ahead – Some restrooms will be temporarily closed to keep up with cleaning schedules. Bring soap/hand sanitizer.
Play It Safe – Find out what precautions you should take when exploring the outdoors, especially if this is your first time visiting the State Park System. Learn more at parks.ca.gov/SafetyTips.
Be COVID-19 Safe – State Parks continues to follow guidance provided by the California Department of Public Health:

Fully Vaccinated Persons

: Face coverings are not required in public outdoor settings. For indoor public settings, such as museums and visitor centers, all vaccinated individuals are to self-attest that they are in compliance prior to entry.

Unvaccinated Persons

: Face coverings are required in indoor public settings such as museums and visitor centers.

Leave No Trace – Leave areas better than how you found them by staying on designated trails and packing out all trash. Do not disturb wildlife or plants.
Phone Number
(530) 836-2380
Max. Trailer Lengths
Trailer: Up to 24 Feet
Camper/Motorhome: Up to 28 Feet
Park Hours
Park is open for Day Use
Sunrise - Sunset

Museum and campgrounds are closed for the winter season.
Dogs Allowed?
Yes
Dogs allowed only on fire roads. Dogs not allowed on most trails within the park. To protect the integrity of the groomed Nordic ski courses, dogs not allowed on designated ski trails within the Sierra District, from Nov. 1 to May 1 annually, when snow is present. The following is a list of the trails covered: At Plumas-Eureka State Park, the road from the park museum to the campground and all camping loops and the Jamison Mine Road from Johnsville Road to the Jamison Mine Complex, when groomed.
Driving Directions to Plumas-Eureka SP
The park is five miles west of Blairsden on County Road A-14.


Camping and Lodging
Visitors will be able to reserve campsites and lodging six months in advance from the current date. Bookings may extend from the arrival date to the desired departure date – based on availability and the park's maximum stay rules.
Upcoming Park Events
No events scheduled at this moment.
BOATING
Boating

OVERNIGHT FACILITIES
Family Campsites
Group Campsites
RV Dump Station
RV Access

TRAIL USE
Hiking Trails

DAY-USE ACTIVITIES & FACILITIES
Historical/Cultural Site
Picnic Areas
Env. Learning/Visitor Center
Exhibits and Programs
Fishing
Guided Tours
Interpretive Exhibits
Museums
Family Programs

OTHER FACILITIES & VISITOR INFORMATION
Parking
Restrooms / Showers
Restrooms
Drinking Water Available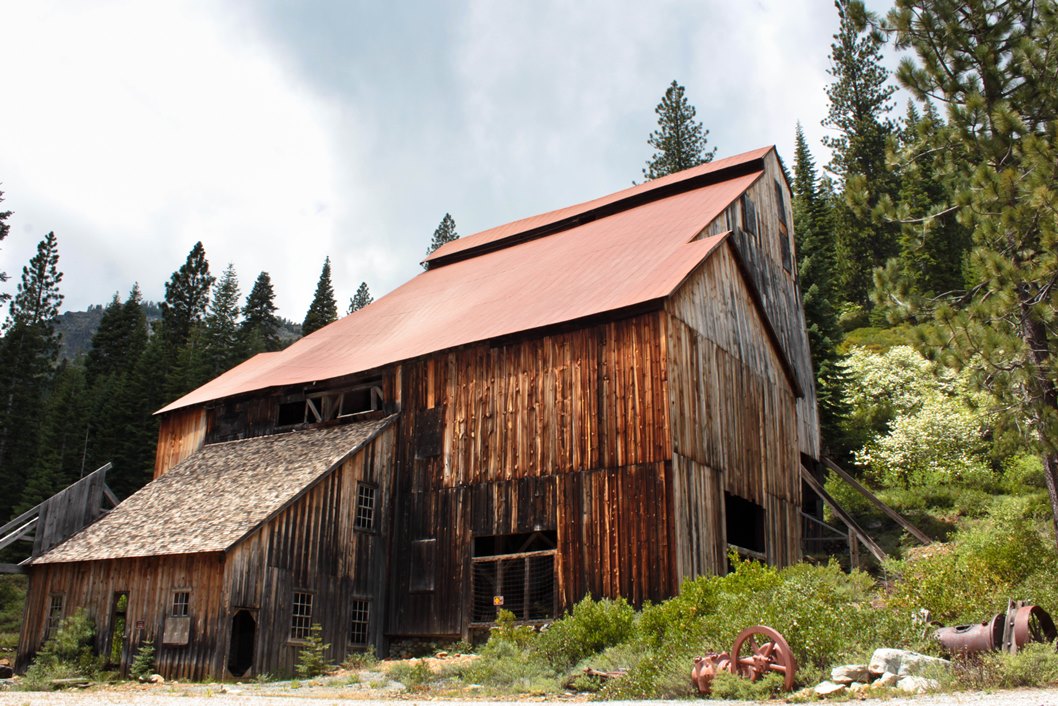 Reservations and Seasonal Availability Update

Plumas-Eureka State Park is open year-round for day use.
Hiking trails and unpaved roads are open for visitor exploration.
The Upper Jamison Campground is closed for the 2020 camping season.
Camp Lisa Group Campground is currently closed.
Due to extreme fire danger, no wood or charcoal fires until further notice.

The museum is open from 8:30-4 pm 7 days a week, but will close for the season mid-late September.
However, if visitors arrive earlier or later they are welcome to walk around the surrounding historic area.
For updated information, please visit this website or call the park office at (530) 836-2380.

Please contact www.ReserveCalifornia.com - 800-444-7275 to make reservations or camping information.
Reservations are available six months in advance of your arrival date.
If you have an interest in having a special event at Plumas Eureka State Park, please call 530-550-6165 or NorthTahoe.SpecialEvents@parks.ca.gov
Plumas-Eureka State Park
Plumas-Eureka State Park was established in 1959, and provides visitors with a glimpse into a fascinating period of California history, as well as opportunities for quiet recreation in a beautiful high Sierra mountain setting.

The focal point of the park is the museum building and historic area surrounding it. Originally constructed as the miner's bunkhouse, the museum now serves as a visitor center. Inside, displays depict the natural and cultural history of the park. Outside and across the street from the museum is the historic mining area, where the Mohawk Stamp Mill, Bushman five-stamp mill, stable, mine office, Moriarity House (historic miner's residence) and the blacksmith shop depict life in gold rush-era California.

During the summer, tours of the buildings and blacksmithing demonstrations are conducted by docents and park staff. Visitors can also enjoy fishing, nature study and hiking within the park.

Location/Directions
Plumas Eureka State Park is five miles west of Blairsden on County Road A-14.

Seasons/Climate/Recommended clothing
Summer temperatures range from about 75 degrees during the day to the low 40s at night, and winter temperatures average from a high of 40 to a low of 20 degrees.
High Sierra weather is varied and can change abruptly. It is recommended to bring layered clothing and check weather updates.

Facilities - Activities

Fishing
Fishing opportunities in the Plumas-Eureka area include numerous alpine lakes and streams within a short drive or hike out of the campground. Jamison Creek flows through the campground and can yield the occasional trout.

Hiking
Plumas-Eureka and the surrounding area is a hiker's paradise. Campers can hike out of their campsite, and Day User's can park nearby to access a network of trails that navigates through the Lakes Basin Recreation Area, including the Pacific Crest Trail.

Food Storage Locker Information

Metal bear-resistant food lockers are provided in each campsite. All food, beverages, and toiletries are required by law to be stored in provided food lockers. The inside dimensions of the food lockers are 33" deep, 48" wide, and 21" high. Violators will be cited.
Equestrian Closure

There is a closure to equestrians and pack animals at Plumas Eureka State Park, by Superintendents posted order. Per Title 14, CCR 4359, horses and other pack animals are limited to areas designated as allowed by authority of the department. Pack animals, also known as sumpter animals or beasts of burden, include camels, llamas, alpacas, goats, yaks, reindeer and water buffalo in addition to the horse family, which includes, horses, donkeys, burros and mules. Theses animals may not be ridden, driven or unloaded on Plumas-Eureka State Park property.

The District superintendent or his/her designee, may grant exceptions to this order as determined to be necessary for the proper administration of the park, and to protect the safety and welfare of its visitors, employees and resources. All exceptions, except for emergency personnel, must be obtained in writing. Request for exemptions may be made by contacting the Sierra District Superintendent, Sierra District, PO Box 266, Tahoma, CA 96142.


Additional Visitor Services
Johnsville Public Utility District (Water utilities)
Eastern Plumas Recreation District (Ski Bowl and Winter Recreation)
About the Park
Gold Discovery
The event that resulted in the establishment of several communities and later became the key reason for establishing the park was the discovery of gold on the east side of Eureka Peak, (then known as Gold Mountain) by a group of 9 miners on May 23, 1851. What started out as an individual discovery eventually led to over 30 miles of mine shafts with several individual operators and companies.

British mining experts perfected the method of removing the rich ore from within the mountain. At one point, three stamp mills were in operation at various locations on the mountainside, but in time, the ore-crushing operation was concentrated at one mill, the Mohawk. Built in 1876 at a cost of approximately $50,000 the Mohawk contained 60 stamps, each weighing from 600 to 950 pounds with a drop of 8 1/2 inches - 80 times per minute. Each stamp could crush 2 1/2 tons of ore (a small dump truckload) every 24 hours.

Ore was brought from shafts higher up on the mountain by the means of two gravity-powered tramways. Returning ore buckets sometimes carried miners up the mountain and in the winter possibly served as the first ski lift in California. When mining in the area ceased for good in the 1940's, over 8 million dollars worth of gold had been removed from Gold Mountain!

Natural History
Today, Plumas-Eureka's "gold" is the great variety of plants and animals that exist within park boundaries. Black bear, deer, weasel, mink, marten, mountain lion, bobcat, fox, and a host of other mammals are seen through the summer months. Mountain meadows and forested glades are often dotted with an assortment of Sierra wildflowers.