Plumas Eureka State Park Association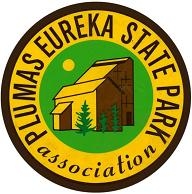 Plumas-Eureka State Park Association (PESPA) was established in 1977 to support the interpretive and educational programs at Plumas-Eureka State Park (PESP). As a nonprofit cooperating association the association relies on membership fees, profit from the museum sales area, and donations, to fund programs at the Park. The association exists to assist in making the community aware of the Park and its contribution to the community and to provide the association members with current information regarding the Park. Our association currently has approximately 140 members.
PESPA sponsors the hiring of summer interpreters who create and present programs such as the Junior Ranger Program, campfire programs, and interpretive hikes at the Park. The association also provides needed funds used to purchase materials and equipment for these programs.
PESPA also orchestrates "Gold Discovery Days" on the third Saturday and Sunday of July. Come experience the Park and take a step back in time to see how the gold miners lived.
PESPA currently supports approximately forty-five California State Park docents/volunteers who are utilized in many areas of the Park, such as the Blacksmith shop, the museum and sales area, Moriarity House tours, Assay office tours, and Park hikes.
PESPA has proven itself to be a valuable asset to the visitors and staff at Plumas-Eureka State Park. For more information about PESPA and its many activities, or to become a member/supporter, logon to the association's web site at http://www.plumas-eureka.org/.
---
Plumas-Eureka State Park Association
P.O. Box 1148
Graeagle, CA 96103
TEL 530-836-1182