California State Capitol Museum
This park unit is open at limited capacity. Please take the time to read the information contained on this webpage to find out what is open and closed, and what COVID-19 guidelines are in place. - (August 2, 2021)

---
COVID-19 Guidelines - (February 16, 2022)
Recreate Responsibly
Protect yourself, family, friends and your community by following these prevention measures:
Know Before You Go – Prior to leaving home, check the status of the park unit you want to visit to find out what restrictions and guidelines are in place. Have a back-up plan in case your destination is crowded. Stay home if you are sick
Plan Ahead – Some restrooms will be temporarily closed to keep up with cleaning schedules. Bring soap/hand sanitizer.
Play It Safe – Find out what precautions you should take when exploring the outdoors, especially if this is your first time visiting the State Park System. Learn more at parks.ca.gov/SafetyTips.
Be COVID-19 Safe – State Parks continues to meet guidance from local and state public officials as COVID-19 is still present and still deadly. Effective March 1, 2022, state guidance recommends that all individuals, regardless of vaccine status, continue masking in indoor settings, such as museums and visitor centers. Universal masking remains required in specified high-risk settings. Please plan ahead as local county guidelines may differ from state guidance and visitors are urged to follow county guidelines when required. Read the latest COVID-19 guidance at COVID19.ca.gov.
Leave No Trace – Leave areas better than how you found them by staying on designated trails and packing out all trash. Do not disturb wildlife or plants.
Phone Number
(916) 324-0333
Park Hours
Guided Tours
closed
Dogs Allowed?
Yes
Dogs allowed in Capitol Park. Service animals are permitted inside Capitol building.
Driving Directions to California State Capitol Museum
The park is located downtown Sacramento at 10th and L Streets.


Online reservations are not available for this park.
Upcoming Park Events
No events scheduled at this moment.
TRAIL USE
Hiking Trails

DAY-USE ACTIVITIES & FACILITIES
Historical/Cultural Site
Env. Learning/Visitor Center
Exhibits and Programs
Guided Tours
Interpretive Exhibits
Museums
Family Programs

OTHER FACILITIES & VISITOR INFORMATION
Restrooms
Drinking Water Available

Home of the California Legislature since 1869, the State Capitol underwent a major renovation that restored much of the building's original look. Visitors can tour the restored historic offices of the Secretary of State, Treasurer, and Governor of the State of California. The building features exhibits and tours - and possibly an opportunity to watch the legislators debate a bill or cast a vote.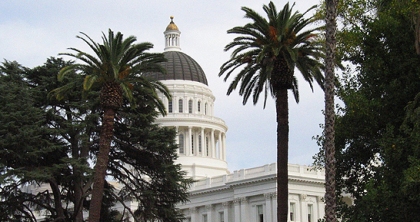 Capitol Park
There are gardens in the surrounding Capitol Park, including trees from around the world.

Capitol Park features memorials to significant events involving California:

1. A Civil War Memorial Grove planted in 1897 with saplings from famous Civil War battlefields.

2. A life-sized statue of Father Junípero Serra, a Roman Catholic missionary sent by Spain to help colonize California. At its base is a map of California's 21 missions, from San Diego to Sonoma.

3. The California Vietnam Veterans Memorial, with bronze statues of service men and women depicting military life in Vietnam and featuring engravings of names of Californians killed or missing in action.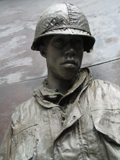 4. The California Veterans Memorial,
a granite obelisk honoring California Veterans from the Mexican-American War, Civil War, Spanish-American War, World War I, World War II, the Korean War, the Vietnam War and the Persian Gulf War.
Location - Directions
The park is located downtown Sacramento at 10th and L Streets.
The ADA accessible entrance is on 11th and L Streets.

Seasons/Climate Recommended Clothing
Summer and spring are warm; fall and winter can be cool. Layered clothing is advised.