California State Capitol Museum
UPDATE (May 1, 2020): This park is temporarily closed to vehicular access, meaning there are no parking facilities and parking on roadways is prohibited to protect public health from the COVID-19 pandemic. Although this park is open to local residents, they must abide by the following guidelines:
Stay Local: Walk or bike into the park. Do not drive to the park.
Stay Active: Keep walking, jogging, hiking and biking. Watch for one-way trails.
Stay Safer at 6 Feet: Maintain a physical distance of 6 feet or more. Gatherings, picnics and parties are not allowed. Visitors are being asked to leave if there are too many people at the park or on trails to allow for the required physical distance.
Stay Clean: Be prepared. Bring soap/sanitizer and pack out all trash.
Statewide, many parks and beaches are temporarily closed or have very limited access to ensure Californians are abiding and practicing physical distancing. The goals are to make sure people are safe and to mitigate the spread of COVID-19 as much as possible. To view the list of closures and what they mean to the public, please visit
www.parks.ca.gov/FlattenTheCurve
.
Phone Number
(916) 324-0333
Park Hours
Guided Tours
closed
Dogs Allowed?
Yes
Dogs allowed in Capitol Park. Service animals are permitted inside Capitol building.
Driving Directions to California State Capitol Museum
The park is located downtown Sacramento at 10th and L Streets.


Online reservations are not available for this park.
Upcoming Park Events
No events scheduled at this moment.
TRAIL USE
Hiking Trails

DAY-USE ACTIVITIES & FACILITIES
Historical/Cultural Site
Env. Learning/Visitor Center
Exhibits and Programs
Guided Tours
Interpretive Exhibits
Museums
Family Programs

OTHER FACILITIES & VISITOR INFORMATION
Restrooms
Drinking Water Available

Home of the California Legislature since 1869, the State Capitol underwent a major renovation that restored much of the building's original look. Visitors can tour the restored historic offices of the Secretary of State, Treasurer, and Governor of the State of California. The building features exhibits and tours - and possibly an opportunity to watch the legislators debate a bill or cast a vote.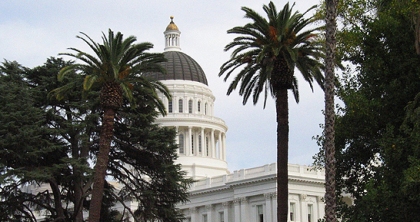 Capitol Park
There are gardens in the surrounding Capitol Park, including trees from around the world.

Capitol Park features memorials to significant events involving California:

1. A Civil War Memorial Grove planted in 1897 with saplings from famous Civil War battlefields.

2. A life-sized statue of Father Junípero Serra, a Roman Catholic missionary sent by Spain to help colonize California. At its base is a map of California's 21 missions, from San Diego to Sonoma.

3. The California Vietnam Veterans Memorial, with bronze statues of service men and women depicting military life in Vietnam and featuring engravings of names of Californians killed or missing in action.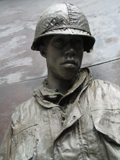 4. The California Veterans Memorial,
a granite obelisk honoring California Veterans from the Mexican-American War, Civil War, Spanish-American War, World War I, World War II, the Korean War, the Vietnam War and the Persian Gulf War.
Location - Directions
The park is located downtown Sacramento at 10th and L Streets.
The ADA accessible entrance is on 11th and L Streets.

Seasons/Climate Recommended Clothing
Summer and spring are warm; fall and winter can be cool. Layered clothing is advised.

Social Feed