California State Capitol Museum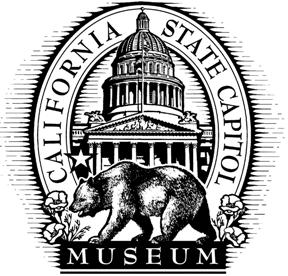 California State
Capitol Museum
School and Group Tours

Admission is Free to the Museum for
All School and Group Tours

Capitol Museum Tour Size:
Up to 35 persons per group
(including chaperones) maximum

School Tour Grade Levels:
Tours of the State Capitol Museum
are designed for students in the
4th grade through High School.
Adult Supervision Requirement:
One adult is needed for every 10 students.

Museum Accessibility:
The State Capitol Building is physically accessible by those individuals with disabilities. Use this link to learn about building accessibility: Accessible Features

Museum Location:
On 10th Street between "L" and "N" Streets in downtown Sacramento

Parking:
Free bus parking on 10th Street and 15th Street between "L" and "N" Streets.
Metered automobile parking is also available around the Capitol Building.

Group Entrance Information:
When you arrive, please have your group enter the building on the "N" Street side.

Tour Reservations:
In order to guarantee space for a tour of 10 or more, schools and groups must have a "confirmed reservation." There is a specific limited carrying capacity of 35 for all tours. Space availability is ONLY assured with a reservation. Please call ReserveCalifornia at (866) 240-4655 for tour reservations. A maximum of 35 persons (students and adults) per guide can be accommodated on a tour. Please do not ask guides to make exceptions. If your group is oversized, "extras" may take a self-guided tour.
School and Group Tour Behavior:
Please review the following appropriate museum behavior guidelines before coming to the State Capitol. Students should be aware their that behavior is a reflection of their school.

State Capitol Building Rules
1. Minors must remain with their adult leader(s) at all times.
2. Keep voices quiet. There are working offices throughout the building.
3. Use stairs. Students are not to use the elevators.
Physically challenged persons may use elevators.
4. Stay to the right on stairs and in hallways, going up and down.
5. Do not leave any items unattended. Please leave unnecessary items on your school or group bus.

State Senate and Assembly Gallery Rules
1. Cameras and backpacks are checked in at the gallery door when in session.
2. Everyone must pass through the metal detector when in session.
3. Limit your visit to five minutes when others are waiting.
4. Remain seated. Do not lean over the rail.

Meeting Your Assemblyperson or State Senator:
You may wish to contact your Senate and Assembly representatives' offices about your visit to the Capitol, if you would like someone to speak with your group before or after your tour time.