State Indian Museum State Historic Park
Update (April 1, 2021)
: With the Regional Stay at Home Order lifted, State Parks is reopening campground sites for existing reservation holders. The department will be using a phased approach to reopen other campground sites for new reservations, starting January 28. The public is advised that not all campground sites are open to the public due to the pandemic, wildfire impacts and other issues. Additionally, group campsites remain closed. Day use outdoor areas of park units currently open to the public remain open.
As State Parks increases access to the State Park System, it is critical that Californians continue to recreate responsibly in the outdoors as the pandemic is far from over.
Please take the time to read the information contained on this webpage to find out what is open and closed, and the COVID-19 guidelines for this park unit.
What is open now?
State Indian Museum is open with modifications.
What is currently closed at this park and throughout the State Park System?

At this park:
Some hands-on exhibits are closed at this time.
Statewide:
Some park units and campground sites continue to be temporarily closed due to the pandemic, impacts from wildfires or other issues. Please visit the webpage of your local outdoor destination to find out if it is open.
High public-use indoor facilities, including museums and visitor centers.
Special events and tours continue to be canceled until further notice.
Are there any new visitor guidelines?

State Parks has implemented the following guidelines to reduce the risk of exposure to COVID-19 in the outdoors:
Plan Ahead: The ongoing pandemic response continues to be dynamic and fluid. Prior to leaving home, check the webpage of your destination you plan to visit to find out if it is open, if parking is available, and what visitor guidelines are in effect.
Stay Safer at Six Feet: No matter the recreational activity, maintain a physical distance of six feet or more. If there are too many people to maintain the required physical distance, please visit us on a different day.
Keep Clean: Be prepared as not all services may be available. Some restrooms will be temporarily closed to keep up with cleaning schedules. Bring soap/hand sanitizer. Please pack out all trash.
Stay Covered: The state requires you to wear a face covering when you cannot maintain a physical distance of six feet or more. Individuals must have a face covering with them at all times.
Although law enforcement entities have the authority to issue citations, the expectation is that the public is responsible for adhering to the advice of public health officials, visitor guidelines and closures.
California State Parks continues to work with local and state officials on a phased and regionally driven approach to increase access to state park units where compliance with state and local public health ordinances can be achieved. However, the situation remains fluid and park operations can change at any time. For information on statewide current closures and available services, please visit
parks.ca.gov/FlattenTheCurve
.
Phone Number
(916) 324-0971
Park Hours
10:00 a.m. – 5:00 p.m.
Dogs Allowed?
Yes
Only service animals allowed inside the museum and in exterior display areas.
Driving Directions to State Indian Museum
The park is located in downtown Sacramento at 26
th
and K streets in downtown Sacramento - adjacent to Sutter's Fort State Historic Park.
Traveling on I-80, from San Francisco, take Business 80/Hwy 50 east. Take the Business 80 exit (north towards Reno) to the N Street turn off. Travel straight on 30th Street then turn left under the freeway at L Street to the Sutter's Fort and the State Indian Museum, which will be located on your right.
Monday -Saturday, bring quarters for the parking meters. Parking is free on Sundays.
There are many city buses that stop beside K or L Street.
For route and schedule information,
Sacramento Regional Transit District
or please call Sac RT Customer Service Center at (916) 321-BUSS (2877).
Online reservations are not available for this park.
Upcoming Park Events
No events scheduled at this moment.
TRAIL USE
Bike Trails
Hiking Trails

DAY-USE ACTIVITIES & FACILITIES
Historical/Cultural Site
Env. Learning/Visitor Center
Exhibits and Programs
Guided Tours
Interpretive Exhibits
Museums
Family Programs

OTHER FACILITIES & VISITOR INFORMATION
Restrooms
Drinking Water Available

The State Indian Museum, opened in 1940, depicts three major themes of California Indian life: Nature, Spirit, and Family. Native peoples lived prosperously for thousands of years in what is now California. All of the exhibits and photographs on display in the museum are presented with respect for those who went before us on this land and continue to live in California communities today.

California Indian cultural items in the museum include traditional baskets, along with some of the smallest in the world, a redwood dugout canoe, ceremonial regalia, beadwork, and hunting & fishing tools-some of which are more than twenty-four hundred years old. There is also an exhibit depicting the life of Ishi, reputedly the last survivor of the Yahi tribe, illustrating how Native culture was powerfully impacted and forever changed when outsiders arrived.
Many Native people have donated photographs of family and friends for viewing in the museum. There is also a wall of photographs devoted to honoring California Elders, and a hands-on area where visitors have the opportunity to utilize Indian tools like the pump drill, used for making holes in shell beads, and the mortar & pestle, used for grinding acorns.
Visit Our Museum Store
Please visit our store, located inside the museum, for Native-made jewelry, gourds, hand-crafted dolls, baskets, soapstone carvings, and the area's largest selection of California Indian books.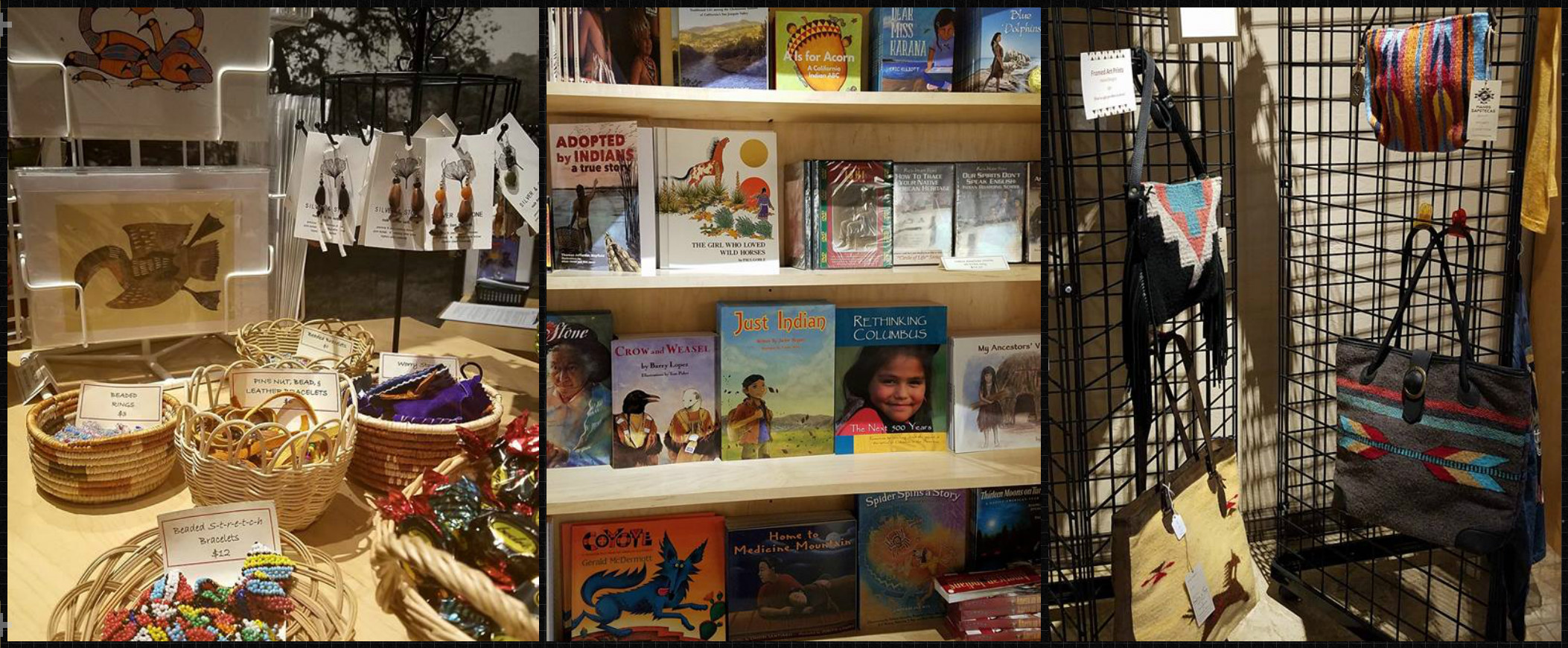 An abundance of Native-made items and California Indian books are available in the Museum Store.
Location and Parking:
The State Indian Museum is located in the downtown area of Sacramento at 26th and K Streets.

Traveling on I-80, from San Francisco, take Business 80/Hwy 50 east. Take the Business 80 exit (north towards Reno) to the N Street exit. Travel straight on 30th Street, then turn left under the freeway at L Street and travel on L Street to 26th Street. Bus parking is available on L Street by Sutter's Fort. Metered automobile parking is available on 26th and K Streets.

Seasons/Climate/Recommended Clothing
Summer and spring are warm; fall and winter can be cool. Layered clothing is advised.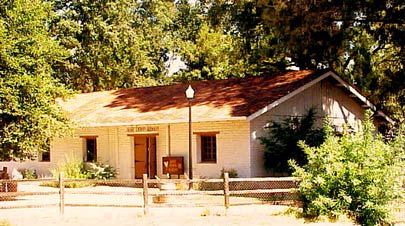 Photography
Photography in general is prohibited at the museum.

Commercial photography is allowed on a case by case basis by advance arrangement. Visit www.film.ca.gov for more information.
Essential Art: Native Basketry from the California Indian Heritage Center
by Brian Bibby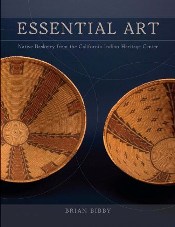 Available now Essential Art: Native Basketry from the California Indian Heritage Center by Brian Bibby. The catalog of the California Native basketry collection in the stewardship of the State Indian Museum/California Indian Heritage Center, this book offers a glimpse into one of the most culturally valuable and diverse collections of California Indian basketry anywhere in the world. Feature articles and stunning photos illustrate the history of this unique collection. It also features the background story of several of the Native women whose baskets are curated at the museum, and provides a peek into a world where basketry was part of everyday life.
Essential Art: Native Basketry from the California Indian Heritage Center is available at the State Indian Museum at 2618 K Street (916) 324-0971 or through the Heyday Books website at www.heydaybooks.com.
Social Feed