Mount Tamalpais State Park
Contact Information
(415) 388-2070
Park Hours
Daily: 7:00am to Sunset year round.
Driving Directions to Mount Tamalpais State Park
The park is located North of San Francisco's Golden Gate. From Highway 101 take Highway 1 to the Stinson Beach exit and follow signs up the mountain. See Park Brochure Map for other entrances.


Camping and Lodging
Visitors will be able to reserve campsites and lodging six months in advance from the current date. Bookings may extend from the arrival date to the desired departure date – based on availability and the park's maximum stay rules.
Upcoming Park Events
No events scheduled at this moment.
---
Welcome to Mount Tamalpais State Park
"Just makin up poems in my head as I climb toward Mount Tamalpais. See up there, as beautiful a mountain as you'll see anywhere in the world, a beautiful shape to it, I really love Tamalpais."
– The Dharma Bums, by Jack Kerouac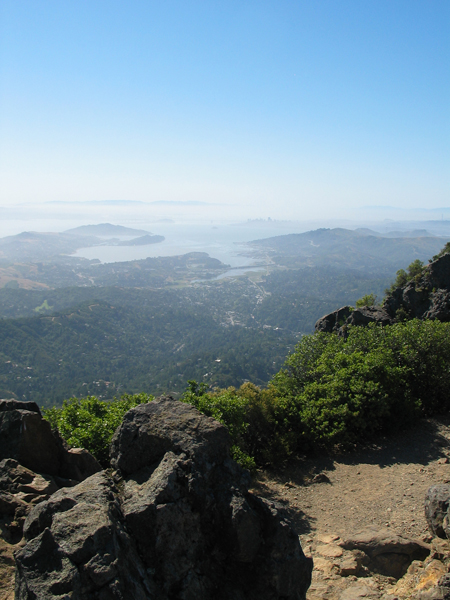 Just north of San Francisco's Golden Gate Bridge, Mount Tamalpais State Park rises majestically from the heart of Marin County. Its deep canyons and sweeping hillsides are cloaked with cool redwood forests, oak woodlands, open grasslands, and sturdy chaparral.

The breathtaking panorama from Mount Tamalpais's 2,571-foot peak includes the Farallon Islands 25 miles out to sea, the Marin County hills, San Francisco Bay, the East Bay, and Mount Diablo. On rare occasions, the snow-covered Sierra Nevada can be seen 150 miles away.
The park offers superlative hiking, picnicking, wildlife watching. Up top, a visitor center provides information, snacks, and souvenirs, and a "gravity car barn" celebrates the old Mount Tamalpais Scenic Railway. Down below, the 3,750-person capacity Mountain Theater hosts outdoor plays and astronomy programs. Visitors may camp in several locations or stay in rustic view cabins at Steep Ravine and (on private property) at West Point Inn.
Arrive early to avoid heavy weekend and holiday traffic. Better yet, take the West Marin Stage Coach.
ATTENTION: Drones are prohibited at Mount Tamalpais State Park per Superintendent's Order.
ACCESSIBILITY
Some of the park's wheelchair-accessible features include:
• The accessible 0.75-mile-long Verna Dunshee Trail at East Peak has fantastic views. Accessible tables, restrooms and drinking fountains are nearby.
• Spectacular vistas may also be seen from an accessible 0.4-mile portion of the Old Mine Trail from Pantoll Station and 0.25 miles of the McKennan Trail.
• Pantoll and Bootjack each have accessible camping, restrooms and parking.
• Cabin #1 and environmental campsite #7 at Steep Ravine are accessible.
• The Mountain Theater has a wheelchair platform on the right side of the theater. The Mountain Play Association offers signed performances and descriptive services during the first three play performances each season. For more information, call the Mountain Play Association at 415-383-1100.

Visitors with disabilities who need assistance should contact the Pantoll Ranger Station well before their trip.
Weather
Spring and summer temperatures are warm, with average highs in the 70s and 80s. Fall and winter can be cool, with temperatures in the 50s. Fog is common.
Remember
• The park is open from 7 a.m. to sunset. Cars parked after hours may be fined.
• There's no main entrance fee, but East Peak, Pantoll and Bootjack trailheads have parking fees ($8, cash only).
• All natural and cultural park resources (rocks, flowers, wood, animals) are protected by law and must not be disturbed or removed. Be alert for poison oak, rattlesnakes, mountain lions, and ticks.
• Smoking, camping and fires are never permitted in the upper mountain. If not under red flag alert, fires are permitted only in provided firepits.
• Dogs are allowed on the leash on paved roads, parking lots, campsites, and picnic areas. Dogs must be confined to a vehicle or tent at night. Contact park staff if you are visiting the park with a service animal.
• Horses and bicycles are allowed only on fire roads and where specifically posted.
---
Winter Holiday Programs
Family Friendly
Saturday, December 30, 9:30am. [E] - "Perspectives from the Mountain" with park interpreter Rosanna Petralia. Meet at East Peak trailhead. For the whole Family! Dog friendly.
Guided Hikes
Join Mt. Tam Hike Docents for a hike along the trails of Mount Tamalpais to exercise outdoors while connecting with the rich cultural and natural history of the park. All hikes include a lunch/snack stop.
Saturday, December 23, 9:30pm. [M] - "Redwood Connections" with park interpreter Rosanna Petralia. Meet at Pantoll trailhead.
Sunday, December 24, 9:30am.[E] - "Mt Tam History" with docent Robert Feist. Meet at West Peak Air Force Base trailhead.
Monday, January 1st, Rock Spring trailhead @ 9:30am - "First Day Hikes": 5 different hikes with 5 different routes from Rock Spring to East Peak. Once reaching the top there will be refreshment at the Gravity Car Barn thanks to Friends of Mt Tam.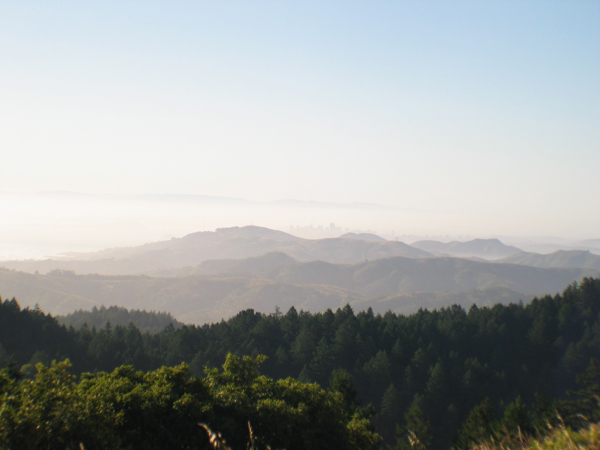 Advisory
Road Delays:
Be aware that road construction along Highway 1 south of Panoramic Highway may result in delays. Peak road construction time is from 1pm-3:30pm which may incur a wait time of over 30 minutes to get to Steep Ravine Campground. Additionally, there will be no additional parking for vehicles along the Hwy. 1 corridor.
Highway 1 Closures Require Detour to Steep Ravine Cabins/Campground:
Highway 1 (State Route 1) is closed between Muir Beach and Stinson Beach due to storm damage. Access to Steep Ravine is allowed past the barricades on the north (Stinson Beach) side of the closure.
From Highway 101, take Highway 1 north to Panoramic Highway back to Highway 1 in Stinson Beach. Go left at the T intersection onto southbound Highway 1 and Steep Ravine will be on your right after the barricades.

If you are coming from the north on Highway 1 simply continue south on Highway 1 through Stinson Beach and Steep Ravine will be on your right after the barricades. The barricades are near the intersection and will have a sign reading "Local Traffic Only" - you can go around them to proceed to Steep Ravine.

Be prepared to show your reservation information to any peace officers or workers on the closed section of Highway 1.
Please note that there is no access to Highway 1 south of Steep Ravine, and you cannot come in from the Muir Beach side of Highway 1. Due to the large amount of storm damage around the State, repairs could take months. Be sure to check the latest road conditions before your trip.
Hazardous Conditions Closes Redwood Creek Trail:
A 1500-foot segment of the popular Redwood Creek Trail in Mount Tamalpais State Park is closed due to hazardous conditions created by last winter storms. Most of the trail remains open and alternative routes are available. However, the route from the Redwood Creek Deer Park fire road trailhead to Miwok Junction is closed until further notice. Other Redwood Creek Trail trailheads remain open.
Featured Trail
Google Street View of Camp Eastwood Trail
- Experience the redwoods though this 360 degree view from the Camp Eastwood Trail. The trail links Alice Eastwood campground to Muir Woods at the heart of the Redwood Creek Watershed.
---
Available Activities and Facilities at Mount Tamalpais State Park
OVERNIGHT FACILITIES
En route Campsites
Environmental Campsites
Family Campsites
Group Campsites
Hike or Bike Campsites
Alternative Camping

TRAIL USE
Hiking Trails
Horseback Riding

DAY-USE ACTIVITIES & FACILITIES
Historical/Cultural Site
Picnic Areas
Env. Learning/Visitor Center
Exhibits and Programs
Fishing
Guided Tours
Interpretive Exhibits
Scuba Diving/Snorkeling
Beach Area
Swimming
Vista Point
Nature & Wildlife Viewing
Windsurfing/Surfing
Museums
Family Programs
Geocaching

OTHER FACILITIES & VISITOR INFORMATION
Parking
Restrooms
Drinking Water Available