HIKING
Mount Tam offers visitors more than 60 miles of hiking trails, connecting to a 200-mile trail system on neighboring public lands. Visit our Park Program page to check out the hikes that the park organizes! Interpretive hikes are led by park docents or staff and are an excellent way to get some outdoor exercise and learn more about the park.
If you go on your own, stop by Pantoll visitor service kiosk to pick up a map of the trails, or check out our online park brochures:
Natural splendor abounds in any season, but Tam's many creeks and waterfalls are most spectacular during the rainy months, usually late November through March. The best time for wildflowers is February through May.
If you have a full day, walk 1.5 miles downhill through a redwood forest on the Steep Ravine Trail. Then take the Dipsea Trail another 1.5 miles to Stinson Beach, admiring ocean views and seasonal wildflowers along the way. Lunch at Stinson and walk back up to Pantoll on the Dipsea Trail for a total of 6 miles. Or, if the West Marin Stagecoach schedule allows, take the bus to Pantoll.
Family walks
Two short trails at the summit offer a peak experience. The flat, paved Verna Dunshee Trail makes an easy 0.75 mile-long circle around the top. Panels along the way explain the area's geology, ecology, and cultural history. You can also take the steep quarter-mile Plank Trail to Gardner Lookout on the summit's crown. Either way, the views are spectacular.
Another short and accessible trail is the Lower Old Mine Trail that starts from Pantoll. It goes for 1/2 mile and ends at the Coast View trail at the "Veteran Bench" where one can enjoy the beautiful view of grass hills and the coast.
Visit the Redwoods!
Mount Tam and the smaller national park it encircles, Muir Woods National Monument, are home to one of California's most impressive tree species, the coast redwood. Before or after any trip to see these stately giants, you and your family may want to visit Save the Redwoods League's online Redwoods Learning Center. The site offers fun, redwood-themed activities, classroom tools, and ways to get involved in redwood protection. Redwoods bingo, anyone?
BIKING
The sport of mountain biking was invented on Mount Tamalpais in the 1970s and '80s. Today's enthusiasts can enjoy the Coast View and Dias Ridge multi-use trails as well as park fire trails. Cyclists are not allowed on other single-track trails.
Road bicyclists who are up for a challenge can try the Seven Sisters ride, which heads north from Stinson Beach to the Bolinas-Fairfax Road and includes a long stretch of super-scenic West Ridgecrest Boulevard. The twisting paved road to East Peak summit also provides a good workout and spectacular views.
CAMPING & CABINS
First Come-First Serve
Bootjack and Pantoll campgrounds on Panoramic Highway each have 15 first-come, first-served sites about 100 yards from the parking area. Both campsites offer drinking water, firewood and restrooms with flush toilets. No showers are available. Both of these campgrounds have sites that are wheelchair accessible. For more information, call Pantoll Ranger Station at 415-388-2070.
Reservations
For campground and cabin reservation information for Steep Ravine, Alice Eastwood and Frank Valley campgrounds and cabins, use the reservation link at the top of this park's home page or call Reserve California at 800-444-7275. Reservations may be made up to six months in advance.
Alice Eastwood Group Camp, on Panoramic Highway near the Mountain Home Inn, has two sites for groups of 25 to 50 people. Both sites have tables, grills, and a large tent space.
Frank Valley Group Horse Camp, on Muir Woods Road about one mile north of Highway 1 at Muir Beach, has tables, fire rings, drinking water, pit toilets, horse troughs, and corrals for up to 12 horses.
Rocky Point/Steep Ravine Environmental Campground, on a marine terrace one mile south of Stinson Beach, has seven primitive sites and nine rustic cabins. Each cabin has a small wood stove, picnic table, sleeping platforms and an outdoor barbecue, but no running water. Restrooms and water faucets are nearby. Cabin #1 and environmental campsite #7 are wheelchair accessible. Only one vehicle and five people may occupy each cabin or campsite. No pets are allowed.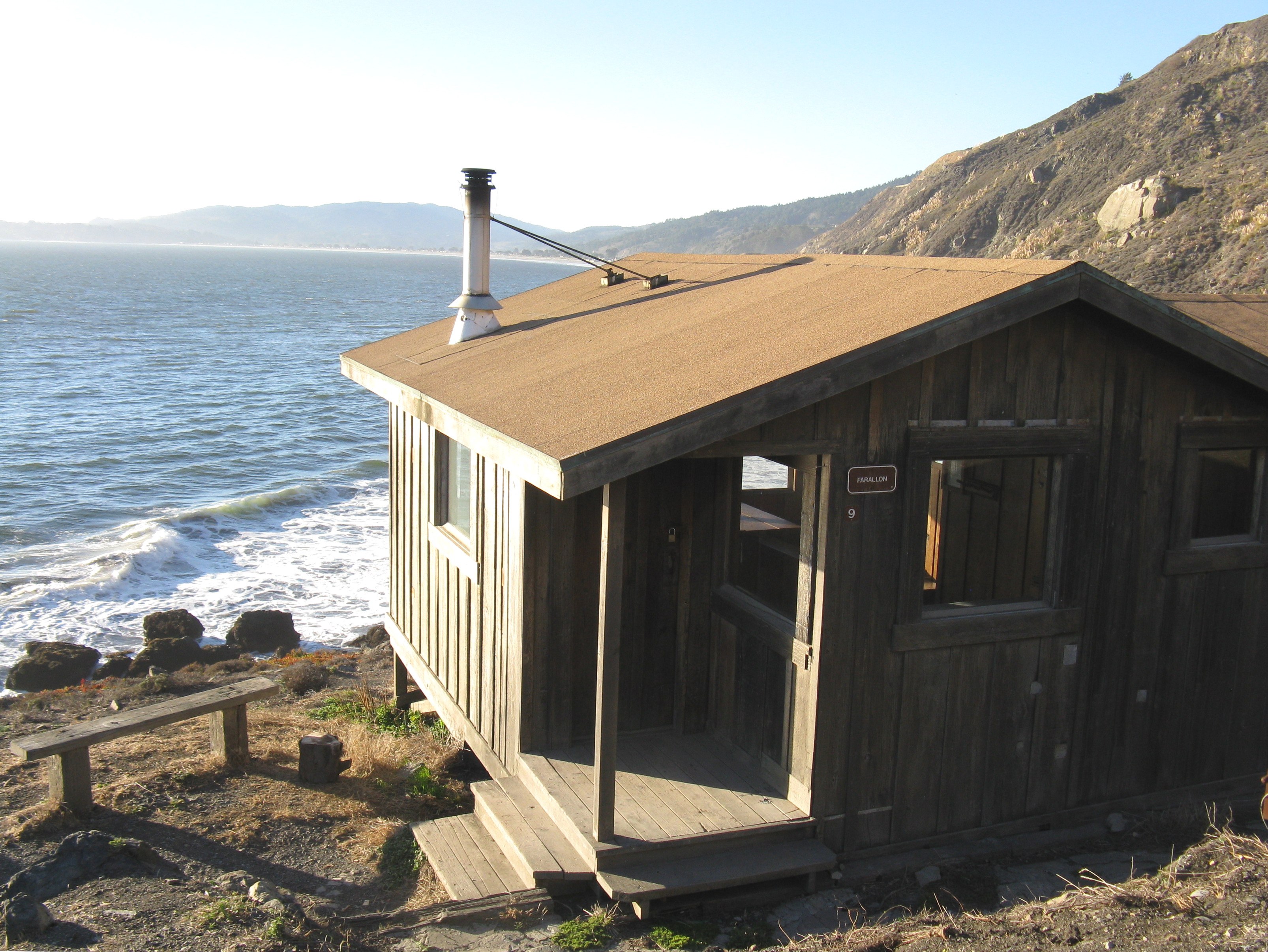 PICNIC AREAS & DAY USE
Picnic areas are at Pantoll (lower parking lot), Bootjack, Madrone Grove (near the Mt. Theatre at the Upper Old Mine Trailhead), and at East Peak (the summit).
Fires are not permitted in the upper mountain. If you plan to BBQ use Pantoll or Bootjack picnic areas.
Bootjack, on Panoramic Highway east of Pantoll, is the biggest picnic area and has picnic tables for up to 50 people, stoves, water and flush toilets.
East Peak summit has picnic tables near the Verna Dunshee trailhead, past the wheelchair-accessible restrooms.
Staffed by Friends of Mt. Tam volunteers, the park's visitor center at the East Peak summit has maps, books, souvenirs, packaged snacks, and a wildlife exhibit. Nearby, the park's railroad history comes to life in the Gravity Car Barn. The visitor center is open from 11 to 4 and the barn is open 12 to 4 on most weekends.
There are drink vending machines at Pantoll and at East Peak, but there is no food for sale at the park.
HORSEBACK RIDING
Horseback riders are welcome on park fire roads as well as multi-use trails, including Coast View, Redwood Creek, Heather Cutoff, Miwok, and Dias Spur and Dias Ridge. For details, see the brochure map.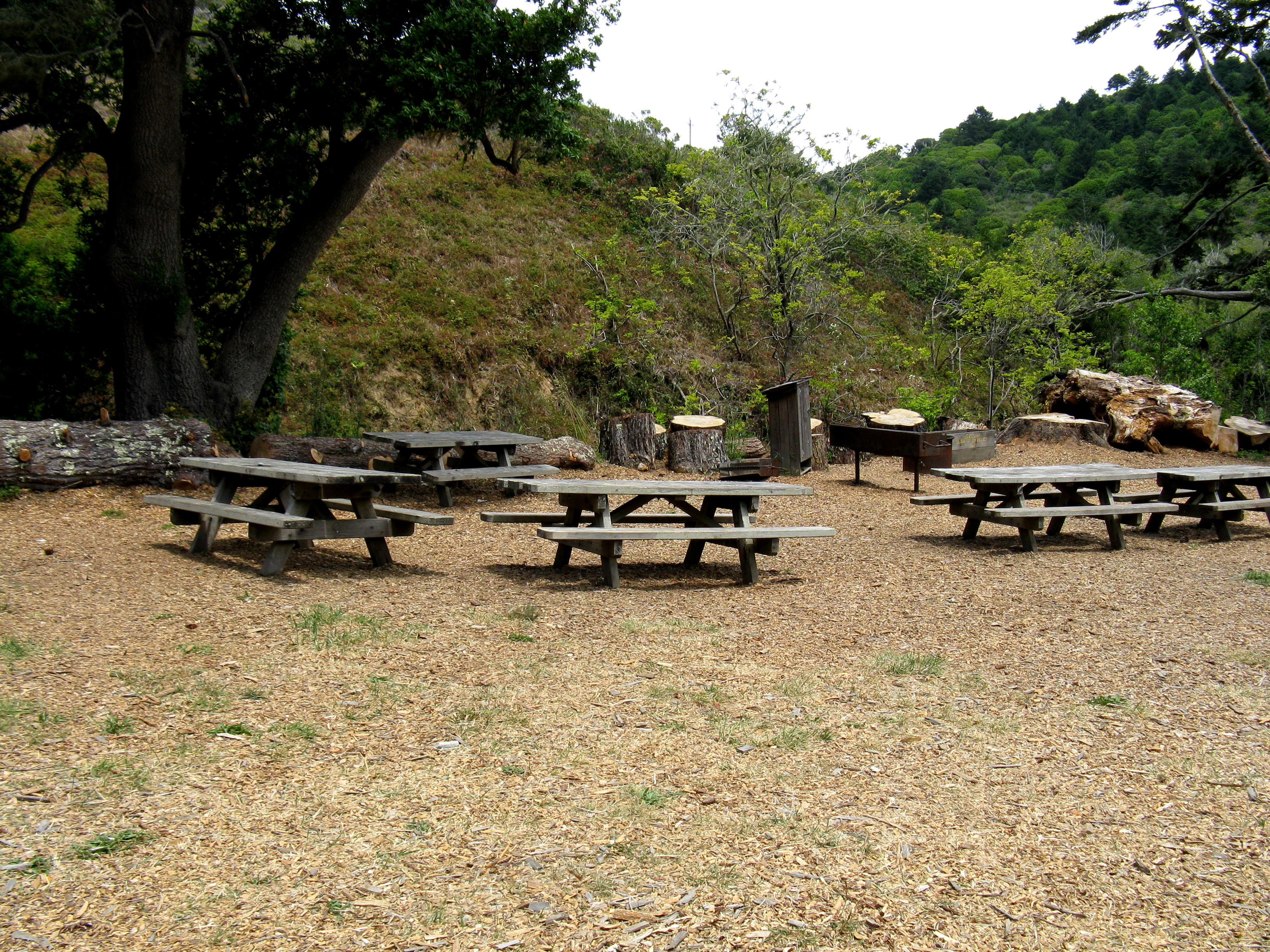 THEATER
The 3,750-seat Mountain Theater, officially named the Cushing Memorial Amphitheater, was built of natural stone in the 1930s by the Civilian Conservation Corps. On weekends in May and June, the Mountain Play Association uses it for outdoor productions of old-fashioned Broadway musicals. For dates and reservations, go to the Mountain Play Association website or call (415) 383-1100.
By trail, the theater is about 3/4 mile from Bootjack parking lot or 1/3 mile from Rock Spring parking lot. Plan to arrive well before 11 a.m. to find a spot. Or take the free shuttle from Mill Valley. On performance days, the Mountain Play Express runs every 15 minutes between 10:00 a.m. and 12:45 p.m.
Mt Theatre's family-friendly activities
• Enjoy an old-fashioned Broadway musical. Mountain Theater offers outdoor productions in May and June. For dates and reservations, go to the Mountain Play Association website or call 415-383-1100. By trail, the theater is about 3/4 of a mile from Bootjack parking lot or 1/3 of a mile from Rock Spring parking lot. On performance days, plan to arrive well before 11 a.m. to find a spot. Alternately, take it easy and ride the free shuttle from Mill Valley. The Mountain Play Express runs every 15 minutes between 10 a.m. and 12:45 p.m. on performance days.
• Gaze at the stars. Astronomy programs are offered between the new and first-quarter moon from April through October. Programs include a talk and tour of the night sky at the Mountain Theater, followed by star-gazing through tele-scopes at nearby Rock Spring. Hosted by Friends of Mt. Tam and the San Fran-cisco Amateur Astronomers. For more information, go to the Friends of Mt. Tam website.
HANG GLIDING
Recreational hang gliding is allowed for members of the Marin County Hang Gliding Association (MCHGA), the only currently permitted hang-gliding organization. Details, rules, and exact launching and landing locations may be found at http://www.mchga.org/rules1006.PDF. Hang gliders must sign in at Pantoll ranger station. Commercial and motorized hang gliding are prohibited.
FISHING
Fishing is allowed from the beach nearby Steep Ravine campground.
It is your responsibility to know all the fishing rules and regulations that apply to the area and time of fishing. The following links may be helpful to park guests:
https://wildlife.ca.gov/Fishing/Ocean/Regulations/Fishing-Map/San-Francisco
Links to fishing guides:
https://wildlife.ca.gov/Fishing/Ocean/Beach-Fishing#cc Sandy beach fishing guides
http://nrm.dfg.ca.gov/FileHandler.ashx?DocumentID=160598&inline Basic illustrations of fish species