Rural Recreation and Tourism Program (RRT)
Rural Recreation and Tourism Program (RRT)
August 22, 2022 Update: Grant Award List is Announced. Click here to view the grant award list.
$182.3 million was requested for the available $23.1 million.
Video Tour of the Online Application System
---
Application workshop webinars were conducted January through February 2021. Video recording clips are below under "Technical Assistance Documents".

Intent
The Rural Recreation and Tourism Program will create new recreation opportunities within rural communities to support health-related and economic goals. This program is funded by 2018 Parks and Water Bond Act (Proposition 68) , which is found in Public Resources Code §80090(a)(b).


Eligible Applicants
Cities
Counties
Eligible Districts (as defined in the Application Guide) in nonurbanized areas.
* To qualify as a rural community, the project site must meet one of these thresholds:
1. Be in a county with a population below 500,000 people, and, in a city/town/census designated place that has a population below 50,000 people.
OR
2. Be in a county with a population below 500,000 people, and, in a city/town/census designated place that has a population below 80,000 people, provided that the county below 500,000 people has adopted State planning priorities pursuant to Government Code Section 65041.1. The applicant shall include in the RRT application a letter or other documentation from the County's Planning Agency confirming the county has adopted one or more State planning priorities found in Government Code Section 65041.1 to limit sprawl, protect environmental and agricultural resources, and encourages efficient infill development patterns within incorporated city limits.


Eligible Projects and Priorities
Acquisition and development, or development of land to:

Create new recreational opportunities in rural communities that have a lack of outdoor recreation infrastructure. Projects that support both economic and health-related goals for residential recreation and will attract out-of-town visitors will be given priority.
New opportunities are the creation of facilities that currently do not exist, and may include but are not limited to:

Accessible trails and bikeways for wildlife viewing or other significant draws
Sports complexes that host travel ball tournaments and leagues
Visitor centers that interpret a significant historic or natural resource
Amphitheaters that support performing arts and other cultural recreation attractions
Campgrounds
Access to waterways
Aquatic centers


Total Amount Available for Competitive Grants
$23,125,000

Use this guide to plan the Rural Recreation and Tourism Program application. The Competitive Review Team is committed to give technical assistance. Contact information is below.
Applications will be due November 5, 2021.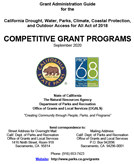 Administration Guide:
Administration Guide (September 2020)
The Administration Guide will be used for grant projects that are selected for funding when grant awards are announced. It includes a sample grant agreement, the payment process, and accounting/record keeping requirements.





Technical Assistance Documents
Application Workshop Webinar Recordings
Use the above link to access video recordings of Application Workshop Webinar clips.


Technical Assistance Contacts
For technical assistance, applicants are encouraged to send questions to the "Competitive Grant Application/Pre-Award" Project Officer based on the county where the project is located. Please use this link: List of Competitive Application Project Officers by County