Summer Archaeology Project
"SAP" ... the SUMMER ARCHAEOLOGY PROJECT
Become a Volunteer. Applications are Open Now!
2023 will mark the 9th season of our Summer Archaeology Project (SAP), a collaborative program between the Santa Cruz Mission State Historic Park and Santa Clara University. We will be transforming our park into an archaeological laboratory, and we are seeking volunteers to process the artifacts. The material comes from an excavation at Santa Clara University which revealed the neophyte village from Mission Santa Clara. The information gleaned from this recent excavation will shed light on daily life of Native people in the Mission system. Volunteers will receive training, enrichments, a fieldtrip, and a collection of resource materials. This is a great way to learn about archaeology and local history, and get hands-on experience in archeological methods! We will meet on Mondays through the summer.
2023 Schedule:
Mondays, June 19 - August 21 (No session on Monday, July 3rd)
10:00am - 2:30pm
Total of 8 weeks
Fieldtrip date: TBA
If you are interested in joining us this summer to do some of this critical archeological work, our volunteer form is now live on the State Parks volunteer website, BetterImpact. If this sounds like a project you'd like to join us on, please make an account and fill out the State Parks volunteering form at
SAP application
and you will mark your primary location as Santa Cruz Mission SHP (no need to mark a secondary location).
Teen Team
TEEN TEAM for OLD FASHIONED CAMPFIRES
What:
A youth volunteer group that will assist with Old Fashioned Campfires at SCMSHP
Who:
Rising 9th - rising seniors or under 18.
Dates & times: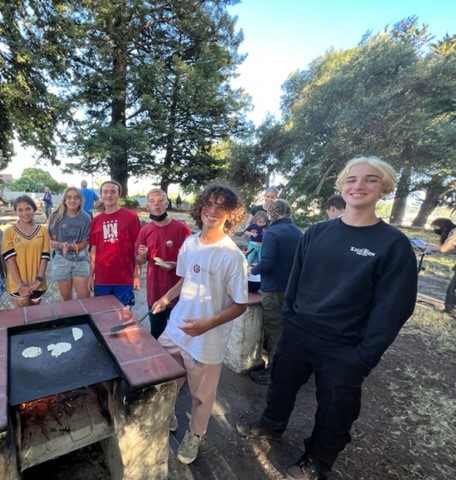 Training: Thursday, June 1st, 2023 2-5:30pm

Campfire Friday, June 16, 2023 4:30 - 8:30pm

Campfire Friday, July 21, 2023 4:30 - 8:30pm

Campfire Friday, Aug 18, 2023 4:30 - 8:30pm
Examples of Duties:
Be a positive Role Model

Fire building

Masa preparation

Lead Tortilla making station for the public

Participate in Teen skit at Campfire

Possibly lead a story, song, or cheer at campfire

Marshmallow monitors

Clean Up

Roadie work (Help band set up & break down)
The Leaders:
Stu Branoff, SCCS teacher and long time State Park Volunteer, Randy Widera, environmental education leader and founder of the WOLF School, and Josephine Czarnecki, local youth & grown-up theatre director, will be the group leaders to train and manage the teens on site along with Julie Sidel, State Parks Interpreter I.
How to participate:
Please fill out the following form:

We will ask a parent or guardian to fill out additional paperwork.
Questions? Call the park 831 425-5849 or email santacruzmission@ports-ca.us
Garden Project
New Garden Volunteers
Orientation Days!
Friday, June 23, 2023 10:00am - 12:30pm
or
Saturday, June 24, 2023 10:00am - 2:30pm
Our small park includes gardens that interpret the history of the traditional Ohlone landscape, the many fruits and vegetables imported by the Spanish, and the heritage trees and flowers of the Victorian era.
We are seeking volunteers to help plant and tend gardens, and develop our food plant crops to benefit the community. Any level of experience is welcome - we are happy to provide training. The times are flexible.

If you are interested in gardening at the Santa Cruz Mission SHP, please call the park at 831 425-5849 or email santacruzmission@ports-ca.us