Summer Archaeology Project
NOW ACCEPTING APPLICATIONS!
This is the fourth season of our Summer Archaeology Project (SAP) a collaborative program between the Santa Cruz Mission State Historic Park and Santa Clara University. We will be transforming our park into an archaeological laboratory, and we are seeking volunteers to process the artifacts. The material comes from an excavation at Santa Clara University which revealed the neophyte village from Mission Santa Clara. The information gleaned from this recent excavation will shed light on daily life for Native people in the Mission system. Volunteers will receive training, enrichments, a fieldtrip, and a collection of materials. This is a great way to learn about archeology and local history, and get hands on experience in archeological methods! We will meet on Mondays, 10am - 2pm, from June 25th through August 27th. Contact jsidel@parks.ca.gov or call the park at 831 425-5849 with any questions.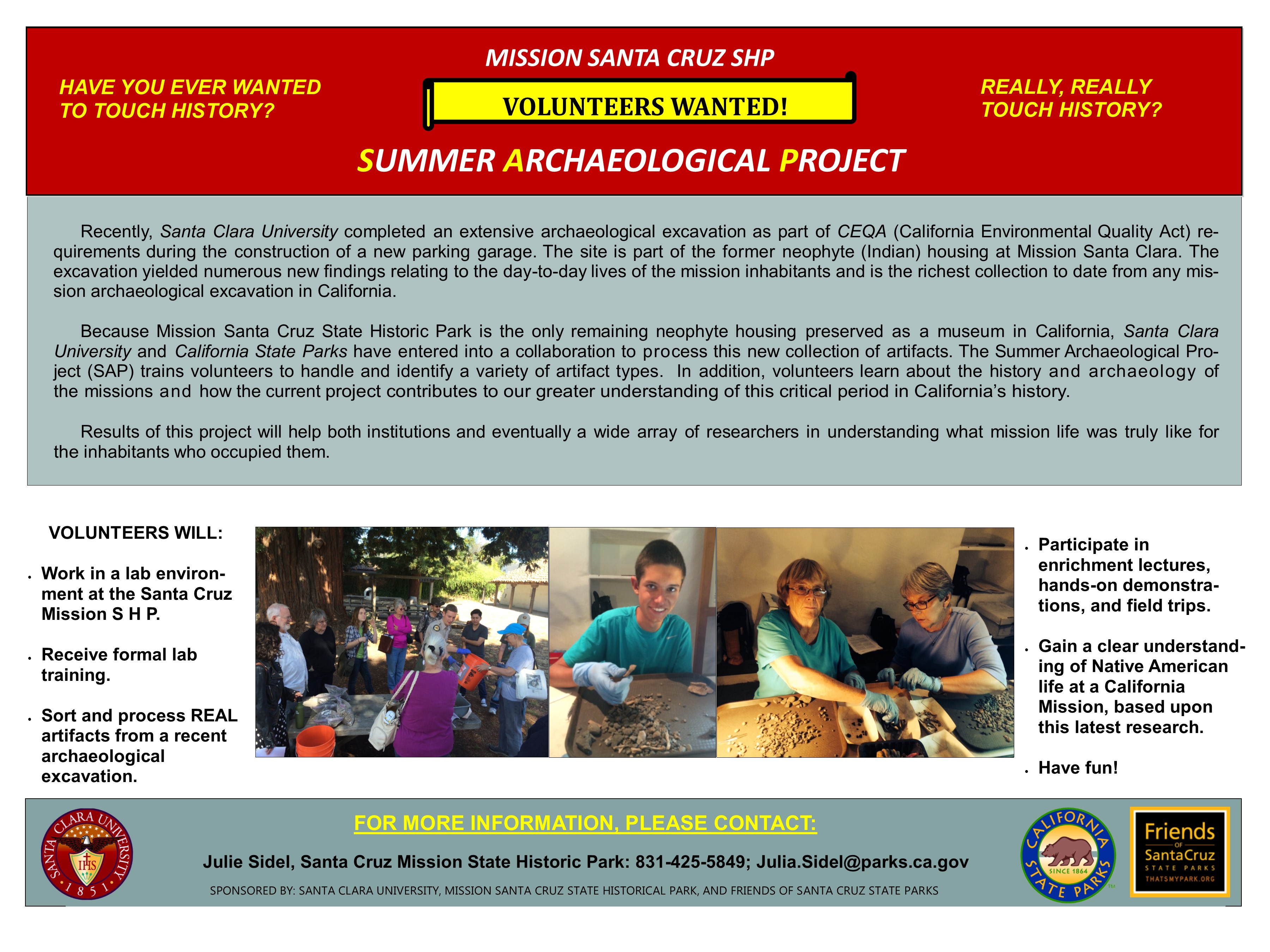 Garden Project
Our small park includes plants that interpret the history of the traditional Ohlone landscape, the many fruits and vegetables imported by the Spanish, and the heritage trees and flowers of the Victorian era.

This summer we are seeking a crew of volunteers to help plant and care for our gardens, and develop our food plant crops to benefit the community.

The bulk of the work will occur on Thursday afternoons from 1:00 - 4:00 pm., but projects can be undertaken at other times as well.

If you are interested in gardening at the Santa Cruz Mission, please call Julie at 831 425-5849.