Guided hikes and other in-person park programs have resumed in Santa Cruz-area State Parks! Pre-registration is required. Visit www.santacruzstateparks.as.me to see the schedule and make reservations.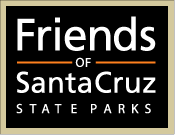 All events and activities are FREE, and are made possible by Friends of Santa Cruz State Parks and California State Parks.
For more information about events and activities please call the Santa Cruz Mission at (831) 425-5849. All programs meet at the Santa Cruz Mission, located on School Street off of Mission Street and Emmet Street in Santa Cruz.