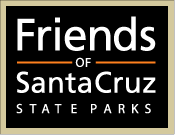 All events and activities are FREE, and are made possible by Friends of Santa Cruz State Parks and California State Parks.

For more information about events and activities please call the Santa Cruz Mission at (831) 425-5849. All programs meet at the Santa Cruz Mission, located on School Street off of Mission Street and Emmet Street in Santa Cruz.
May
Building Methods
Saturday, May 6 at 1pm
Come and see how the oldest building in town was made. We will look at the materials used by the Ohlone to build their homes and then at the materials used by the Spanish to build Mission Santa Cruz. You will have the chance to get your hands dirty and make your own mini abode brick. Rain cancels.
Hymns & Chants
Saturday, May 13 at 1pm
From dawn until dusk music could be heard at the missions. Bells indicated daily events, congregations sang masses, and indigenous rhythms were heard. Then, as now, music expressed beliefs, culture, and identity. We'll share these stories and songs as we explore a day of music at the mission. Rain or shine.
Wool, Spinning, and Weaving at the Santa Cruz Mission
Saturday, May 20 at 1pm
How did an isolated settlement clothe the hundreds of people who lived there? Take an in depth look at the cloth industry of Mission Santa Cruz. We will follow the path of wool from the sheep to the shirt. You will have the chance to try your hand at a drop spindle and spin your own wool. Rain or shine.
What They Wore
Saturday, May 27 at 1pm
Color, cloth, & cut – the clothing worn by people in the Mission wasn't all about style – it was about identity, status, and different roles in the community. We'll demonstrate the apparel you may have seen here in the early 19th century, and learn what the clothing meant to the people who wore it. Rain or shine.
Guided Adobe Tour
Monday, May 29 at 1pm
Join us at the Santa Cruz Mission State Historic Park for a guided tour of the oldest building in Santa Cruz. Come learn about the many families who have called this 180-year-old mission adobe their home. Event is free; rain or shine.