Sierra No. 3 Steam Locomotive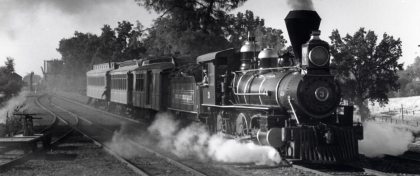 " Sierra No. 3 resides at Railtown 1897 State Historic Park. It is housed in the original
roundhouse which is still in use. Together these two assets provide a rare opportunity to
experience history just as it was 109 years ago. Having this locomotive in operation will
give filmmakers another reason to stay in California, as demonstrated by the hundreds
of productions Sierra No. 3 has appeared in over the years. " -- Clint Eastwood

photo courtesy of Chuck Holland

This famous "Movie Star" locomotive is probably the most widely seen locomotive in the world, starring in over 100 movies and TV shows. Hollywood producers discovered Tuolumne County and Sierra No. 3, filming this steam locomotive along the scenic Sierra Railroad to satisfy America's love affair with Westerns. In 1929, Sierra No. 3 appeared in The Virginian with Gary Cooper, the first sound movie filmed outside of a Hollywood sound stage. It also appeared in High Noon, The Great Race, Bound for Glory, Back to the Future III and Unforgiven and on many TV shows, including Lone Ranger, Petticoat Junction, Rawhide, Death Valley Days, Lassie, Gunsmoke, Bonanza, and Little House on the Prairie.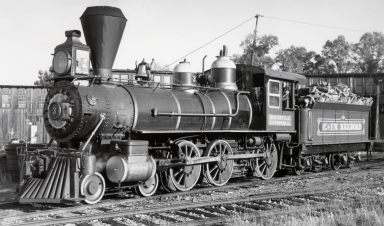 For current restoration status: www.railtown1897.wordpress.com.