Railtown 1897 State Historic Park
EFFECTIVE (November 17, 2020) - Thank you for your patience and continued support of California State Parks as we work to limit your risk for exposure to COVID-19 in the outdoors.
The COVID-19 pandemic continues to be dynamic and fluid. As such, information on this webpage may change. Prior to visiting us, please check this webpage again right before you visit the park to find out if new guidelines are in place.
As a reminder, Californians are encouraged to avoid road trips and stay close to home, maintain physical distancing, wear a face covering when a physical distance of six feet cannot be maintained from others, and avoid congregating. Everyone has the responsibility to slow down the spread of COVID-19. Visitors should also abide by their local county health orders.
Here are some additional guidelines for locals visiting Railtown 1897 State Historic Park:
What is open now?
The Depot Store with limited capacity and face coverings required.
Day-use areas.
Outdoor exhibits.
What is currently closed?
Train rides.
Indoor exhibits.
Guided tours.
Special events and public gatherings.
Are there any new visitor guidelines?
Yes, please see below:
Stay Safer at 6 Feet: No matter the recreational activity, maintain a physical distance of 6 feet or more. No more than three households in a group is permitted. Mixing between group gatherings, large gatherings or parties is not allowed. Visitors are being asked to leave if there are too many people to allow for the required physical distance.
Stay Clean: Be prepared. Bring soap/sanitizer and pack out all trash. Restrooms will be temporarily closed in order to keep up with cleaning schedules.
Stay Covered: The state requires you to wear a face covering when you cannot maintain physical distancing of six feet or more. For details, please visit www.covid19.ca.gov.
Statewide, California State Parks continues to work with locals on a phased and regionally-driven approach to increase access to state park units where compliance with state and local public health ordinances can be achieved. However, the situation remains fluid and park operations can change at any time. The need for Californians to slow the spread of COVID-19 in the outdoors remains critical.
For information on statewide current closures and available services, please visit
parks.ca.gov/FlattenTheCurve
.
Phone Number
(209) 984-3953
Park Hours
April through October,
open daily 9:30am to 4:30pm;

November through March
open daily 10:00am to 3:00pm.

Closed Thanksgiving, Christmas and New Year's Day.
Driving Directions to Railtown 1897 SHP
The park is located in Jamestown, 3-miles south of Sonora, at Sierra Av & 9th St.


Online reservations are not available for this park.
Upcoming Park Events
No events scheduled at this moment.
TRAIL USE
Hiking Trails

DAY-USE ACTIVITIES & FACILITIES
Historical/Cultural Site
Picnic Areas
Env. Learning/Visitor Center
Exhibits and Programs
Guided Tours
Interpretive Exhibits
Museums
Family Programs

OTHER FACILITIES & VISITOR INFORMATION
Parking
Drinking Water Available

Located in Jamestown, in the heart of California's Gold Country about 100 miles southeast of Sacramento, Railtown 1897 State Historic Park is home to the Historic Jamestown Shops and Roundhouse—an intact and still-functioning steam locomotive repair and maintenance facility, portions of which date back to 1897. This one-of-a-kind attraction combines industrial heritage and railroad history with the lore of Hollywood's film industry. The Railtown 1897 Interpretive Center, the authentic roundhouse and shops, and the Depot Store (a railroad specialty gift shop) are among the Park's unique year-round offerings. Railtown 1897 State Historic Park is open daily (April-October, from 9:30 to 4:30 p.m.; November-March, from 10 a.m. to 3 p.m.), except Thanksgiving, Christmas, and New Year's Day.

Visit www.Railtown1897.org for more information and current special events.
Excursion Train Rides
Enjoy a six-mile, 45-minute roundtrip ride through the scenic Sierra foothills. From April to October, trains operate every Saturday and Sunday, departing from the Railtown Depot at 10:30 a.m., noon, 1:30 p.m. and 3 p.m. Vintage passenger coaches pulled by an authentic steam locomotive run on Saturdays and a vintage diesel locomotive operates on Sundays. Diesel trains rides on Wednesday trains operate between June 12th through July 31st only, and depart at 10:30 a.m. and 12:00 p.m. Special "themed" excursions operate other times throughout the year. Regular excursion train tickets are $15 adults, $10 youths ages 6-17, ages 5 and under ride free. Specially themed excursion train prices vary; please inquire for details. Call the park at (209) 984-3953 or visit www.Railtown1897.org for ticketing or more information.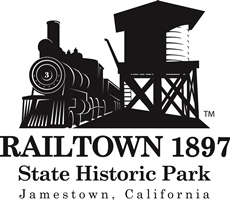 The Railtown 1897 SHP complex includes an authentic railroad roundhouse with operating turntable, functional blacksmithing area, and belt-driven machine shop. Guided Roundhouse Tours are available daily at this unique facility in which locomotives and cars are inspected, repaired, and rebuilt—just as they have been for the past century! The complex includes related historic structures and Hollywood "props," plus a large picnic area, Depot Store, and Interpretive Center.
The Movie Railroad
Known as "The Movie Railroad," Railtown's survival has been aided by the film industry. The first known filming was in 1919, for a silent serial called "The Red Glove." Railtown 1897 and its historic locomotives and railroad cars have appeared in more than 200 films, television productions, and commercials.

Still a popular Hollywood location site today, Railtown 1897's most famous locomotive, "Movie Star" No. 3, has been called "perhaps the most widely seen locomotive in the world." The Virginian (first sound motion picture filmed outside a sound studio), the western classic High Noon, and Clint Eastwood's Unforgiven were all filmed here. Movie crews also produced the railroad sequences in Back to the Future Part III at Railtown. TV credits include "Death Valley Days" (with Ronald Reagan) and "Petticoat Junction."

Location-Directions
The park is located in Jamestown, 3 miles south of Sonora, at 5th Avenue and Reservoir Road.

Seasons/Climate/Recommended Clothing
Summer and spring are warm; fall and winter can be cool. Layered clothing is advised.

Photography
• We welcome photography for personal use.
• Commercial photography is allowed on a case by case basis by advance arrangement. Visit www.film.ca.gov for more information.
• Tuolumne County Film Commission : filmtuolumne.com/
Social Feed