Railtown Collection of Locomotives and Train Cars
The collection exhibited at Railtown 1897 State Historic Park contains 5 steam locomotives dating from 1891 to 1925. Of this total, 3 operated on the Sierra Railway and successor Sierra Railroad during its days as a completely steam-operated railroad. The collection also includes a number of train cars and a selection of internal-combustion powered locomotives, one of which dates back to an original service life on the Sierra Railroad. Below are some of the highlights of the collection you can see at Railtown 1897 State Historic Park.

STEAM LOCOMOTIVE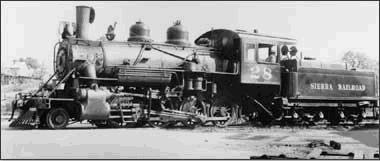 Sierra Railway No. 28
Baldwin; 1922; c/n 55246
2-8-0; 48" drivers;
19x26 cylinders; oil burner
Gift August 1982 of Sierra R.R.


Built by Baldwin Locomotive Works of Eddystone, PA in 1922 for the Sierra Railway. Number 28 was used in freight service for most of its regular working life. It hauled rock and supplies for the dam construction projects into the mountains, and lumber back out from the mountains.
Today it hauls the excursion train
at Railtown 1897 State Historic Park.


---
WOODEN PASSENGER CARS

Sierra Railway combination
car No. 5 and coach No. 6
W. L. Holman, San Francisco, 1902
Built for the Angels Branch
No. 5 Gift August 1982 of Sierra R.R.
No. 6 Purchased December 1979 from Pacific Coast Chapter, R&LHS
Shorty combination car No. 5 and coach No. 6 were built specifically for use on the tight curves and switchbacks of the Angels Branch, running through the deep Stanislaus River canyon between Jamestown and Angels Camp. After the branch line was abandoned in 1935, No. 5 was used as a caboose until 1955, while No. 6 was traded to the Hetch Hetchy RR. Both are now returned to their original home at Railtown 1897,
where they see occasional service in movie trains.


---
RAILCAR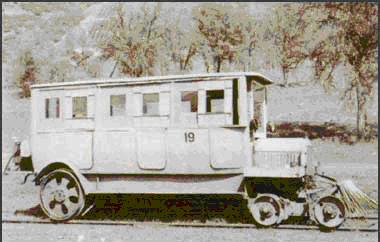 Hetch Hetchy RR No. 19
Meister/White/Muni 1920
Gas-Mechanical
Gift July 1997 of
Mrs. Al (Helga S.) Rose
Body built in 1919 by Meister and Sons of Sacramento, placed on a standard White Motor Company ¾ ton truck frame and #30 motor, with the pony truck, rail brakes and self-contained turntable installed in the San Francisco Municipal Railway shops in January 1920. No. 19 was built for San Francisco's Hetch Hetchy Railroad in Tuolumne County, where it was initially used as an ambulance on rails, and could travel up to 50 MPH on straight track, running in overdrive. Saved in 1949 by Al Rose, Modesto
photographer, publisher and railfan,
today it is preserved in operable condition
at Railtown 1897 State Historic Park.
---
Compiled by Kyle K. Wyatt