California Citrus State Historic Park
Update (March 19, 2021)
: With the Regional Stay at Home Order lifted, State Parks is reopening campground sites for existing reservation holders. The department will be using a phased approach to reopen other campground sites for new reservations, starting January 28. The public is advised that not all campground sites are open to the public due to the pandemic, wildfire impacts and other issues. Additionally, group campsites remain closed. Day use outdoor areas of park units currently open to the public remain open.
As State Parks increases access to the State Park System, it is critical that Californians continue to recreate responsibly in the outdoors as the pandemic is far from over.
Please take the time to read the information contained on this webpage to find out what is open and closed, and the COVID-19 guidelines for California Citrus State Historic Park.
What is open now?
Trails - all active recreation will be permitted such as hiking, running, mountain biking, and bird watching, and equestrian use. Rules and regulations are now posted at all trailheads and will continue to be enforced.
Chino Sector Office.
Single household grove tours.
Visitor Center will be open at reduced capacity.
All park facilities are now open at reduced capacity.
Special Events will be considered in compliance with county health guidelines.
Tours will be available in compliance with county health guidelines.
What is currently closed at this park and throughout the State Park System?

Statewide:
Some park units and campground sites continue to be temporarily closed due to the pandemic, impacts from wildfires or other issues. Please visit the webpage of your local outdoor destination to find out if it is open.
High public-use indoor facilities, including museums and visitor centers.
Special events and tours continue to be canceled until further notice.
Are there any new visitor guidelines?

State Parks has implemented the following guidelines to reduce the risk of exposure to COVID-19 in the outdoors:
Stay Local: Stay close to home during this pandemic period. If you or anyone in your household is feeling sick, please remain at home and plan your trip for another time.
Plan Ahead:

The ongoing pandemic response continues to be dynamic and fluid. Prior to leaving home, check the webpage of your outdoor destination you plan to visit to find out if it is open, if parking is available, and what visitor guidelines are in effect.
Learn what safety precautions you should take when exploring the outdoors at parks.ca.gov/SafetyTips.
SNO-PARKS: Make sure your vehicle is snow ready. A permit is required for each vehicle parked at a SNO-PARK site. Parking is on a first come, first-serve basis at all SNO-PARK sites. The public is advised that parking lots are filling up early in the day. Illegal parking is prohibited. More information can be found at ohv.parks.ca.gov/SNOPARKS.

Stay Safer at Six Feet: No matter the recreational activity, maintain a physical distance of six feet or more. Your guests should only include those within your immediate household. This means no guests or friends, and no gatherings or parties. If there are too many people to maintain the required physical distance, please visit us on a different day.

Boating: Do not raft up to other boaters or pull up onto a beach next to other recreators.
Off-highway Vehicle Recreation: Do not ride next to others or pull up next to someone else as it could put you in close proximity to others. Stage 10 feet or more from each other during unloading and loading.

Keep Clean: Be prepared as not all services may be available. Some restrooms will be temporarily closed to keep up with cleaning schedules. Bring soap/hand sanitizer. Please pack out all trash. Park units are experiencing heavy use and you can help alleviate the impact on park facilities.
Stay Covered: The state requires you to wear a face covering when you cannot maintain a physical distance of six feet or more. Individuals must have a face covering with them at all times.
Although law enforcement entities have the authority to issue citations, the expectation is that the public is responsible for adhering to the advice of public health officials, visitor guidelines and closures.
California State Parks continues to work with local and state officials on a phased and regionally driven approach to increase access to state park units where compliance with state and local public health ordinances can be achieved. However, the situation remains fluid and park operations can change at any time. For information on statewide current closures and available services, please visit
parks.ca.gov/FlattenTheCurve
.
Phone Number
(951) 780-6222
Park Hours
Park Hours: Daily 8am-5pm
Visitor Center: Currently Closed


Dogs Allowed?
Yes
Dogs allowed on the trails. Dogs not allowed in the visitor center/museum. 
Driving Directions to California Citrus SHP
The park is located in Riverside, one mile east of the 91 Freeway. In the Arlington Heights - Lake Matthews area of Riverside.


Online reservations are not available for this park.
Upcoming Park Events
No events scheduled at this moment.
TRAIL USE
Bike Trails
Hiking Trails

DAY-USE ACTIVITIES & FACILITIES
Historical/Cultural Site
Picnic Areas
Env. Learning/Visitor Center
Exhibits and Programs
Guided Tours
Interpretive Exhibits
Vista Point
Nature & Wildlife Viewing
Museums
Family Programs
Geocaching

OTHER FACILITIES & VISITOR INFORMATION
Parking
Restrooms
Drinking Water Available

Preserving the Cultural Landscape of the Citrus Industry
This park interprets the industry's role in the history and development of California through the stories of the diverse groups of people who made it all possible. The park recaptures the complexities of the time when "Citrus was King," exploring the significance of the citrus industry in Southern California.
In 1873, the U.S. Department of Agriculture forever changed the history of Southern California when it sent two small navel orange trees to Riverside resident Eliza Tibbets. Those trees, growing in ideal soil and weather conditions, produced an especially sweet and flavorful winter harvest fruit. Word of this far superior orange quickly spread, and a great agricultural industry was born.

In the early 1900s, an effort to promote citrus ranching in the state brought hundreds of would-be citrus barons as well as thousands of migrant and immigrant agricultural workers to California for the "second Gold Rush." This resulted in the growth of cities and communities throughout Southern California, most of which were segregated along class and racial lines. On the surface, however, the lush groves of oranges, lemons and grapefruit contributed to California's legacy - its lingering image as the Golden State - the land of sunshine and opportunity.
Citrus Grove Tours
Update: SOLD OUT
We will be evaluating at beginning of May to see if additional tours can be added.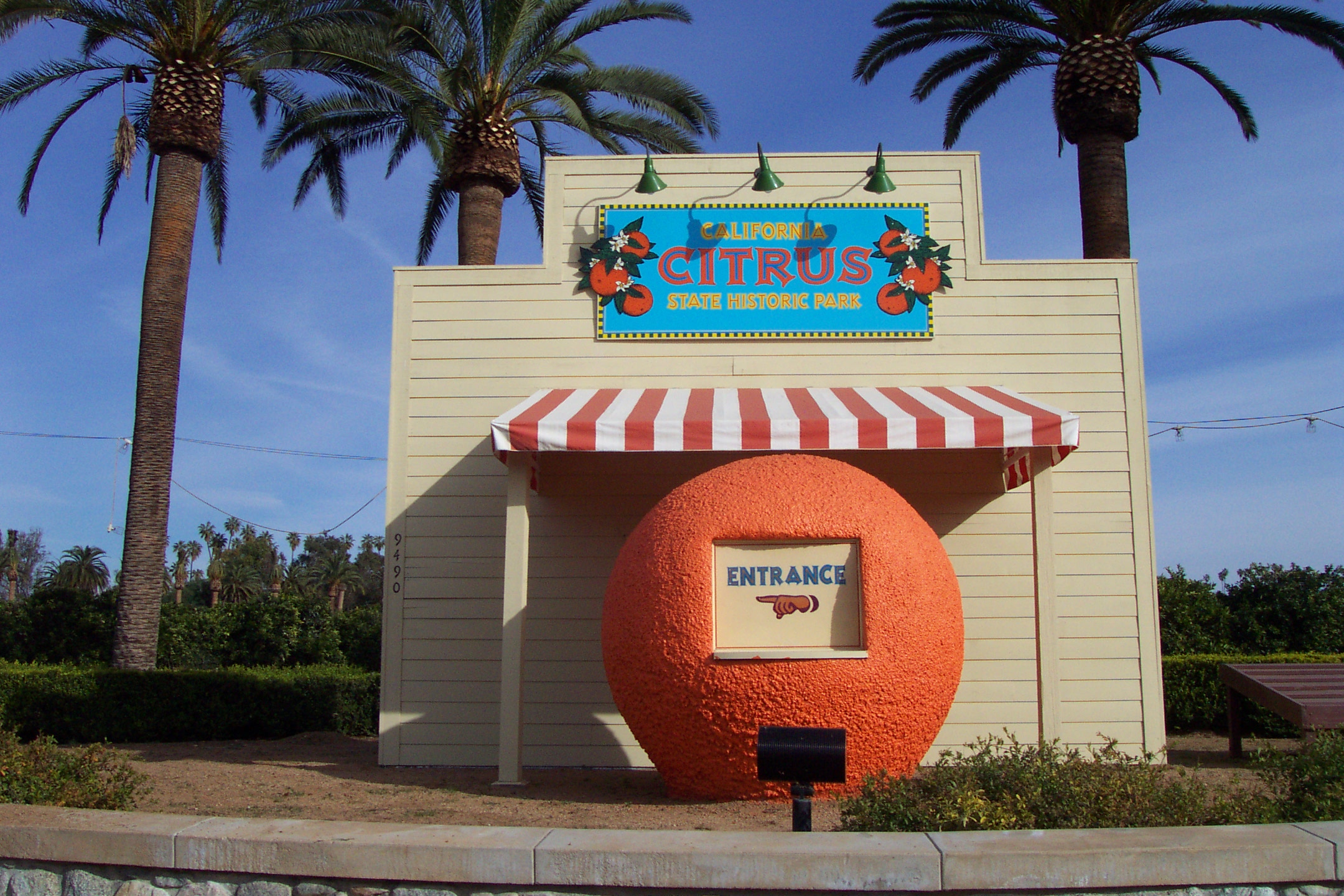 2021 Citrus Varietal Grove Tours
For a limited time, we welcome you to join us for a unique experience on a tour of our Citrus Varietal Grove. In year's past, we provided free citrus tasting. This year, like last, our operation is limited by COVID restrictions. So we are providing an opportunity for you to join a tour where you will be able to sample some of the more than 70 varieties of oranges, lemons, limes, mandarins, grapefruit and/or kumquats. Sampling is only allowed on one of these tours. Only members of the same household will be allowed on each tour. Don't forget one grocery bag, comfortable shoes and sunscreen. The tour will be approximately 45 minutes and will start in front of our Visitor Center. The Visitor Center will be closed.
• Tours are limited to members of the same household.
• Bring one grocery bag per family for fruit sampling. Fruit sampling is only allowed on a tour.
• Wear comfortable shoes, have sunscreen and water.
• Tour will be approximately 45 minutes from start to finish.
• Parking fees are required.
*Please be on time for your reservation, if you are more than 10 minutes late your tour maybe cancelled.*
Regulations