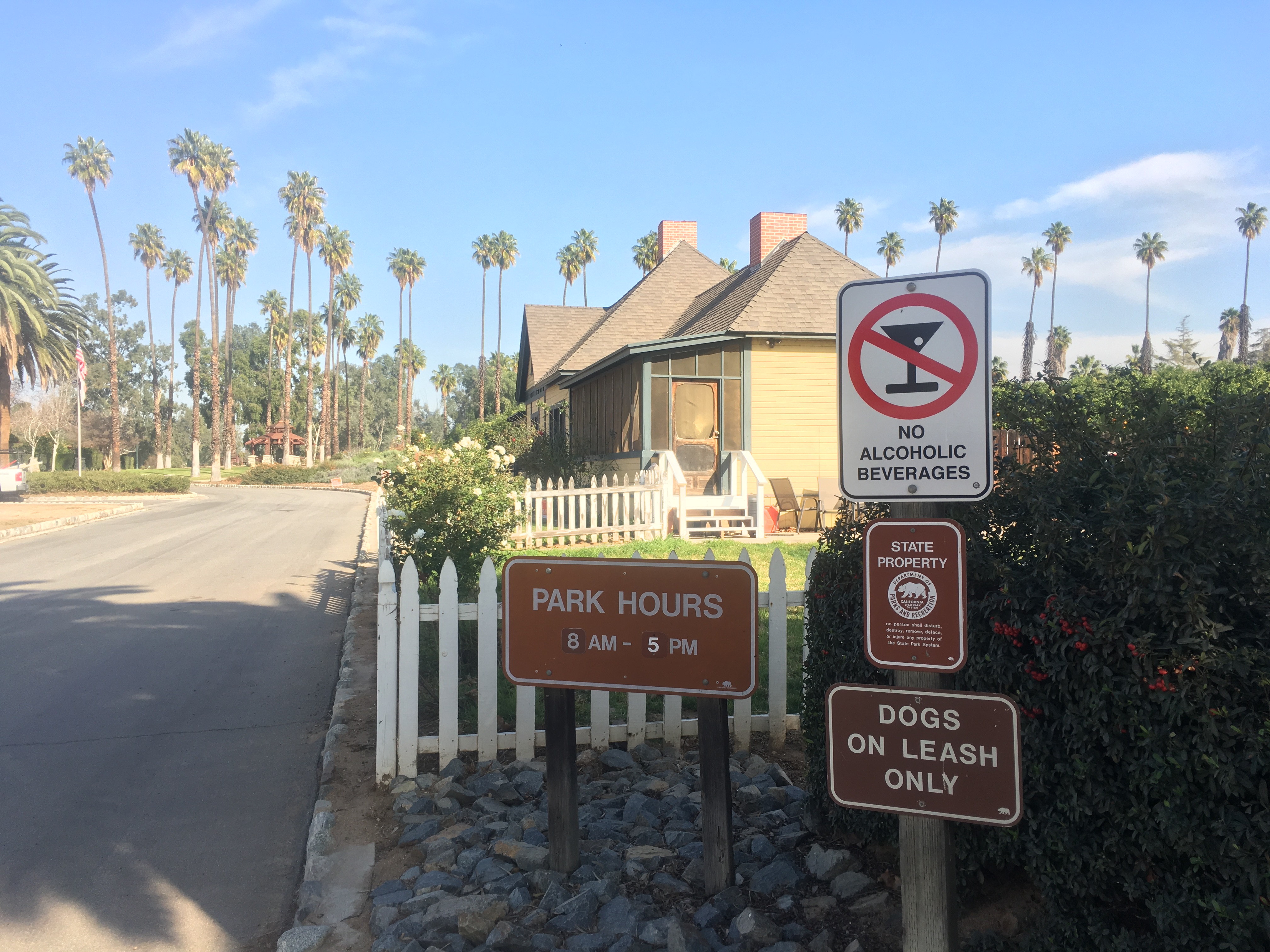 Rules and Regulations
Other Power Driven Mobility Device (OPDMD) Policy
Trails - For safety's sake, stay on designated trails and paths.

Dogs - Dogs are allowed on the trails on a leash. No dogs are allowed in the visitor center/museum.

Speed Limit - 15 mph for all vehicles and bicycles.

Weapons - Weapons of any kind are prohibited.

Collecting - Animals, plants, rocks, dirt and artifacts are protected by law and may not be disturbed or collected. The picking and taking of fruit is prohibited (Title 14 CA Adm. Code CCR 4306(a))
Frequently Asked Questions (FAQs)
What are the park hours?
October through March, the park is open daily from 8am to 5pm. April through September, the park is open Monday to Friday from 8am to 5pm and Saturday and Sunday from 8am to 7pm. The visitor center/museum is open year round Friday to Sunday from 10am to 3pm.
Is there a cost to visit the park?
There is a vehicle entry fee of $5.00 ($4.00 for seniors age 62+). Please pay exact cash or credit card at the automated self-pay stations located in the front parking lot or in front of the visitor center/museum, or cash and credit card to kiosk attendant when present. Visit the main page of our website to learn about costs for larger groups and which California State Park passes are accepted.


If I have a disabled parking permit/placard, can I park for free?
No, you must have a Disabled Discount Pass issued by California State Parks to receive a discount on the vehicle entry fee. For persons with permanent disabilities, this pass entitles the bearer to a 50% discount for vehicle day use, family camping, and boat use fees at California State Park operated units. For more information on how to obtain this pass, and other special passes, visit the park website.
Where can I buy an annual pass for parking?
Our sector office sells several different special passes. For more information, please call 951-780-6222 or visit the park website.
Can I take pictures or film in the park?
Filming or photography at California Citrus State Historic Park requires a permit through the California Film Commission. For more information on filming in the park, visit the park website.
How do I reserve one of the facilities for my special event?
We have facilities that you can rent for parties, weddings, meetings, gatherings, and other events. For the wedding venue, call 951-515-6689 Monday through Friday 10am - 5pm. For the amphitheater and outdoor areas, call 951-536-6206 Tuesday through Friday 10am - 4pm. For more information on reserving one of our facilities, visit the park website. If you are interested in using the general park for a special event, please follow our permitting process here.
Can we pick oranges here?
No, visitors cannot pick their own fruit. Unauthorized picking and taking of fruit at California Citrus State Historic Park is prohibited (Title 14 CA Adm. Code CCR 4306(a)).
Where can I buy oranges?
Gless Ranch picks and packs our commercial fruit for us, and a portion of the proceeds come back to the park. There are several Gless Ranch fruitstands near the park, but the closest are on the corner of Van Buren and Dufferin right down the street from the park and at 19985 Van Buren Boulevard about 6 miles up the street from the park. For more information on Gless Ranch, visit their website.
Does the park accept monetary donations?
Absolutely! Our nonprofit partner, the Friends of California Citrus Park, collects proceeds from fundraising and donations to support park maintenance, improvements, and educational and interpretive programs. You can visit them here for more information.