UPDATE (March 31, 2020):
This park is temporarily closed to vehicular access.
The park remains open for locals who wish to walk, hike and bike (in parks with bike trails) in the park, provided they practice social/physical distancing of 6 feet or more. This is not the time for a road trip to a destination park or beach.
In an effort to prevent visitation surges and help stop the spread of the coronavirus (COVID-19), State Parks has implemented the following safety measures to date:
Closed some parks, meaning all trails and restrooms within these parks are closed.
Closed vehicular access at remaining parks, including for off-highway vehicle riding.
Closed all campgrounds, museums and visitor centers.
Cancelled all events.
A list of closures is available online at
parks.ca.gov/FlattenTheCurve
. The list is dynamic and updated on a regular basis.
Phone Number
(805) 968-1033
Max. Trailer Lengths
Trailer: 30 Feet
Camper/Motorhome: 34 Feet
Park Hours
7:00 a.m. - 10:00 p.m.
Driving Directions to McGrath SB
The beach is 5 miles south of Ventura off Highway 101 via Harbor Boulevard.


Camping and Lodging
Visitors will be able to reserve campsites and lodging six months in advance from the current date. Bookings may extend from the arrival date to the desired departure date – based on availability and the park's maximum stay rules.
Upcoming Park Events
No events scheduled at this moment.
OVERNIGHT FACILITIES
Family Campsites
Group Campsites
Hike or Bike Campsites
RV Dump Station
RV Access

DAY-USE ACTIVITIES & FACILITIES
Exhibits and Programs
Fishing
Guided Tours
Beach Area
Swimming
Nature & Wildlife Viewing
Windsurfing/Surfing
Family Programs
Geocaching

OTHER FACILITIES & VISITOR INFORMATION
Parking
Restrooms / Showers
Outdoor Showers
Drinking Water Available
Wheelchair Accessible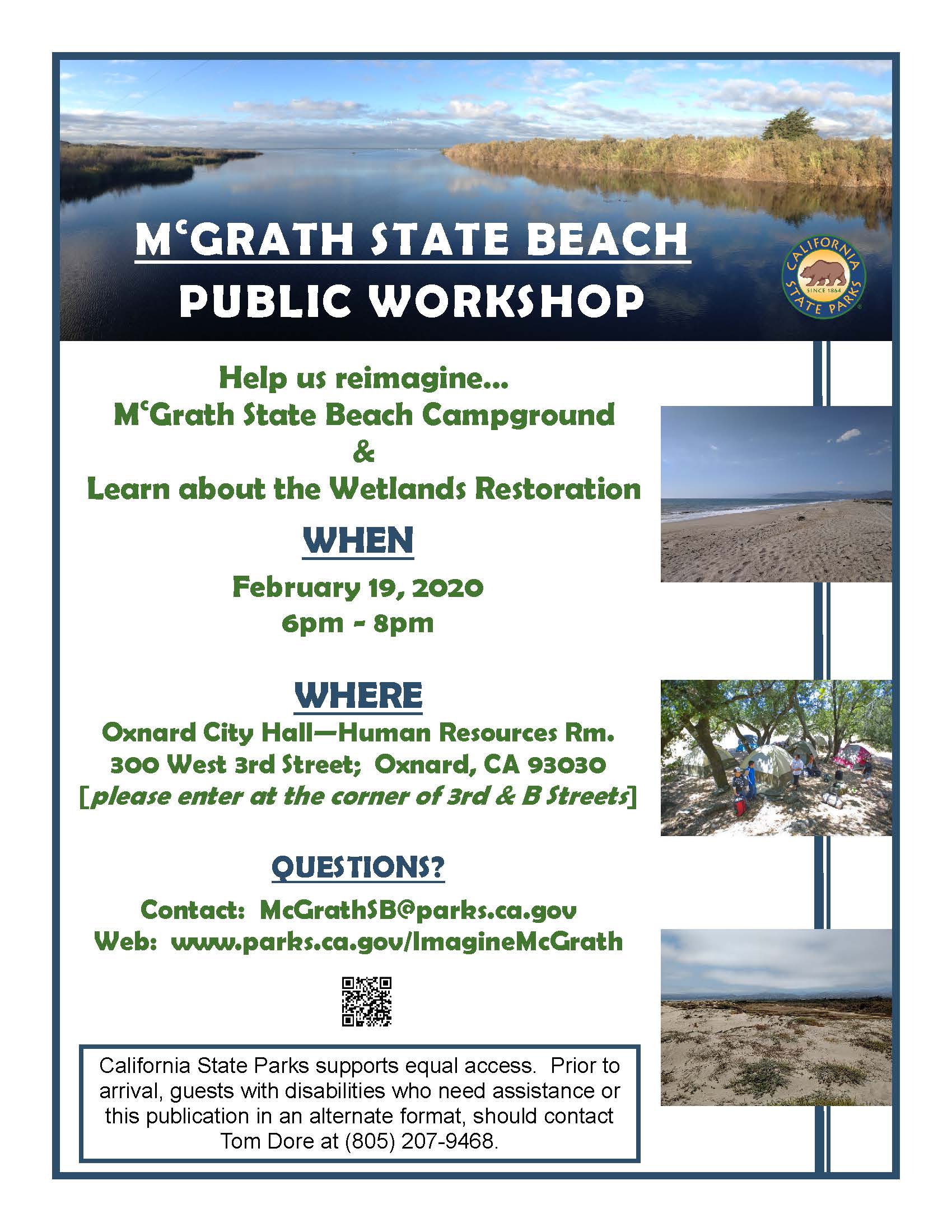 Due to flooding, as of 7/10/2019, McGrath State Beach is closed until further notice.
The park will reopen when flood waters recede and cleanup/repairs have been done.
We apologize for any inconvienence.
McGrath State Beach is one of the best bird-watching areas in California, with the lush riverbanks of the Santa Clara River and sand dunes along the shore. Two miles of beach provide surfing and fishing opportunities, however, swimmers are urged to use caution because of strong currents and riptides. The park offers campsites by the beach.