Point Lobos State Natural Reserve
Phone Number
(831) 624-4909
Park Hours
Day Use Area:
8am - 5pm
Last entry at 4:30pm
Driving Directions to Point Lobos SNR
The reserve is located on the central coast of California in Monterey County. The entrance is located three miles south of Carmel on Highway 1.


Online reservations are not available for this park.
No online brochures available for this park.
Upcoming Park Events
No events scheduled at this moment.
TRAIL USE
Hiking Trails

DAY-USE ACTIVITIES & FACILITIES
Nature & Wildlife Viewing

Point Lobos SNR has sustained damage from winter storms and must be used cautiously by visitors. Please observe the following trail closure:
Welcome to Point Lobos State Natural Reserve
Point Lobos State Natural Reserve has often been called "The crown jewel of the California State Park System." Landscape Painter Francis McComas called Point Lobos "the greatest meeting of land and water in the world." World class photographers Edward Weston and Ansel Adams spent years of their lives patrolling the woods and shores of Point Lobos for the perfect photograph. Originally known to indigenous people as "Isxhenta," Point Lobos was considered a sacred place to be cherished and nourished. Today, people come from all over the world to become inspired by this unique place.
Point Lobos SNR is outstanding for sightseeing, photography, painting, nature study, picnicking, SCUBA diving and jogging. The offshore area, part of the Monterey Bay National Marine Sanctuary, forms one of the richest underwater habitats in the world popular with divers. On land there are rare plant communities, unique geological formations and incredibly rich flora and fauna. What is perhaps most remarkable is the ecological recovery of Point Lobos, once the site of countless industrial activities, from whaling operations and gravel quarries to the largest abalone cannery on the West Coast. Point Lobos is now classified as a State Natural Reserve, allowing visitors to witness its incredible ecological recovery after years of heavy resource extraction.
For more information about activities available during your visit, learning more about the reserve, or how you can suppor the preservation of this amazing State Reserve, go to the Point Lobos Foundation WEBSITE.
Please call the park number listed at the top of the page prior to your visit for the most up-to-date information about specific activities you are interested in.


When you Visit ... Things to Know
The following rules and regulations are for your own safety and to protect the plants and animals that live in the Reserve. Help us protect and conserve this beautiful place for future generations - with YOUR help we CAN do it!!
Please Note: ALL tours and buses MUST have a special event permit to enter the reserve. ALL school groups MUST have a reservation to enter the reserve.

No Dogs
Dogs are not allowed anywhere within the reserve and cannot be left inside parked vehicles.
No Bikes on Trails
Bikes are prohibited on all trails in the reserve, but are welcome on the pavement.

No Collecting
Shells, rocks, wood, plants, animals and all features of the reserve are protected by law.
No Skateboards
Skateboarding is not allowed anywhere within the reserve.

No Smoking or Fires
Smoking and fires of all types are prohibited; this includes small cookstoves.
No Alcohol
Alcohol consumption is not allowed anywhere within the reserve.
No Camping
The reserve is strictly a Day Use facility and all visitors must exit by closing time.
No Drones
Drone photography is prohibited within the Reserve.
Please note that any vehicle (commercial, motorhome, live-in van, etc.) over 21 ft long is not allowed to drive or park within Point Lobos State Natural Reserve. Exceptions may be made for school field trip buses with a permit for drop off and pick up of students.

Seasons/Climate/Recommended Clothing
Fair sunny days, occasional winter rains, and dry summers, moderated by fog from July through September characterize the central California coastal climate.
SCUBA Diving and Snorkeling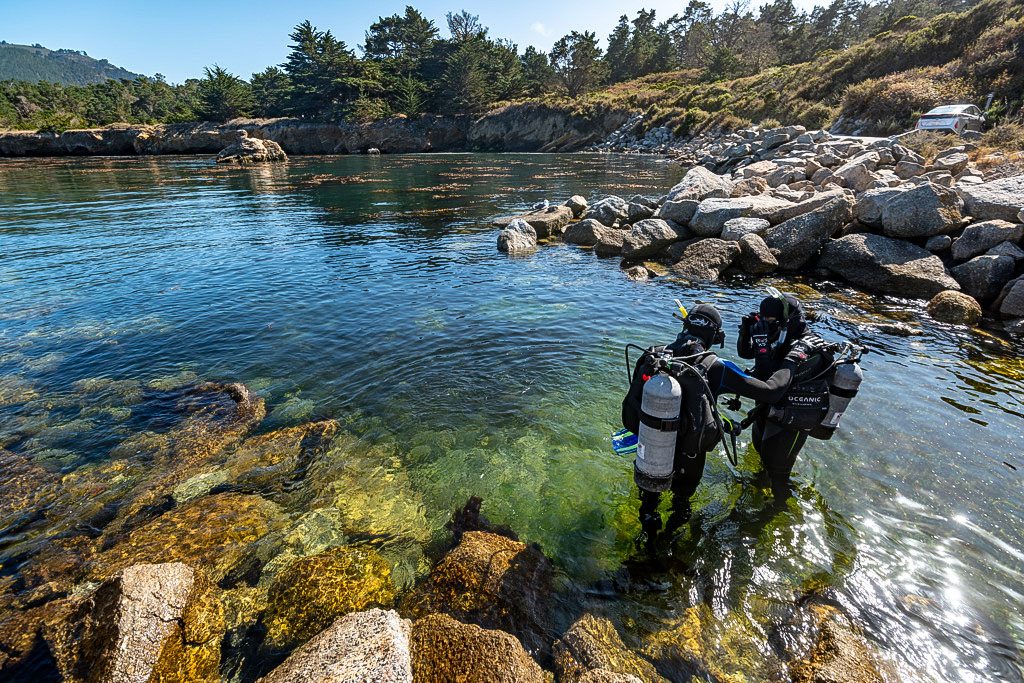 The Reserve extends off the coast to include the underwater world of the Point Lobos State Natural Reserve Underwater Park, within the Point Lobos State Marine Reserve, which can only be explored by certified divers. This is one of the richest marine habitats in California, and is located within the Monterey Bay National Marine Sanctuary. In the subdued light of the 70 foot-high kelp forests, divers can explore a world of vibrant color and an array of animals such as lingcod, rockfish, harbor seals, sea otters, sea stars, and more!
Marine mammals are protected under the Marine Mammal Protection Act, and NOAA Fisheries (federal regulatory authority) has recommended guidelines for managed species of marine mammals, including whales, dolphins, seals, sea lions, and sea turtles (sea otters are managed by USFWS).
NOAA Fisheries lists recommended distances of at least 100 YARDS (300 feet) for whales, and 50 YARDS (150 feet) for dolphins, seals, sea lions, and turtles: https://www.fisheries.noaa.gov/west-coast/marine-life-viewing-guidelines/watching-marine-mammals-west-coast
Diving is permitted only at Whalers and Bluefish Coves. Permission to dive is provided upon entering the Reserve. Proof of certification AND Dive Reservations are required at this time.
Make Dive Reservations Here