If booking multiple reservations, please call to check availability
prior to making a reservation at (831) 624-8413.
SCUBA and free diving reservations must be made in advance for Point Lobos State Natural Reserve.
Reservations can be made as far out as the current month plus one month. A dive team consist of two divers. Diving as a team of three requires two reservations. You may type "TBD" into the required fields if there is not going to be a fourth diver, or if you are not sure who your fourth diver will be.
CA State Parks does not rent any kayaks, stand up paddleboards, or dive equipment to park visitors. There are a variety of shops that rent gear to the public in Monterey.

Snorkeling reservations are made in the same way as dive reservations. If you wish to make a snorkeling reservation, use the buttons on the right to make a reservation as if you were a diver, but once the program requests dive certification information select and type "Snorkel". All snorkelers need a buddy in order to enter the water.
Activity Fees
Weekend - Holiday Diving/ Snorkeling Reservation = $30+ Processing Fee
Weekday Diving/ Snorkeling with Reservation = $20+ Processing Fee
Kayaking/ Stand-Up Paddleboard Launch Fee = $10 per Vessel
Hand Launchable Boat Launch Fee = $25 per Boat
Vehicle Parking Fee =$10 per car
A dive fee, per pair of divers must be paid to CA State Parks when you make your reservation. A Reserve entry fee of $10 per car and boat launch fee of $25 (if you wish to bring a boat) are paid using the links to the right. Kayaks and Stand-Up Paddleboards are $10 to launch.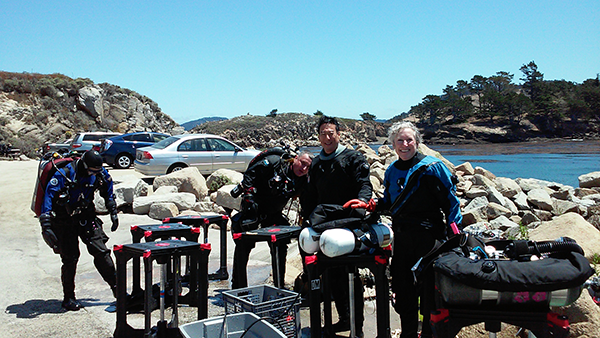 Upon arriving at PLSR, each diver must show proof of diver certification. The only acceptable proof is the diver certification card or certificate from a recognized organization such as NAUI, PADI, YMCA, NASDS, SSI, etc. If your C-card does not have a photograph, you will be asked to show your driver's license or other picture ID.
Point Lobos State Natural Reserve provides a special diving experience. Reservations will allow divers to plan ahead. Ten teams of divers are permitted in Point Lobos State Natural Reserve each day. There is a limit of four Kayak/ SUPs per day. All requirements and regulations for diving at PLSNR remain in effect.
Rules and Regulations
Diving permits are limited to 10 teams per day. Each permit is for a team of two divers. Diving alone is not permitted. All divers must have a partner.


All divers on the team must be present to be registered. A valid diver certification card must be in your possession at the time of registration. If the card does not have a photo on it, you may be asked for other photo identification.


All SCUBA divers must have a device capable of maintaining positive buoyancy.


Divers and vessels may enter or exit the water only at the dive access ramp at Whalers Cove parking lot.


The diving area is limited to Whalers and Bluefish Coves. All other areas of the Reserve are closed to diving and aquatic activity. Snorkeling is NOT permitted at China Cove or Gibson Beach.


No dive teams or boats will be permitted to register less than two hours prior to the Reserve's posted closing time. Closing times are subject to change; check with the kiosk for current closure times.


No fishing equipment or collecting tools are permitted in the Reserve. All animals, plants, and natural features in the Reserve are fully protected.


The Federal Marine Mammal Protection Act and State laws prohibit you from disturbing or harassing marine mammals. Be cautious in the areas where there are nesting birds, they frighten easily. Please keep your distance!! If you approach seals, otters, whales, or seabirds and notice they are alerting to your presence then you are too close. You need to change your direction and move farther away from the wildlife.


Hand launchable vessels are permitted. Four vessels per day are permitted to launch at the Whalers dive ramp. Vessels must be clean, drained and dry prior to launching to prevent foreign speicies introduction. Leisure boating or boating with the intentions of fishing outside of the reserve is not permitted. If your vessel is on a trailer, the trailer must be parked at the Rat Hill parking area (see map). Keep vessel speeds under 5 m.p.h. No Wake!

Remember, there are areas and beaches that are closed to the public for the protection of the wildlife. Do not come ashore at these locales; including, but not limited to, Headland Cove, Bluefish Cove, and Whalers Cove. Personal watercraft (aka. Jet-Skis) are prohibited in the outlined area on the dive map, but NOAA regulations do allow for the use of Motorized Personal Watercraft (MWPC) within four year-round operating zones, as well as one seasonal zone, within the Monterey Bay National Marine Sanctuary. Please visit the NOAA website at https://montereybay.noaa.gov/resourcepro/resmanissues/mpwc.html for more information.