Calaveras Big Trees State Park
Update (May 27, 2021): Whether an experienced outdoor enthusiast or a new one, park visitors must continue to recreate responsibly in the outdoors as the pandemic is far from over.
COVID-19 Guidelines
Recreate Responsibly
Protect yourself, family, friends and your community from COVID-19 by following these prevention measures while recreating in California's State Park System:
Know Before You Go – Prior to leaving home, check the status of the park unit you want to visit to find out what restrictions and guidelines are in place. Have a back-up plan in case your destination is crowded. Stay home if you are sick.
Plan Ahead – Some restrooms will be temporarily closed to keep up with cleaning schedules. Bring soap/hand sanitizer.
Play It Safe – Find out what precautions you should take when exploring the outdoors, especially if this is your first time visiting the State Park System. Learn more at parks.ca.gov/SafetyTips.
Keep Your Distance – Avoid crowds. If there are too many people at a park or beach, please visit on a different day.
Wear a Mask – State Parks continues to follow guidance provided by the California Department of Public Health:

Everyone:

In indoor settings, such as museums and visitor centers, face coverings are required regardless of vaccination status.

Fully Vaccinated Persons

: Face coverings are not required outdoors except when attending crowded outdoor events.

Unvaccinated Persons

: Face coverings are required outdoors any time physical distancing cannot be maintained.

Leave No Trace – Leave areas better than how you found them by staying on designated trails and packing out all trash. Do not disturb wildlife or plants.
Although law enforcement entities have the authority to issue citations, the expectation is that the public is responsible for adhering to the advice of public health officials, visitor guidelines and closures.
This park unit is partially open.
Please take the time to read the information contained on this webpage to find out what is open and closed, and what COVID-19 guidelines are in place.
What is open now?
North Grove Day-Use areas and trails.

South Grove Day-Use areas and trails.

Gift shop and museum with limited capacity. Face coverings required in all indoor areas.

Group camps.
What is currently closed?
Guided tours and special events.
Limitations based on current CDPH guidance for the county.
---
Phone Number
(209) 795-2334
Max. Trailer Lengths
Trailer: Up to 30 Feet
Camper/Motorhome: Up to 30 Feet
Park Hours
Day Use: 6 a.m. - 10 p.m.
Camping: All Hours, March through November
Dogs Allowed?
Yes
Dogs allowed only in campgrounds and on fire roads.
Driving Directions to Calaveras Big Trees SP
The park is northeast of Stockton, four miles northeast of Arnold on Highway 4.
From SF Bay Area:
Take I-580 eastbound over Altamont Pass to I-205 toward Manteca, to US 99 North. Take the exit for State Hwy 4 Eastbound (Angel's Camp) to the Park Entrance. Hwy 4 makes a jog to the right in Angel's Camp along State Hwy 49, then jogs left just before leaving town. Calaveras Big Trees is about 35 minutes driving from Angel's Camp.
From Southern California:
Take either I-5 or US 99 North. From I-5 you can cross to the other side of Stockton on State Hwy 4 to 99/4 South a few miles, then follow Hwy 4 towards and beyond Farmington to the Park. Hwy 4 makes a jog right in Angel's Camp, then jogs left just before leaving town. Calaveras Big Trees is about 35 minutes driving time from Angel's Camp.
From Sacramento:
Take US 99 South to Stockton, turning off onto State Hwy 4 towards and beyond Farmington to the Park (through Angel's Camp). Driving time to the Park from Stockton is approx. 1 hour and 30 minutes. An alternate route is to take State Hwy 16 southeast to State Hwy 49 South through the goldrush towns to Angel's Camp, making a left turn on the far side of town on State Hwy 4 to the Park. Driving time from Angel's Camp is approximately 35 minutes.
From Nevada:
Take US 395 to State Hwy 89 West to the terminus of State Hwy 4, up over Ebbett's Pass to the Park. The road is closed in Winter. It's very scenic, but so steep and tortuous that trailers and large motorhomes are ill-advised to use it.


Camping and Lodging
Visitors will be able to reserve campsites and lodging six months in advance from the current date. Bookings may extend from the arrival date to the desired departure date – based on availability and the park's maximum stay rules.
Upcoming Park Events
No events scheduled at this moment.
OVERNIGHT FACILITIES
Environmental Campsites
Family Campsites
Group Campsites
Lodging
RV Access

TRAIL USE
Bike Trails
Hiking Trails

DAY-USE ACTIVITIES & FACILITIES
Historical/Cultural Site
Picnic Areas
Env. Learning/Visitor Center
Exhibits and Programs
Fishing
Guided Tours
Interpretive Exhibits
Beach Area
Swimming
Nature & Wildlife Viewing
Museums
Family Programs
Geocaching

OTHER FACILITIES & VISITOR INFORMATION
Restrooms / Showers
Restrooms
Outdoor Showers
Drinking Water Available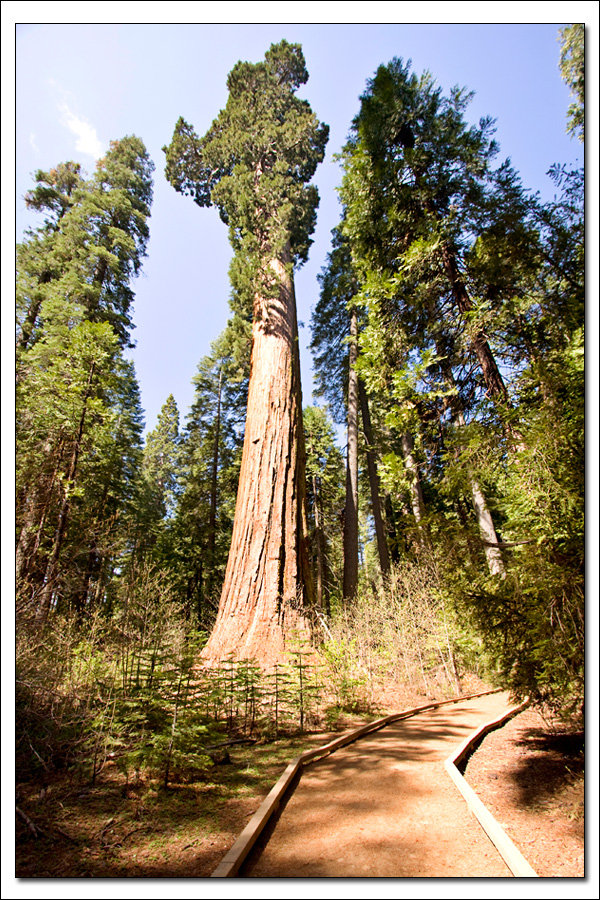 Welcome to Calaveras Big Trees State Park
Established in 1931, Calaveras Big Trees State Park preserves two groves of giant sequoias - the world's largest trees - in the North and South Groves. The park is a mixed-conifer forest (a variety of trees living together). In addition to the giant trees, you will find the Stanislaus River, Beaver Creek, ancient volcanic formations, and natural meadows. Trails throughout the park allow you to discover the natural beauty that has awed visitors to the area since 1852.
Educational Resources
Distance Learning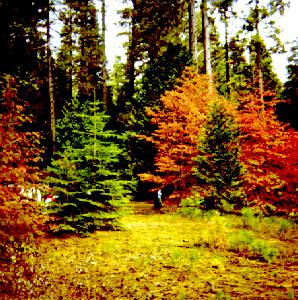 Download the Home Learning Packet for Parents and Teachers.
Virtual Field Trip Adventures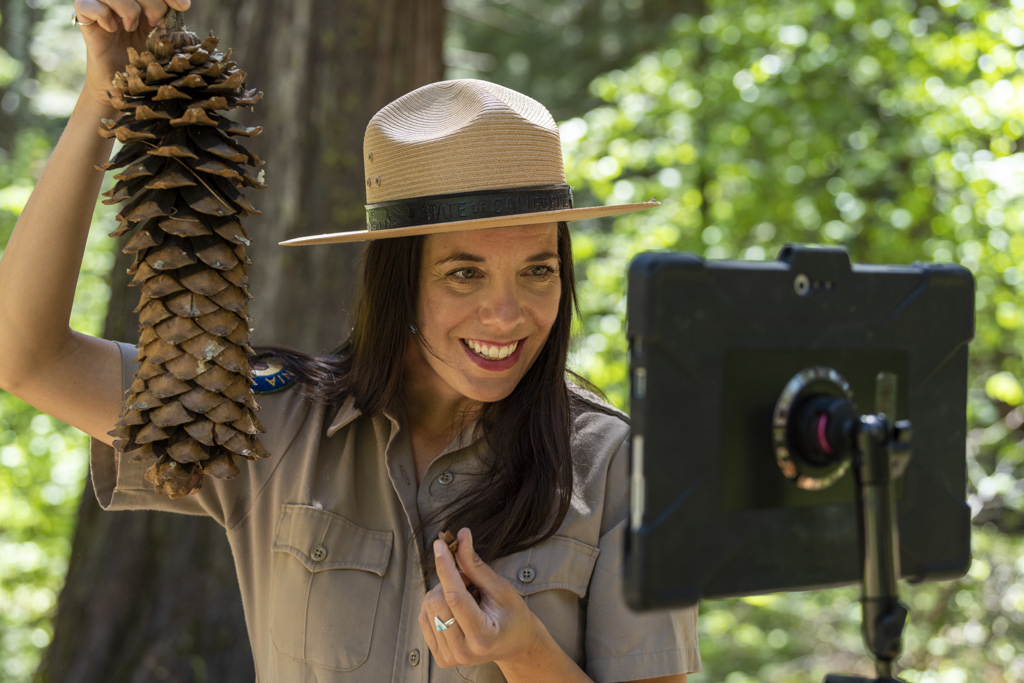 For more than 15 years, the PORTS (Parks Online Resources for Teachers and Students) Program has been providing FREE, live interactive virtual field trips for K-12 students from California and beyond! The goal of PORTS is to break down geographic and socio-economic barriers to our state park system and virtually connect classrooms to content standards in the context of California's diverse natural and cultural history.
Giant Sequoia Ecology Program
As one of the oldest and certainly the biggest trees on earth, there is no doubt the giant sequoia's fascinating story of survival will delight and inspire students of all ages. Students will learn about the history of these magnificent trees through the lens of conservation, as well as their relationship to other living things in the mixed conifer forest habitat, ultimately discovering what makes these trees such a BIG deal! Our outdoor, interactive adventure will feature forest ecology, tree life cycle, interdependent relationships, fire science, human impact and conservation.
***Suitable and geared toward all grade levels***
NEW Program! "Giant Sequoia Lives On" storytime and nature walk
Perfect for the K-2 young explorers - join Park Interpreter Jenny for a fun, storytime of "The Sequoia Lives On" written by Joanna Cooke and Illustrated by Fiona Hsieh. After the read, we'll take a nature walk through the big tree forest and students will get to see the book come to life! Together we'll learn about the ecology of the forest, the animals that live there and the importance of conservation.
Register at https://www.ports-ca.us/ports-on-demand/calaveras-big-trees-state-park