Phone Number
(650) 726-8819
Park Hours
8am to Sunset
Camping is not available at this park.
Driving Directions to Pescadero SB
The beach is located 14.5 miles south of Half Moon Bay on Highway One.


Online reservations are not available for this park.
Upcoming Park Events
No events scheduled at this moment.
BOATING
Boating

TRAIL USE
Hiking Trails

DAY-USE ACTIVITIES & FACILITIES
Picnic Areas
Exhibits and Programs
Fishing
Interpretive Exhibits
Beach Area
Swimming
Vista Point
Nature & Wildlife Viewing
Windsurfing/Surfing
Family Programs
Geocaching

OTHER FACILITIES & VISITOR INFORMATION
Parking
Restrooms

Follow us on social media!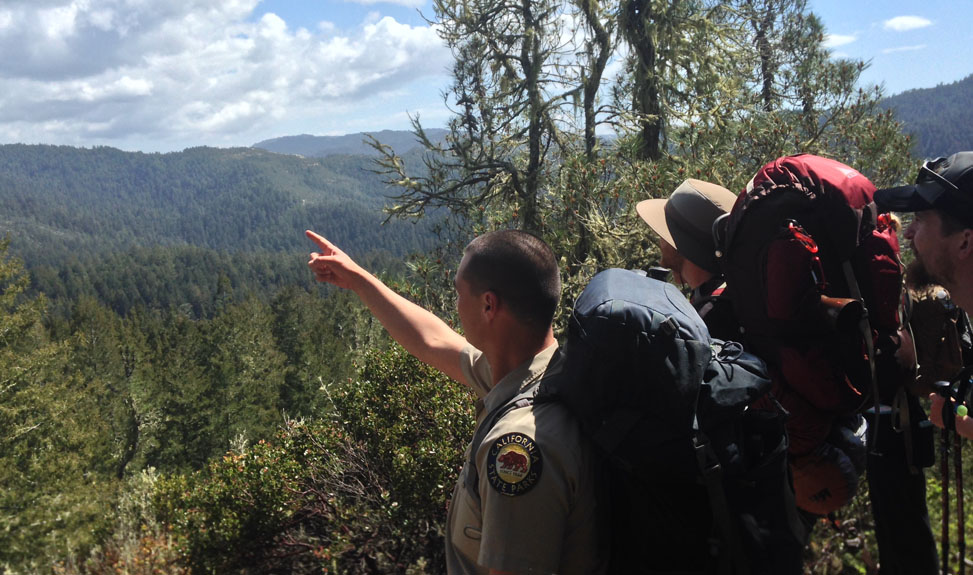 Looking for your next adventure?
California State Parks Backpacking Adventures offers naturalist-led backpacking trips through the Santa Cruz Mountains each summer. Online registration opens March 1 at 9am.

Artists, we have a special backpacking trip option for you: the Big Basin Artabout! Ten artists will be chosen to particpate in the first backpacking trip in Big Basin since the CZU Lightning Complex Fire on June 3-4, 2023. Artists will recieve a $2500 stipend and will create an artistic piece in the medium of their choice inspired by the trip to be displayed in the park! The deadline to apply is April 28, 2023. For more information, visit the Big Basin Artabout website.


Visiting Pescadero State Beach
The beach has a mile-long shoreline with sandy coves, rocky cliffs, tide pools, fishing spots, and picnic facilities. Across the highway is Pescadero Marsh Natural Preserve, a popular spot for bird watchers and other naturalists. The reserve is a refuge for wildlife such as blue herons, kites, deer, raccoons, foxes, and skunks.


Parking and Facilities
Northern Pescadero Beach Access Parking Lot
Beach Access: The sandy beach is accessible from two locations in the parking lot.
Facilities: Single pit toilet. No running water.
Fees: There is an $8 parking fee which is payable daily upon entry to the park. Only US currency and checks are accepted. To pay for a parking permit when a parking attendant is not present you must locate the "Pay Here" sign in the parking lot. Follow the instructions on the sign. Fill out the self-registration envelope, include payment and tear off the top stub. Leave the top stub visible on the dashboard of your vehicle and place the envelope into the deposit slot. Park rangers will confirm payment.

Pescadero Marsh Natural Preserve and Central Pescadero Beach Access Parking Lot
Beach Access: The rocky beach is accessible at the southern end of the parking lot by the way of a narrow stairway.
Marsh Access: There is a wooden staircase on the eastern side of the parking lot that leads to a pedestrian walkway along the Highway 1 bridge. Once you walk across the Highway 1 bridge, access the marsh by walking under the bridge from the beach. Crossing Highway 1 on foot is not recommended.
Facilities: Single pit toilet. No running water.
Activities: Free guided marsh walking tours are sometimes available. Register at www.santacruzstateparks.as.me or call (650) 726-8814 for availability.

Southern Pescadero Beach Access Parking Lot (Located at the intersection of Highway 1 and Pescadero Creek Road)
Beach Access: The rocky beach is accessible from the northern end of the parking lot by stairs.
Facilities: Two restrooms. No running water. Two picnic tables. No barbeque pits.


Basic Park Information
DOGS aare prohibited on the beach and in the Natural Preserve at all times.

BEACH FIRES are not allowed.
COLLECTING is prohibited. Please refrain from removing shells, driftwood, and other natural beach features.
FIREWORKS are prohibited.

DRONES are not allowed in the park. To protect wildlife and cultural resources, and for the safety and welfare of visitors and staff, the park is closed to the use of Model Aircraft, Unmanned Aircraft Systems (UAS), and Gliders in flight.

CAMPING is not available at this park. Nearby state park campgrounds include Half Moon Bay State Beach and Butano State Park.

OCEAN SAFETY – Always use caution when you are in or near the ocean. The ocean water is very cold year-round. Even a short swim can cause cramps or hypothermia (a life-threatening condition which occurs when your body temperature drops before normal). In addition, strong rip currents can pull even the most experienced swimmers offshore.
PERMITS are required for all events and weddings. A photography permit is required for all commercial photography.