Patrick's Point State Park
UPDATE (July 14, 2020) - California State Parks continues to work with locals on a phased and regionally-driven approach to increase access to state park units where compliance with state and local public health ordinances can be achieved. Even though the department has increased access across the State Park System, the need for Californians to slow the spread of COVID-19 in the outdoors remains critical.
As such, State Parks continues to ask visitors to plan ahead, avoid road trips and stay close to home, maintain physical distancing, wear a face covering when a physical distance of six feet from others who are not from the immediate household members cannot be maintained, and avoid congregating. This means no gatherings, picnics or parties. Visitors are being asked to leave if there are too many people to allow for the required physical distance. Full details on the guidelines are available at
parks.ca.gov/FlattenTheCurve
.
Here are some guidelines for people visiting Patricks Point State Park:
What is open now?
Parking is now available.
Camping is now available at Patricks Point State Park. Group campsites will remain closed. For more information about camping, visit www.parks.ca.gov/COVID19Camping. To make a reservation, visit www.ReserveCalifornia.com or call 800-444-7275. Walk-ins will NOT be allowed.
What is currently closed at this park and throughout the State Park System?
Statewide:
Many campgrounds across the state remain closed until further notice. Some campgrounds have started to reopen with modifications. For more information, please visit www.parks.ca.gov/COVID19Camping.
High public-use indoor facilities, including museums and visitor centers.
Special events and tours continue to be canceled until further notice.
Are there any new visitor guidelines?
Yes, please see below:
Stay Local: Stay close to home. Walk or bike into the park. Parking is very limited. Do not take road trips to parks and beaches or to neighboring states.
Stay Active: Keep walking, jogging, hiking and biking. Watch for one-way trails.
Stay Safer at 6 Feet: Maintain a physical distance of 6 feet or more. Gatherings, picnics and parties are not allowed. Visitors will be asked to leave if there are too many people at the park, beach or on trails to allow for the required physical distance.
Stay Clean: Be prepared. Bring soap/sanitizer and pack out all trash.
Stay Covered: The state now requires you to wear a face covering in most indoor settings and public outdoor spaces when you cannot maintain physical distancing of six feet or more from people outside of your immediate household. For details, please visit CDPH's guidance here. Visitors should also abide by their local county health orders.
Thank you for your patience and continued support of California State Parks as we work to limit your risk for exposure to COVID-19 in the outdoors. For more information, please visit
parks.ca.gov/FlattenTheCurve
.
Phone Number
(707) 677-3570
Dogs Allowed?
Yes
Except for service animals, dogs not allowed on trails.
Driving Directions to Patrick's Point SP
The park is 25 miles north of Eureka and 56 miles south of Crescent City.


Camping and Lodging
Visitors will be able to reserve campsites and lodging six months in advance from the current date. Bookings may extend from the arrival date to the desired departure date – based on availability and the park's maximum stay rules.
Upcoming Park Events
No events scheduled at this moment.
OVERNIGHT FACILITIES
Family Campsites
Group Campsites
Hike or Bike Campsites
Alternative Camping
RV Access

TRAIL USE
Hiking Trails

DAY-USE ACTIVITIES & FACILITIES
Picnic Areas
Env. Learning/Visitor Center
Exhibits and Programs
Fishing
Interpretive Exhibits
Scuba Diving/Snorkeling
Beach Area
Windsurfing/Surfing
Family Programs
Geocaching

OTHER FACILITIES & VISITOR INFORMATION
Restrooms / Showers
Restrooms
Outdoor Showers
Drinking Water Available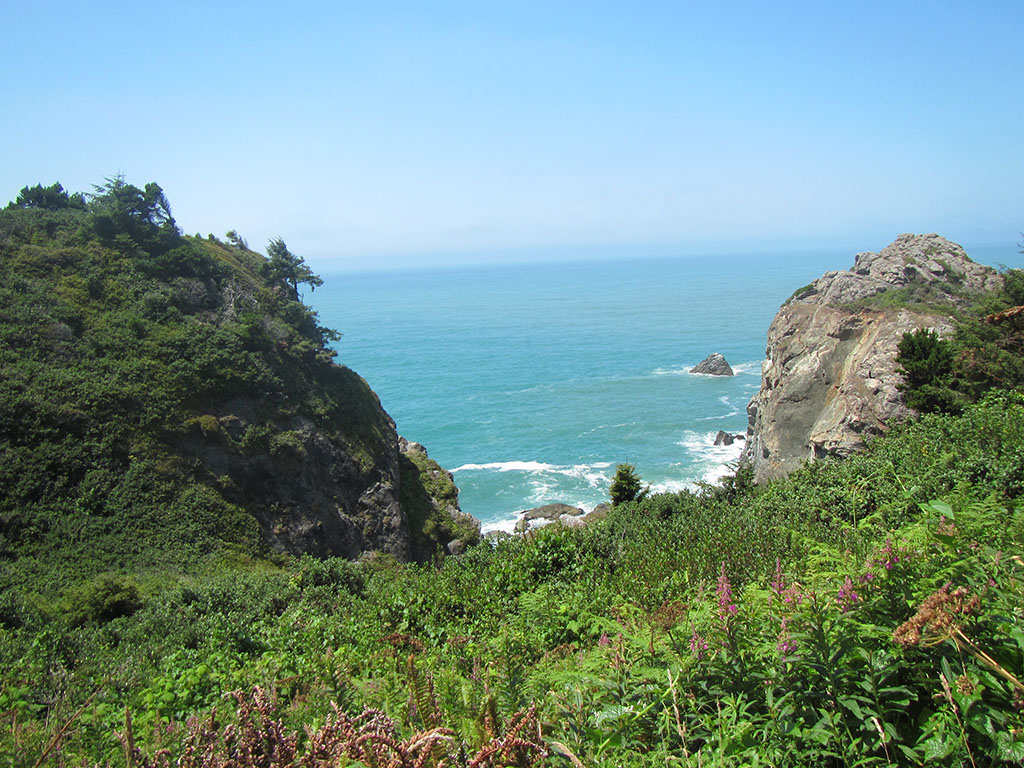 Thirty miles north of Eureka, Patrick's Point State Park sits on a lushly forested promontory beside the Pacific Ocean.

The one-square-mile park is densely packed with potential adventures. On a short walk around the perimeter of the park, you can hunt for agates, explore tidepools, and walk through a jungle of shrubs and trees as you peer out at seals, sea lions, and migrating whales. In the park's interior, you'll find a visitor center, a native plant garden, and a reconstructed Yurok plank-house village. You can picnic or wake up to birdsong at one of three campgrounds. In summer, you can witness a traditional ceremony at Sumêg Village or take a hike led by a docent or professional naturalist.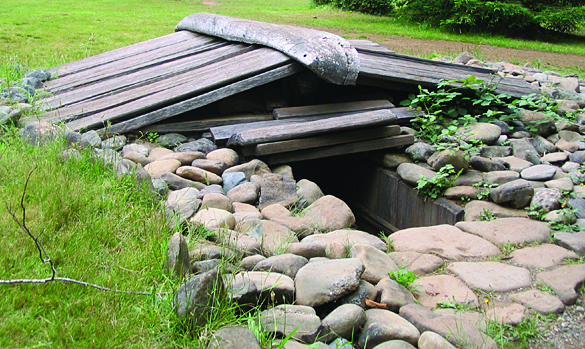 You don't have to go far to find something fascinating at Patrick's Point.
Weather
40–65°F. in summer, 35–55° in winter.

Night and morning fog lurks almost all year. Sometimes it doesn't lift for days at a time in summer. Beautiful, clear days are more common in spring and fall.

Rainfall averages about 60 inches a year, most of it between October and April.

Rules & Notifications
Dogs are permitted only in the campground and day-use areas, not on the trails or on the beach. They must be kept in an enclosed vehicle or tent at night, and on a controlled six-foot leash during the day.
Swimming is not advised. The ocean off Patrick's Point is cold and dangerous. Please keep an eye on small children, as there are unexpected holes in the underwater sand and the undertow can be very strong. Occasional "sleeper" waves appear unexpectedly and can be much larger than typical waves.
Please do not pick wildflowers or mushrooms.
Don't Feed the Wildlife and Keep Your Camp Crumb Clean!
Lock food in a hard-topped car or in a car trunk. Campsite cupboards and ice chests are not bear proof. Store food in airtight containers, or wrap it carefully.
Campsite parking is limited to only two licensed vehicles per campsite. Trailers and RVs are considered vehicles for campsite parking occupancy. Extra-vehicle fees will be charged for each additional motor vehicle beyond the first, which must be parked in designated areas.
Social Feed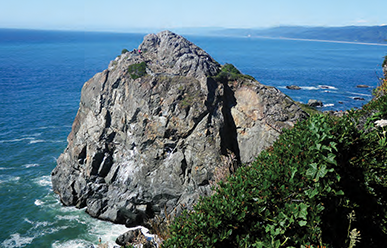 (Photograph by Jim Falls)
Patrick's Point State Park

Patrick's Point State Park displays a snapshot of geologic processes that have shaped the face of western North America, and that continue today. The rocks exposed in the seacliffs and offshore represent dynamic interplay between the subducting oceanic tectonic plate (Gorda Plate) and the continental North American tectonic plate. The boundary between the subducting oceanic plate and the continent has been filled with an "accretionary wedge" of material literally scraped off the oceanic floor and crust, partially subducted, and then pasted to the North American continent.