Phone Number
(707) 677-3570
Dogs Allowed?
Yes
Except for service animals, dogs not allowed on trails.
Driving Directions to Sue-meg SP
The park is 25 miles north of Eureka and 56 miles south of Crescent City.


Visitors will be able to reserve campsites and lodging six months in advance from the current date. Bookings may extend from the arrival date to the desired departure date and are based on availability and can be no more than 15 days total in the calendar year per Sue-meg State Park's maximum stay limit.
Upcoming Park Events
No events scheduled at this moment.
OVERNIGHT FACILITIES
Family Campsites
Group Campsites
Hike or Bike Campsites
Alternative Camping
RV Access

TRAIL USE
Hiking Trails

DAY-USE ACTIVITIES & FACILITIES
Picnic Areas
Env. Learning/Visitor Center
Exhibits and Programs
Fishing
Interpretive Exhibits
Scuba Diving/Snorkeling
Beach Area
Windsurfing/Surfing
Family Programs
Geocaching

OTHER FACILITIES & VISITOR INFORMATION
Restrooms / Showers
Restrooms
Outdoor Showers
Drinking Water Available

The Renaming of Patrick's Point State Park to Sue-meg State Park
On September 30, 2021, the California State Park and Recreation Commission voted unanimously to change the name of Patrick's Point State Park to Sue-meg State Park.
The name "Sue-meg" has been used by Yurok people to describe the area where the park is now located since time immemorial. In 1851, Irish homesteader Patrick Beegan recorded a preemption claim on the westernmost promontory of the peninsula and built a small cabin there. Beegen was implicated in the murder of a Native American boy in 1854, then escaped to the Bald Hills, east of present-day Orick. In 1864, he led a militia to a Native American village where numerous Indigenous people were massacred. Although Beegen lived in the Sue-meg area for less than three years, other homesteaders came to call the area "Patrick's Ranch" or "Patrick's Point".
When the State of California purchased the site in 1930 and brought it into the State Parks system, they adopted the name already widely in use at the time, Patrick's Point. In spite of that, Yurok people continued to call the area by its original place name, Sue-meg. In 1990, the Yurok community worked with California State Parks to build a recreated Yurok village within the park, and gave the village the name "Sumêg" to honor the ancient name associated with the place.
In January of 2021, the Yurok Tribe formally requested that the California State Park and Recreation Commission change the name of Patrick's Point State Park to Sue-meg State Park.
The changing of the name of Patrick's Point State Park to Sue-meg State Park is the first park to have its name changed as part of the Reexamining Our Past Initiative. This larger project within California state government is working to identify and redress discriminatory names of features attached to the state parks and transportation systems.
"This genuinely historic decision represents a turning point in the relationship between tribes and the state. We asked the Commission to alter the name of the park because we have an obligation to ensure the next generation inherits a more just world," said Joseph L. James, Chairman of the Yurok Tribe.
"California State Parks applauds the California State Park and Recreation Commission's approval to rename Patrick's Point State Park to Sue-meg State Park. This is the first park name change as part of the state's Reexamining Our Past Initiative and is a momentous step to heal relationships with Native Americans in working together in recognition and honor of indigenous cultural and linguistic relationships." said Armando Quintero, Director of California State Parks.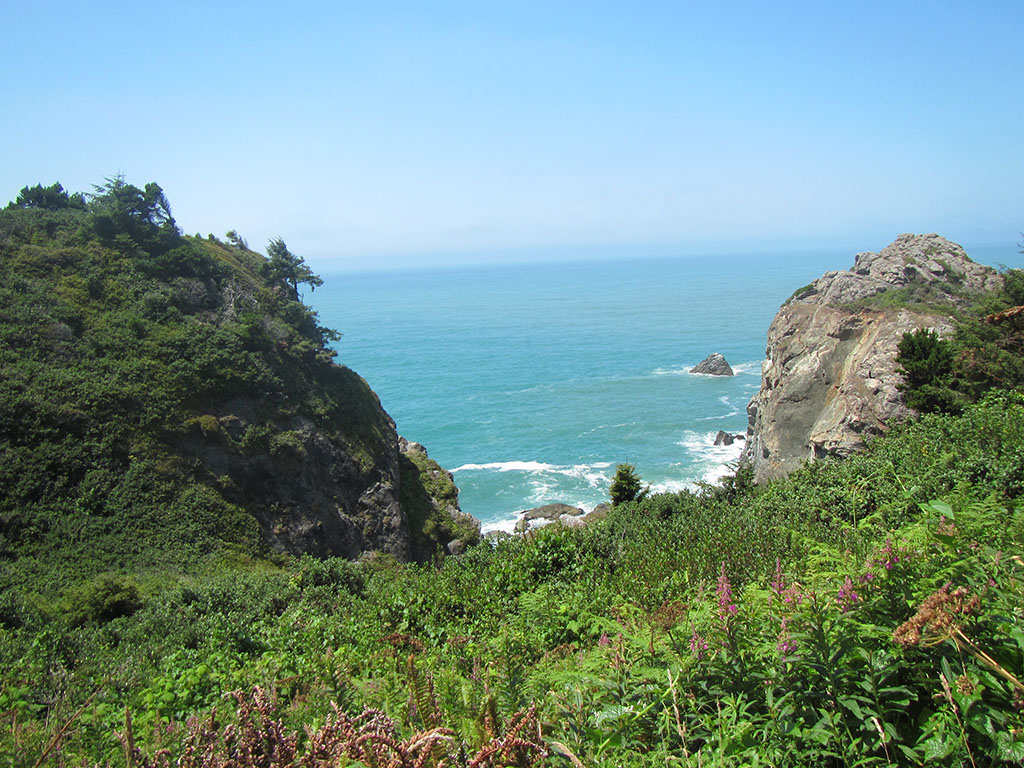 Thirty miles north of Eureka, Sue-meg State Park sits on a lushly forested promontory beside the Pacific Ocean.

The one-square-mile park is densely packed with potential adventures. On a short walk around the perimeter of the park, you can hunt for agates, explore tidepools, and walk through a jungle of shrubs and trees as you peer out at seals, sea lions, and migrating whales. In the park's interior, you'll find a visitor center, a native plant garden, and a reconstructed Yurok plank-house village. You can picnic or wake up to birdsong at one of three campgrounds. In summer, you can witness a traditional ceremony at Sumêg Village or take a hike led by a docent or professional naturalist.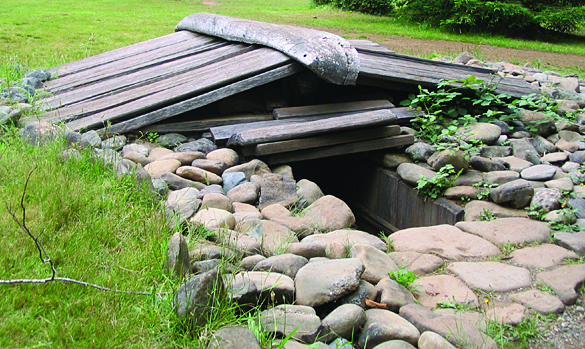 You don't have to go far to find something fascinating at Sue-meg.
Weather
40–65°F. in summer, 35–55° in winter.

Night and morning fog lurks almost all year. Sometimes it doesn't lift for days at a time in summer. Beautiful, clear days are more common in spring and fall.

Rainfall averages about 60 inches a year, most of it between October and April.

Rules & Notifications
Dogs are permitted only in the campground and day-use areas, not on the trails or on the beach. They must be kept in an enclosed vehicle or tent at night, and on a controlled six-foot leash during the day.
Swimming is not advised. The ocean off Sue-meg State Park is cold and dangerous. Please keep an eye on small children, as there are unexpected holes in the underwater sand and the undertow can be very strong. Occasional "sleeper" waves appear unexpectedly and can be much larger than typical waves.
Please do not pick wildflowers or mushrooms.
Don't Feed the Wildlife and Keep Your Camp Crumb Clean!
Lock food in a hard-topped car or in a car trunk. Campsite cupboards and ice chests are not bear proof. Store food in airtight containers, or wrap it carefully.
Campsite parking is limited to only two licensed vehicles per campsite. Trailers and RVs are considered vehicles for campsite parking occupancy. Extra-vehicle fees will be charged for each additional motor vehicle beyond the first, which must be parked in designated areas.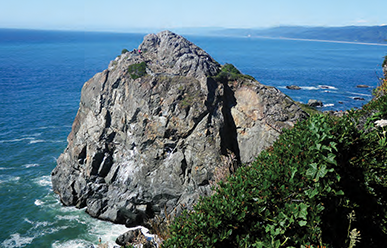 (Photograph by Jim Falls)
Sue-meg State Park

Sue-meg State Park displays a snapshot of geologic processes that have shaped the face of western North America, and that continue today. The rocks exposed in the seacliffs and offshore represent dynamic interplay between the subducting oceanic tectonic plate (Gorda Plate) and the continental North American tectonic plate. The boundary between the subducting oceanic plate and the continent has been filled with an "accretionary wedge" of material literally scraped off the oceanic floor and crust, partially subducted, and then pasted to the North American continent.