Jedediah Smith Redwoods State Park
This park unit is partially open.
Please take the time to read the information contained on this webpage to find out what is open and closed, and what COVID-19 guidelines are in place. - (February 16, 2022)
What is open now?
Parking is now available.
Camping is now available at Jedediah Smith Redwoods State Park, Del Norte Coast Redwoods State Park, and Prairie Creek Redwoods State Park. For more information about camping, visit www.parks.ca.gov/COVID19Camping. To make a reservation, visit www.ReserveCalifornia.com or call 800-444-7275. Walk-ins are allowed for unreserved sites.
Facial Coverings are still required in federal government facilities (NPS)
regardless of your vaccination status
(
NPS Public Health Update
/
Executive Order on Mask Wearing
) in areas of substantial or high COVID community transmission levels. Del Norte County RNSP parks guidelines continue to require masking indoors.
---
COVID-19 Guidelines - (February 16, 2022)
Recreate Responsibly
Protect yourself, family, friends and your community by following these prevention measures:
Know Before You Go – Prior to leaving home, check the status of the park unit you want to visit to find out what restrictions and guidelines are in place. Have a back-up plan in case your destination is crowded. Stay home if you are sick
Plan Ahead – Some restrooms will be temporarily closed to keep up with cleaning schedules. Bring soap/hand sanitizer.
Play It Safe – Find out what precautions you should take when exploring the outdoors, especially if this is your first time visiting the State Park System. Learn more at parks.ca.gov/SafetyTips.
Be COVID-19 Safe – State Parks continues to meet guidance from local and state public officials as COVID-19 is still present and still deadly. Effective March 1, 2022, state guidance recommends that all individuals, regardless of vaccine status, continue masking in indoor settings, such as museums and visitor centers. Universal masking remains required in specified high-risk settings. Please plan ahead as local county guidelines may differ from state guidance and visitors are urged to follow county guidelines when required. Read the latest COVID-19 guidance at COVID19.ca.gov.
Leave No Trace – Leave areas better than how you found them by staying on designated trails and packing out all trash. Do not disturb wildlife or plants.
Phone Number
(707) 464-6101
Max. Trailer Lengths
Trailer: Up to 21 Feet
Camper/Motorhome: Up to 25 Feet
Park Hours
Open year-round.
Day use sunrise to sunset.
Campground open all year.
October-April First Come First Served
Dogs Allowed?
Yes
Except for service animals, dogs not allowed on trails.
Driving Directions to Jedediah Smith Redwoods SP
The park is located 9 miles east of Crescent City on Highway 199. See also Redwood National and State Parks HQ (Information Center) at 1111 2nd St in Crescent City.


Visitors will be able to reserve campsites and lodging six months in advance from the current date. Bookings may extend from the arrival date to the desired departure date – based on availability and the park's maximum stay rules.
Upcoming Park Events
No events scheduled at this moment.
BOATING
Boating
Boat Ramps

OVERNIGHT FACILITIES
Family Campsites
Hike or Bike Campsites
RV Dump Station
Alternative Camping
RV Access

TRAIL USE
Bike Trails
Hiking Trails
Horseback Riding

DAY-USE ACTIVITIES & FACILITIES
Historical/Cultural Site
Picnic Areas
Env. Learning/Visitor Center
Exhibits and Programs
Fishing
Guided Tours
Interpretive Exhibits
Beach Area
Family Programs
Geocaching

OTHER FACILITIES & VISITOR INFORMATION
Parking
Restrooms / Showers
Restrooms
Drinking Water Available

Grove of Titans and Mill Creek Trail Closure
Trail Update 9/11/2021: Grove of Titans Boardwalk and One Mile of the Mill Creek Trail are Complete in Jedediah Smith Redwoods State Park; Public Access Remains Limited until the Mill Creek Trail Realignment is Finished in Early Summer
CRESCENT CITY, Calif.—California State Parks, Save the Redwoods League, Redwood Parks Conservancy and the National Park Service have completed construction on the 1,300-foot-long boardwalk through the Grove of Titans in Jedediah Smith Redwoods State Park. Access to the Grove of Titans is now open, but limited while construction of the Mill Creek Trail continues. View this
Grove of Titans Trail Update video
for more information.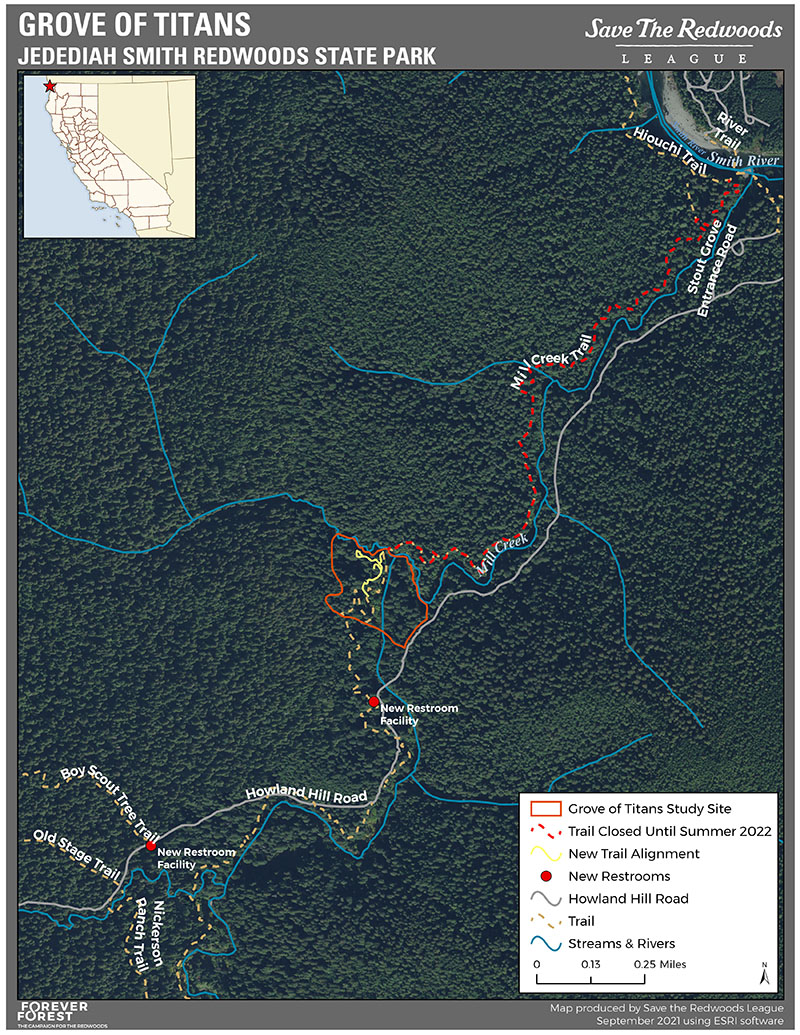 The full restoration and realignment of the three-mile Mill Creek Trail, which provides access to the Grove of Titans spur trail, is expected to be completed by early summer 2022. The first mile of Mill Creek Trail is open from Howland Hill Road through the Grove of Titans boardwalk, forming an out-and-back trail. The remaining two miles of the Mill Creek Trail from the new boardwalk to the Smith River will remain closed for construction.
Due to the pandemic, road closures, wildfire and labor shortages, the full re-opening of the trail has been delayed.
On Nov. 6, 2019, construction began on a 1,300-foot-long elevated walkway through the Grove of Titans in Jedediah Smith Redwoods State Park, part of Redwood National and State Parks in Del Norte County, California. This work is the first phase of a multi-year, $3.5 million project organized and implemented by California State Parks, Save the Redwoods League, Redwood Parks Conservancy and the National Park Service.
The project, first announced in November 2018, was conceived to provide environmentally sensitive access to the Grove of Titans and adjacent forest. Thousands of visitors have been finding their way on "social trails" or unofficial pathways since the location of the grove was first shared online in 1998, which has caused considerable damage over time.
The renovation project establishes official, safe access to the Grove of Titans, provides ecosystem protections for the trees, visitor services and amenities, including new restroom facilities along Howland Hill Road.
For park visitors' safety, the Mill Creek Trail from the Grove of Titans boardwalk to the Smith River will be fenced off and closed during construction. Any park visitors in violation of the posted closure will be subject to a citation.
In addition to the Grove of Titans boardwalk, and open portion of Mill Creek Trail, park visitors may use the nearby Boy Scout Tree, Nickerson Ranch, Little Bald Hills, or Stout Grove trails, which are accessible from Howland Hill Road. As always, please recreate responsibly by following park rules and regulations, including staying on trail, packing out your trash, and keeping your dogs off trails. The redwood forests depend on you to help protect them for the enjoyment of current and future generations.
For more information about the Grove of Titans project visit
https://www.savetheredwoods.org/project/grove-of-titans/
Notice:
Del Norte Coast Redwoods, Jedediah-Smith Redwoods, and Prairie Creek Redwoods State Parks are the only parks in the California State Parks system that accept the Federal Access Pass discount.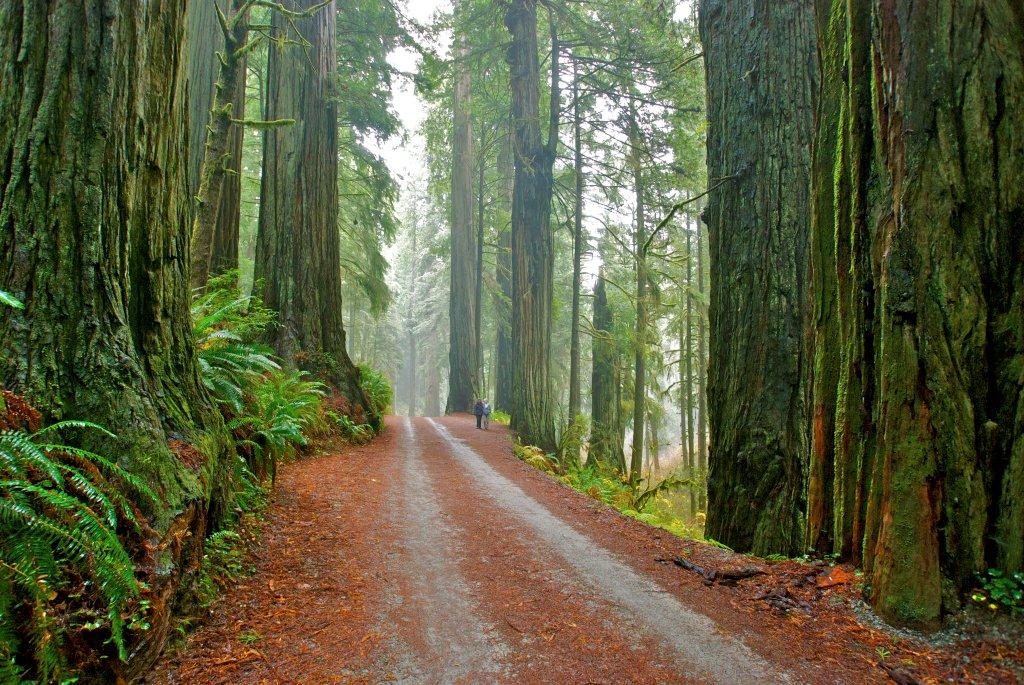 Jedediah Smith Redwoods State Park is the last in a long string of redwood parks that stretch up Northern California's coast. A few miles inland from the ocean, the park is densely forested with huge ancient trees. In fact, it contains seven percent of all the old-growth redwoods left in the world. No roads or trails mark "Jed Smith's" core—just pure, primeval majesty.
The park was named for Jedediah Strong Smith, who in the 1820s became the first white man to explore the interior of northern California. The park was established in 1929 with a small parcel donated to Save the Redwoods League by the family of lumberman Frank Stout.

Today, you can fish, snorkel, or kayak in the Smith River, the longest major free-flowing river in California; take a historic drive on Howland Hill Road; enjoy a campfire program at Jedediah Smith Campground; or hike through a lush rainforest on 20 miles of trails. The 1936 film The Last of the Mohicans was filmed just upstream, in the Smith River National Recreation area.
"Thick redwood forest, banana slugs, a beautiful river, and pollywogs," says Save the Redwoods League, which helped the state acquire more than 5,500 acres of redwoods here. "What more could you ask for?"
Redwood National and State Parks
Jedediah Smith Redwoods State Park's 10,000 acres are managed cooperatively by the National Park Service and California State Parks, as are Del Norte Coast Redwoods State Park, Prairie Creek Redwoods State Park, and Redwood National Park. A World Heritage Site and International Biosphere Reserve, Redwood National and State Parks protect 45 percent of California's remaining old-growth redwoods—an area almost four times the size of Manhattan Island.

Cabins
You don't need a tent or an RV to enjoy the beautiful old growth redwoods! Jedediah Smith Redwoods Redwoods State Park offers you access to "get-away-from-it-all" rental cabins.

Four cabins, all of which are ADA accessible, are located within the Jedediah Smith Redwoods Campground within Redwood National and State Parks.
Cabins have electricity; heaters and lights. No kitchen or bathroom.


Maximum occupancy is 6 persons. Each cabin has 2 bunk beds, each with a twin over a double in size, no mattress pads. Guest need to bring their own bedding. Space for a small tent outside to accommodate an additional 2 people max.


Cabin rate includes entry for one vehicle; additional vehicles will be charged $8 per night.


No Pets


No Smoking, cooking or open flame inside the cabins. Cabins each have an outdoor Barbecue, fire pit, bear box and picnic bench.
For more information on the cabins or to make a reservation go to www.reservecalifornia.com.
*Credit Card required for check in process.
Seasons/Climate
Here at the confluence of the Smith River and Mill Creek, summer temperatures range from 45 to 85 degrees, in contrast to the cool, fog-bound coast. Winter can bring 100 inches of rain and temperatures between 30 and 65 degrees; snow is rare.
Rules & Notifications
Don't feed wildlife and keep your camp free of all traces of food.
Store food in an animal-proof food locker.
Place all your garbage in an animal-proof trash can.
Howland Hill Road is gravel and not recommended for trailers.
Visitors are required to watch this short video about the impact human food has on park wildlife.
Location/ Directions
Nine miles east of Crescent City on Highway 199.

Seasons/Climate

Summer temperatures range from 45 - 85 degrees. Winter temps fluctuate from 30 - 60 degrees.
Annual rainfall can reach up to 100 inches from November through May.