Land and Water Conservation Fund (LWCF) Application Process
Local Agency Application Deadline: June 1, 2023
Local agency applications must be submitted online before 5:00pm on Thursday, June 1, 2023. Click the Submittable button below to begin an online application.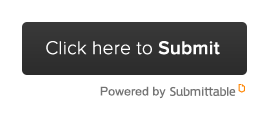 To register for an application workshop, please sign up using the following links:
Tuesday, January 31 Workshop: 9:30am -12:00pm
Wednesday, February 1 Workshop: 9:30am - 12:00pm
Eligible Local Agencies:
Cities and counties
Federally recognized Native American tribes
Joint Powers Authorities (JPA) where all members are public agencies. A JPA can include a state agency if at least one member is a local (non-state) public agency or district, and the JPA was formed for the purpose of providing PARK and recreation areas.
Non-state agency recreation and park districts and special districts with authority to acquire, operate, and maintain public park and recreation areas.
State Agency Application Deadline: September 7, 2023
State agency applications must be submitted online before 5:00pm on Thursday, September 7, 2023.
Eligible State Agencies: Department of Parks and Recreation, Department of Fish and Wildlife/Wildlife Conservation Board, and Department of Water Resources. The State Coastal Conservancy must submit a letter of intent by June 1, 2023 in order to apply for the Director's Contingency Fund.
This Application Guide will be used for the local and state agency 2023 application cycle.

California's Available Amount: Estimated $30 million (subject to California's FFY 2024 and FFY 2025 funding apportionment, and funds that become available from withdrawn projects or projects completed under budget).
Local Agency Maximum Grant Amount: $6 million
State Agency Grant Amounts: State agencies will be notified of their next annual apportionment by OGALS when available. See the chart at the bottom of this page for more information on how the local and state agency funding is divided.
Fillable Application Forms:
Application Resources:
The Community FactFinder Tool and Park Access Tool are both located on the Parks for All Californians webpage.
Project Selection Criteria 4 Averages for 2023 Cycle (page 29 of the Application Guide):
The annual median household income figure for Project Selection Criteria 4, 1.b is $67,278.
The California state average of residents living further than a half-mile from a park for Project Selection Criteria 4, 2.a is 21%.
The California state average of residents living in areas with a ratio of less than three acres of parkland per 1,000 people for Project Selection Criteria 4, 2.b is 61%.
Post Selection Federal Requirements - All LWCF applicants are encouraged to familiarize themselves with these steps to better understand the full LWCF grant process. Local agency applicants will move forward with these requirements should the project be recommended for funding. All state agency applications will complete these requirements and may move forward as soon as feasible.
Questions about the competitive process can be directed to your competitive OGALS Project Officer.
2022 Round Awards: $45 million in applications were selected from $116 million in requests. Read the press release and list of 2022 selections.
Interested in how California's LWCF Apportionment is Divided?
NPS gives states an annual apportionment, determined by Congress. California's funds are further divided by Public Resources Code §5099.12. The diagram below show an example of how an annual apportionment is separated.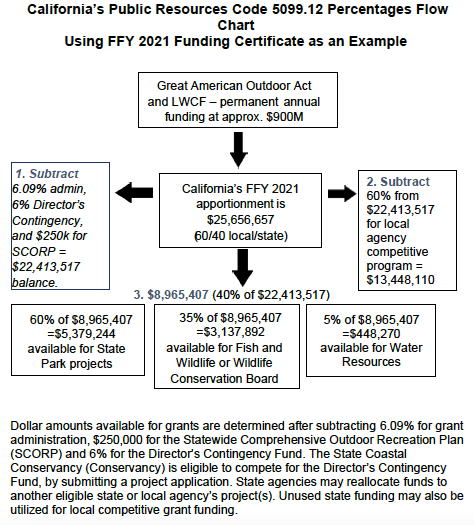 State Parks has administered LWCF since 1965. State Parks monitors more than 1,550 LWCF sites that require compliance inspections every 5 years, in perpetuity. For a list of previously funded LWCF grants, visit the LWCF homepage.


Outdoor Recreation Legacy Partnership Program (ORLP)

ORLP is a National competitive grant program under the LWCF program, to create new outdoor recreation opportunities in densely populated urban areas. For more information on ORLP, please visit Outdoor Recreation Legacy Partnership (ORLP) Program.