Coming Soon
San Elijo State Beach Lifeguard Headquarters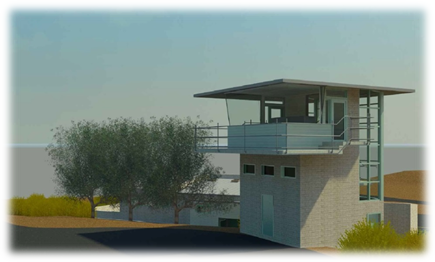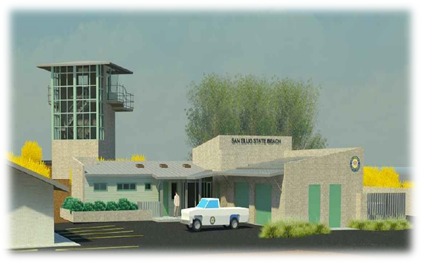 Between March 2018 and June 2019 the new California State Parks Lifeguard Headquarters building at San Elijo State Beach will be under construction. For public safety, many campsites will remain closed during construction. Construction will occur Monday-Friday and there may be construction noise heard near the work site. Campsites 40, 50-78 will remain closed throughout the duration of project. Campsites 41-49 and 79-92 will be released once the major infrastructure work is complete. . The ramp access to the beach at Lifeguard Tower 16 will remain closed for the duration of the project. Campers will use the stair access at SW#1 as the southernmost beach access. Access to the San Elijo Campground dog beach will be through Cardiff State Beach (and not accessible if the lagoon is open). Thank you for your patience through this construction project. This new state of the art facility will house public safety vehicles, a communications center, and an observation deck. The Lifeguard Headquarters building will greatly improve response times, access to medical aid, and better protect the safety of visitors as they enjoy numerous outdoor recreational opportunities.
*We will notify campers prior to releasing camping inventory on our Facebook, Twitter and Instagram
Alert for Campers:
San Elijo SB Campers - Overnight and weekend work is planned for Saturday, January 6, beginning at 12:30 a.m. through 4 a.m. on Monday, January 8, as construction crews work on the San Elijo Lagoon Double Train Track Project, nearby and outside of San Elijo State Beach Camp. Campers may be affected by intermittent day and nighttime noise and lights. Crews will work to minimize noise and other impacts. Your patience during construction is appreciated.

Should you choose to cancel your reservation, normal cancellation fees apply.


Alert for Day Use Parking Lot:
North San Elijo Day Use area will be closed north of the restroom for brush clearing most of the day on Thursday, January 18, 2018. Walkers can pass through when safe, but vehicles won't be permitted north of the first (north) restroom in North Day Use for the duration of the one day project.


Alert for Campers:
There will be some excess noise in the campground on January 22, 23 and 24. A contractor will be trimming all the palm trees in the campground at San Elijo SB as well as the palm trees in Cardiff and at San Elijo North Day Use.


News for Campers:
Beginning April 1, 2018, there will be a $10.00 fee for use of the dump station in most California State Parks. California State Parks is partnering with Sani-Star, a provider of self-pay stations for sewage dumps, to secure the dump station and collect fees for use. Sani-Star accepts credit and debit cards right at the dump station.

This Sani-Star partnership and new fee collection system will allow State Parks to control the sanitary dump station and prevent illegal use, in order to help us protect the environment. This partnership will assist State Parks in the recovery of rising fees from the sanitary and water districts and offset maintenance costs. This pay per use system allows us to continue with our low camping fees without assessing a dump fee applied to all campers, only those using the dump facilities will be affected.

In the San Diego Coast District, the $10.00 fee for use is charged only to those that would like to use the group dump station located within our three State Park Campgrounds. This is a change from our current policy, which had included the use of the sanitary dump station with a campsite registration fee. Please note: this does not apply to those registered campers using campsites, with designated sewage hook-ups. Campers within designated sewage hook-up campsites have already paid the sewage hook-up fee within the cost of the campsite. This policy is in effect, starting March 1, 2018, at the San Diego Coast District Campgrounds including South Carlsbad State Beach, San Elijo State Beach and Silver Strand State Beach.


Notice:
As of June 1st, 2016, all wood burning fires are prohibited on our State Beaches where established fire rings are not provided. Propane fire pits or butane burners are permitted. View the full media release here (
Media Release
)
California drought restrictions have been lifted. We are in the process of replacing all water stations within in our state parks to ensure they are all in proper working order. We encourage the public to continue to conserve water.