Basic Campground Information
Entrance is located off Graham Hill Road in Scotts Valley:
2591 Graham Hill Road
Scotts Valley CA 95060
Phone (831) 438-2396
Reservations - www.reservecalifornia.com
NO sewer or water hookup
Maximum trailer lengths - Trailer: 31 feet; Camper/Motorhome: 35 feet
Dogs must be on a leash no longer than six feet and are allowed only in the picnic areas and campsites and on the Meadow Trail, Pipeline Road, Graham Hill Trail, and Powder Mill Fire Road. Dogs are not allowed in the Fall Creek Unit. Dogs are not permitted on the old-growth Redwood Grove Loop Trail. Dogs may not be left unattended.
Visiting Henry Cowell Redwoods Graham Hill Campground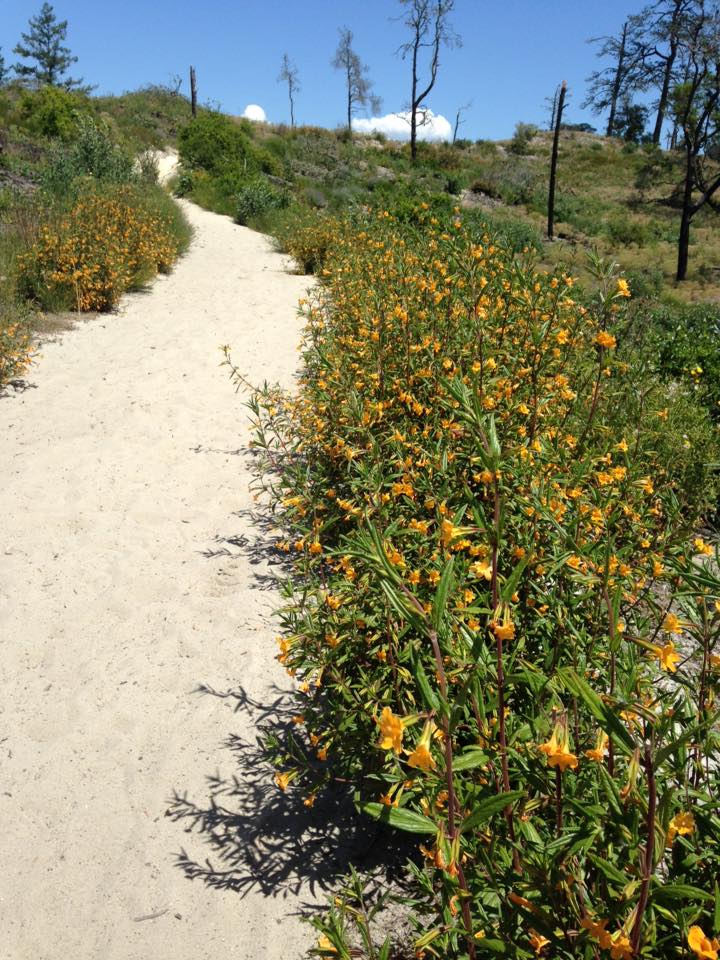 The campground has a separate entrance from the day-use area, located off Graham Hill Road in Scotts Valley.
The park's 107 reservable site campground lies in a shady pine and oak forest. It's about a two-mile walk or a five-minute drive from the campground to the Redwood Grove Loop Trail. It's a half-mile walk from the campground to the rare Santa Cruz Sandhills habitat and to the highest point in the park, the Observation Deck (elevation 805 feet).
Reservations are highly recommended between Memorial Day and Labor Day. Henry Cowell campground closes in the winter season. To make reservations, please visit www.reservecalifornia.com.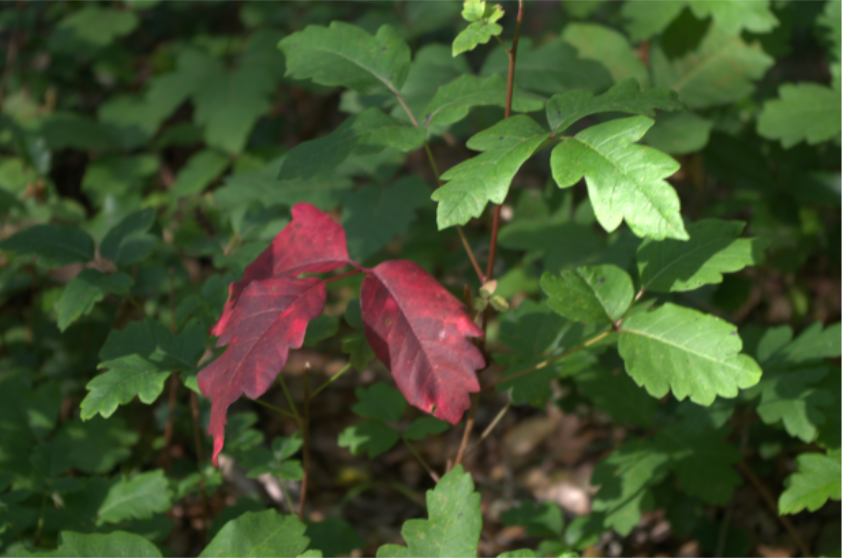 POISON OAK flourishes throughout the Santa Cruz Mountains, where it provides food and shelter for wildlife and aids in erosion control. It grows in the form of a bush or vine, and when leaves are present they are in groups of three with lobed edges. Autumn poison oak leaves turn red and fall off, leaving bare stems. All parts of the plant produce an oil that causes a rash on most people. Learn to identify this plant, and stay on designated trails in order to minimize exposure.
Some camp sites have a fair amount of poison oak. Our job as a state park is to mitigate the impact that we have on the environment and to preserve it to the best of our ability.
EVENTS – Henry Cowell Redwoods State Park offers interpreter-led activities in the campground from Memorial Day Weekend (end of May) through Labor Day Weekend (beginning of September). Events and activities may include junior rangers, little rangers, guided hikes, and campfire programs. Please call the park to confirm at (831) 438-2396. For a list of park events, please click here.
DOGS must be kept on a six-foot maximum leash at all times and are permitted only on paved roads, Powder Mill Fire Road, Pipeline Road, Graham Hill Trail and the Meadow Trail. Keep pets in a tent or vehicle at night and never leave them unattended.
CAMPGROUND AMENITIES:
quarter-operated showers with hot water
flush toilets
en-route bicycle camping
ADA accessible campsite (Numbers 17, 23, 24, and 109)
potable water
CAMPSITE AMENITIES:
picnic table
food locker
fire pit and grill
RV'S & TRAILERS:
NO water fill or dump station. The closest state park that has a dump and water fill station is New Brighton State Beach.
Maximum trailer lengths:
Trailer: 31 feet
Camper/Motorhome: 35 feet
Generators are allowed between the hours of 10am and 8pm.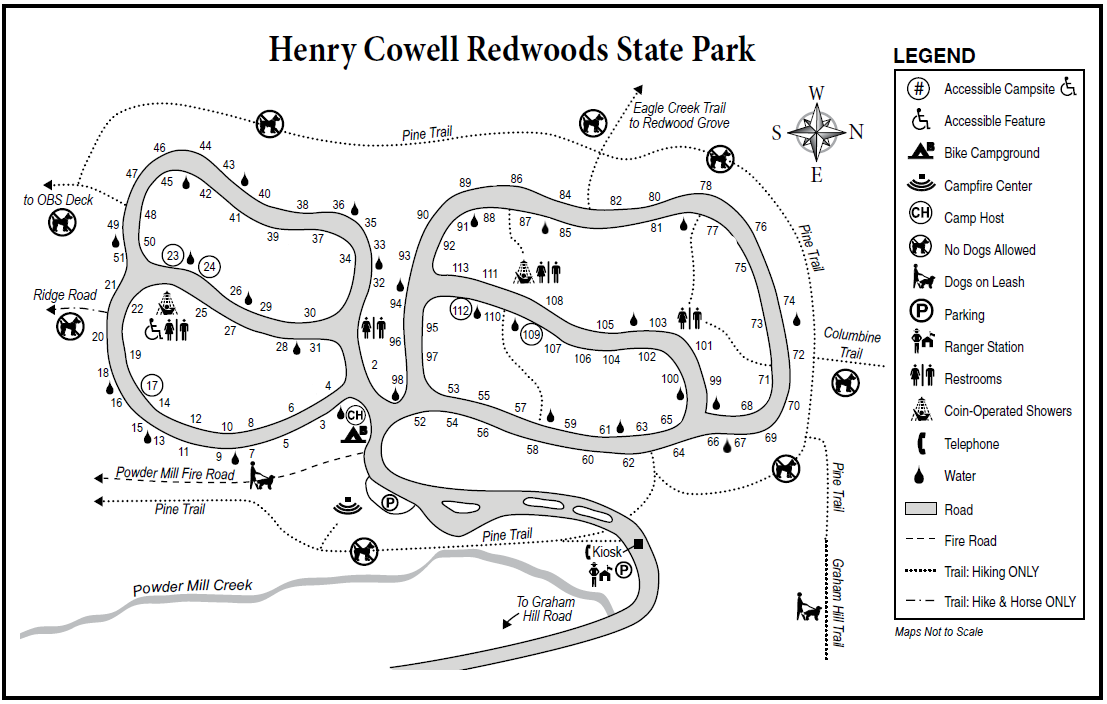 Frequently Asked Questions
How far in advance can I make reservations? 6 months to the day. First come, first serve sites depends on what is NOT reserved, & is only for one night at a time. Since site specific, multiple nights w/o reservations could mean that you'd have to move from one available site to the next. Make reservations. Camper profiles will be needed if they have not already made one on ReserveCalifornia.com please, be patient.
How many Tents can I have in my site? As many that will fit without impacting the environment.
What time is check in and check out? Check in is at 2pm and check out is at 12pm
What if I show up to my reservation after the kiosk is closed? There will be self-registration instructions in the kiosk window that you will need to follow.
Can I reserve a Handicap (ADA) site even though I am not disabled? No, ADA law requires that we not sell those sites to anyone that does not have a Disability Placard or Disability Plate that is issued to them through the Department of Motor Vehicles.
Which sites have the best view? We believe that all of our sites have great views.
Does my Camping Permit get me into other state parks and beaches? Yes it does! It will allow you to get into any state park or beach for free until sunset of the day you check out.
Can I sleep in my car or do I have to have a tent? You may sleep in your car or a tent.
Do you sell fire wood? Yes we sell fire wood for $10 per bundle. A bundle is approximately 4-5 pieces of fire wood and some kindling, Approximately 1 cubic foot of firewood per bundle.
Can I put Charcoal in the fire pit? Yes
Why do you only allow 8 people per campsite at any time? We only allow 8 people in a site because we are a family campground. Any more the 8 people in a campsite and it gets to be too loud. It can be an environmental impact to the park as well. And yes, babies count towards the 8 person limit, they are people too.
Can people come and visit? Yes people can come and visit as long as they pay the $10 day use fees. Remember that your campsite can not excess 8 people at any one time. Visitors must leave by 10pm or they can stay the night but have to register as an extra vehicle at the entrance station.
What is the extra vehicle fee? Your campsite reservation comes with 1 vehicle free of charge. Every additional vehicle is charged $10 per night.
Is there parking for my extra vehicles? You can park them in our overflow parking in front of the campfire center.
Is alcohol allowed in the campground? Yes as long as you are of legal drinking age.
How do I get to the Redwoods from here? Take Eagle Creek Trail To Pipeline Rd. Right on Pipeline rd. Redwood grove will be on the right after about a half mile.
Where is the Garden of Eden? It is on the Eastern side of our park along Ox Trail.
Can I hike to the observation deck to watch the sunset? No. All of our trails close at sunset due to the risk of danger of hiking at night time.
How far from Santa Cruz are you? We are approximately 5 miles from Downtown Santa Cruz
What time is quite hours? 10pm. If people are being loud after 10pm call 911– state that it's a non-emergency when you call 911.
Where can I smoke in the campground? You can smoke in your campsite or out on the paved road, not on any trails.
Can I bring my dog camping? Yes. Dogs must be kept on a six-foot maximum leash at all times and are permitted only on paved roads, Powder Mill Fire Road, Pipeline Road, Graham Hill Trail, and the Meadow Trail. Keep pets in a tent or vehicle at night and never leave them unattended.
Can I camp with my horse? No, we do not have the amenities to accommodate a horse in our campground.
Do you internet access in the campground? No
What cell coverage is good in the campground? AT&T tends to have the best coverage in the campground.