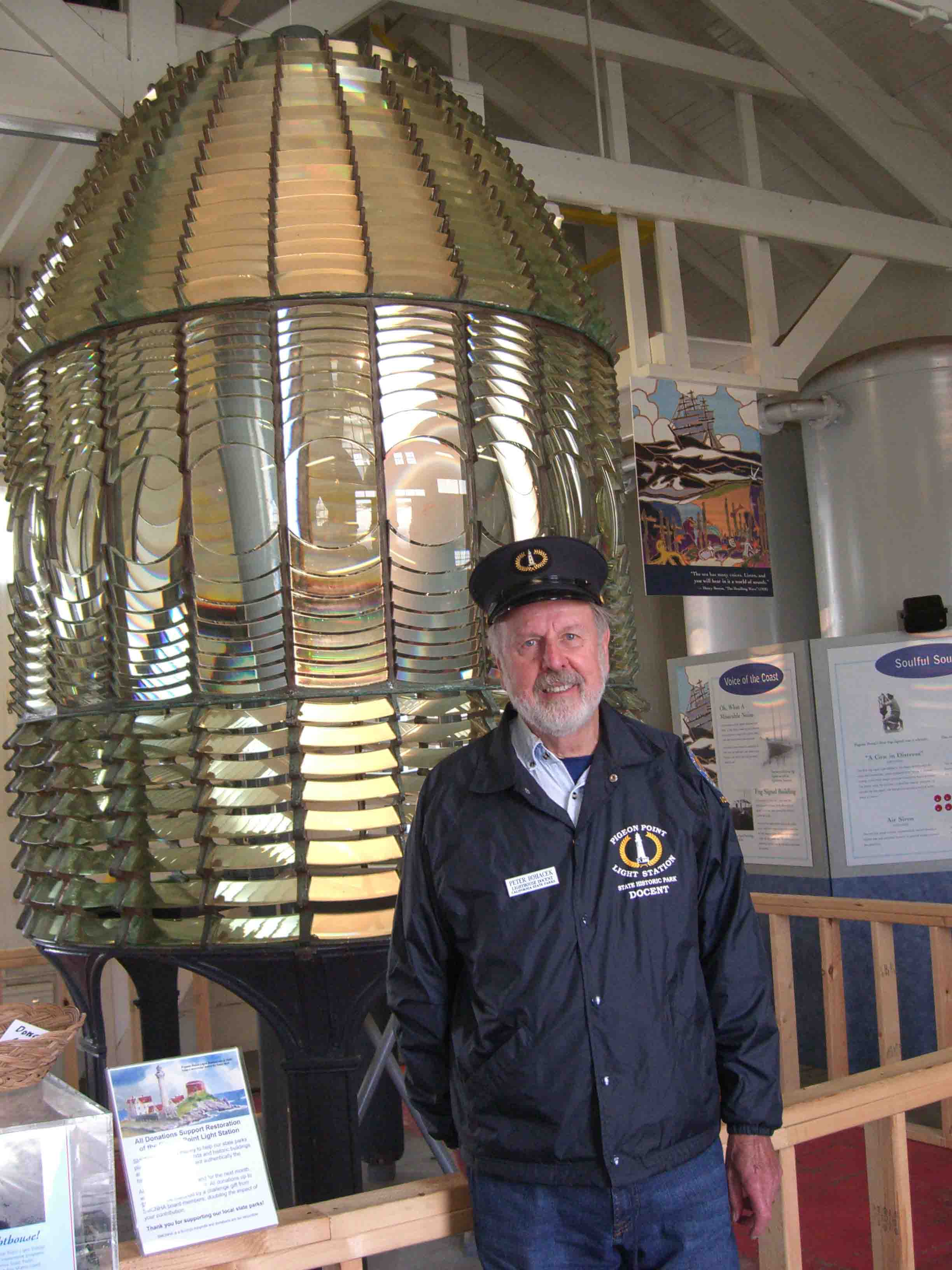 Volunteering at Pigeon Point
One of the tallest lighthouses on the west coast, Pigeon Point is truly a landmark of local history. Built in 1872, this 115-foot tall tower has helped mariners safely navigate up and down this notoriously treacherous stretch of California coast ever since. Although the original Fresnel lens is no longer in use, the lighthouse is still an active U.S. Coast Guard aid to navigation using an Automated LED Beacon.
Each year, volunteers trained in the cultural and natural history of the park (docents) greet over 175,000 visitors from all over the world. Docents are primarily stationed in the Fog Signal Building (now our Interpretive Center) where they answer questions about the history of the light station, how a lighthouse functions, and the wildlife that we share this coast with. Docents also lead guided walks through the Light Station grounds, taking visitors back through time.


Docent Training Program
All new docents are required to attend a 3-day training offered in the spring. Experts are brought in to teach sections on subjects including general maritime history, the history of Pigeon Point Light Station, marine wildlife, native plants, and more. Training is also provided on interpretive techniques for educating visitors of all ages. The Pigeon Point Volunteer Program also provides opportunities for continuing education and enrichment throughout the year.


Requirements
Able to stand and talk for several hours
Comfortable inside or outdoors in any kind of weather
Able to commit to volunteering at least 1 day per month
Able to commit to 3 all day training classes on Saturdays during the spring
Able to visit the park for an interview


Benefits of Becoming a Volunteer
Become part of the California State Park team
Meet new people from all over the world
Help connect thousands of visitors each year to things you care about
Take advantage of opportunities for ongoing education and training
Earn year-round park passes to California State Parks
15% discount in the park store


How to Apply
To request an application or for more information, please contact Joe Rogers, Volunteer Coordinator, at (650) 879-2120 or email Volunteers.PigeonPoint@parks.ca.gov