Pigeon Point Light Station State Historic Park
UPDATE (March 31, 2020):
This park is temporarily closed to vehicular access.
The park remains open for locals who wish to walk, hike and bike (in parks with bike trails) in the park, provided they practice social/physical distancing of 6 feet or more. This is not the time for a road trip to a destination park or beach.
In an effort to prevent visitation surges and help stop the spread of the coronavirus (COVID-19), State Parks has implemented the following safety measures to date:
Closed some parks, meaning all trails and restrooms within these parks are closed.
Closed vehicular access at remaining parks, including for off-highway vehicle riding.
Closed all campgrounds, museums and visitor centers.
Cancelled all events.
A list of closures is available online at
parks.ca.gov/FlattenTheCurve
. The list is dynamic and updated on a regular basis.
Phone Number
(650) 879-2120
Park Hours
Day-use Area 8am to Sunset
Visitor Center and Park Store Hours
Thursdays through Mondays 10am-4pm
Driving Directions to Pigeon Point Light Station SHP
On California Highway 1, 20 miles south of Half Moon Bay and 27 miles north of Santa Cruz.


Online reservations are not available for this park.
Upcoming Park Events
No events scheduled at this moment.
OVERNIGHT FACILITIES
Lodging

TRAIL USE
Hiking Trails

DAY-USE ACTIVITIES & FACILITIES
Historical/Cultural Site
Picnic Areas
Env. Learning/Visitor Center
Exhibits and Programs
Fishing
Guided Tours
Interpretive Exhibits
Beach Area
Swimming
Nature & Wildlife Viewing
Windsurfing/Surfing
Geocaching

TEMPORARY FACILITY CLOSURES AND EVENT CANCELLATIONS
DAY USE AREAS (trails, beaches): Open; Please bring cash in exact change to pay fees at self-registration stations.
RESTROOMS: Open; Please bring soap for handwashing or hand sanitizer.
PARKING LOTS: All parking lots in San Mateo County-area parks and specific parking lots in Santa Cruz County-area parks are temporarily closed. Click here for the latest updates.
CAMPGROUNDS: Temporarily Closed
PARK STORES, VISITOR CENTERS & MUSEUMS: Temporarily Closed
EDUCATIONAL PROGRAMS & GUIDED TOURS: Temporarily Suspended
LARGE EVENTS: Temporarily Suspended
SPECIAL EVENT PERMIT APPLICATIONS: Temporarily Suspended

California State Parks is taking steps to support state and local efforts to slow the spread of COVID-19 (coronavirus). As of March 23, 2020, State Parks has temporarily closed vehicular traffic to certain parks experiencing high visitation. This includes all San Mateo County parks. To see a current list of impacted parks, visit www.parks.ca.gov/flattenthecurve. For those wishing to take a break in the outdoors, public health officials are advising them to walk, run, hike and bike in their local neighborhoods and walk to parks. Most importantly, the public is being asked not to congregate in the outdoors.

Campgrounds are temporarily closed as of March 17, 2020. Camping reservation holders will be contacted via email for refunds. Visitor Centers, museums, and park stores are also temporarily closed.


Guided tours, educational programs, and large events are temporarily suspended as of March 14, 2020. Tour reservation holders will be contacted via email for refunds. Special event applications have been suspended until further notice as of March 14, 2020.

As of March 17, 2020, non-campground outdoor areas of parks, including trails and beaches, remain open. Visitors are reminded to practice social distancing and maintain at least six feet between other visitors and anyone who is coughing or sneezing. Restrooms also remain open, and visitors are advised to take soap for hand washing and alcohol-based hand sanitizers when water is not available.

State Parks recommends that everyone follow precautionary guidance issued by the California Department of Public Health, public local health agencies, the Governor's Office of Emergency Services and the Centers for Disease Control and Prevention when recreating in the outdoors. Everyone has the responsibility to "flatten the COVID-19 curve at Parks" by maintaining a social distance of 6 ft. or more when recreating in the outdoors, and staying home if they are sick. If visitors cannot maintain social distancing, they need to leave the park.

For the most up-to-date information on how State Parks is supporting the state's COVID-19 efforts, please visit www.parks.ca.gov/flattenthecurve and follow State Parks on its social media platforms: Facebook, Twitter and Instagram.
Visiting Pigeon Point Light Station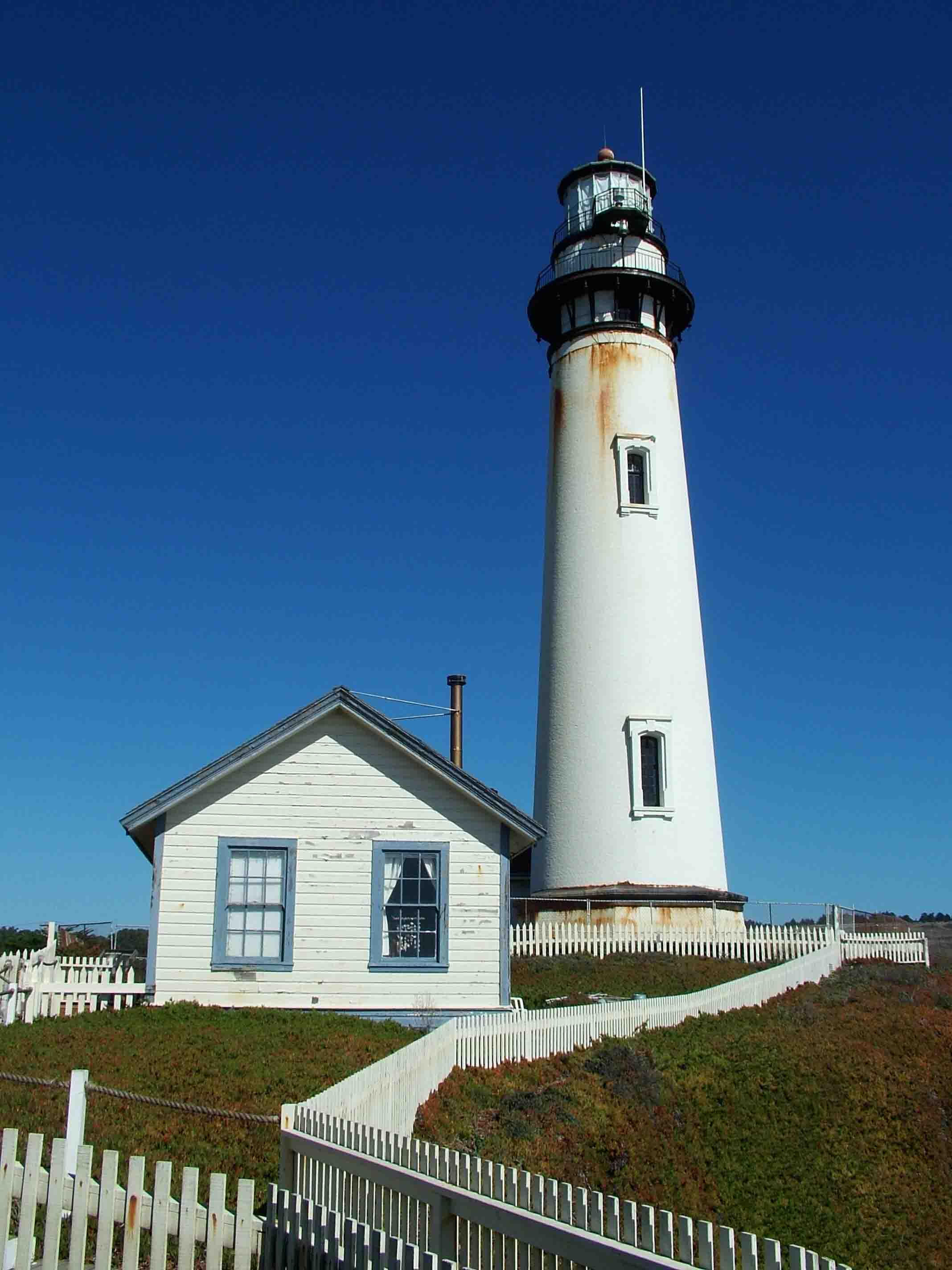 Perched on a cliff on the central California coast, 50 miles south of San Francisco, the 115-foot Pigeon Point Lighthouse, one of the tallest lighthouses in America, has been guiding mariners since 1872. Its five-wick lard oil lamp, and first-order Fresnel lens, comprised of 1,008 prisms, was first lit at sunset, November 15, 1872. The lens stands 16 feet tall, 6 feet in diameter, and weighs 2,000 pounds. Now on display in the fog signal building, it sat in a lantern room constructed at the Lighthouse Service's general depot in New York before being shipped around the Horn. Although the original Fresnel lens is no longer in use, the lighthouse is still an active U.S. Coast Guard aid to navigation using an automated LED beacon.
The coastal areas surrounding Pigeon Point Light Station are rich with life. Marine mammals, such as seals and whales, can be seen regularly from shore as they pass by beyond the surf. The intertidal zone along this part of the coast, particularly in the rocky reefs that flank the light station, contains a diverse and numerous variety of plant and animal life.
Lighthouse Closed for Repairs
In December 2001, a section of the iron belt course on the exterior of the lighthouse fell off. The lighthouse will remain closed until the structure can be restored. The lighthouse may still be viewed from the grounds. For more information go to
Lighthouse Restoration
Activities

Tours:
Half hour guided history walks around the lighthouse grounds are available staff permitting, or upon request by calling (650) 879-2120
Basic Park Information
DOGS are not permitted on the lighthouse grounds (except for service animals).
ADMISSION & PARKING is free.
SMOKING is not permitted in the park.
DRONES are not allowed in the park. To protect wildlife and cultural resources, and for the safety and welfare of visitors and staff, the park is closed to the use of Model Aircraft, Unmanned Aircraft Systems (UAS), and Gliders in flight.
FACILITIES — The park has restrooms near the parking lot and limited picnic tables. A park store is located in the historic carpenter's shop. A small public beach is located 100 yards from the main parking lot.
PIGEON POINT HOSTEL is run by Hostelling International for guests who are interested in staying overnight. For more information and reservations, please click here.
WEDDING & SPECIAL EVENT PERMITS: SMPermits@parks.ca.gov or (650) 726-8819
FILM & PHOTOGRAPHY PERMITS: SMFilmPermits@parks.ca.gov or (650) 726-8815