Progress Update

October 13, 2021 — State Parks staff continue to update the architectural plans for the lower two-thirds of the tower for inclusion in the bid package for the overall tower restoration. As indicated last month, the earlier plan was to complete restoration in several phases. With the allocation of $18+ million in state funds, this project will be undertaken in its entirety.

On a parallel track, State Parks has established an advisory group to develop recommendations for consideration in addressing a variety of visitor-supporting infrastructure topics. For example, the group will consider how to provide:

• public access once the tower restoration is complete
• access alternatives for those with limited physical abilities unable to enter the tower
• staffing and volunteer resources needed
• ways to address parking, restroom facilities and other visitor needs in anticipation of increased visitorship
• new landscaping to improve visitor flow around the park
• long-term maintenance of this iconic structure on an ongoing basis
• other types of activities and events to attract visitors
A related ground-level project currently being developed is the replacement of the observation deck behind the fog signal building. This area provides visitors with an unimpeded view of the rocky reefs that once presented a dangerous obstacle to sailing ships making their way to San Francisco loaded with prospective gold miners and goods for the burgeoning population of California. Today, visitors also enjoy looking for whales, dolphins, harbor seals, pelicans and other marine life, or watching for the green flash of the sunset on a crisp, clear fall evening.
Useful Links
Check this link for periodic updates: www.parks.ca.gov/PigeonPointLighthouseRestoration
Explore the park's website for more history of the park: www.parks.ca.gov/PigeonPoint.
Our Facebook page www.facebook.com/PigeonPointLightHouse provides a view to what's happening around the park, including special events, wildlife sightings – whales, birds, and more – as well as activities at neighboring parks.
Our Valued Partners
Coastside State Parks Association – www.coastsidestateparks.org
Friends of Santa Cruz State Parks – www.thatsmypark.org
Peninsula Open Space Trust – www.openspacetrust.org
California State Parks Foundation – www.calparks.org
Read past restoration progress updates


---
Projects on the Horizon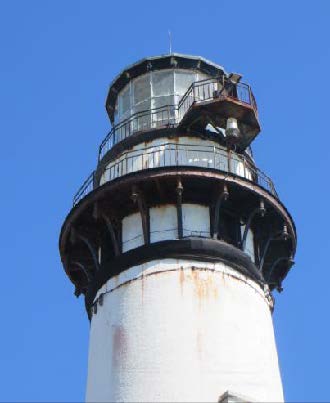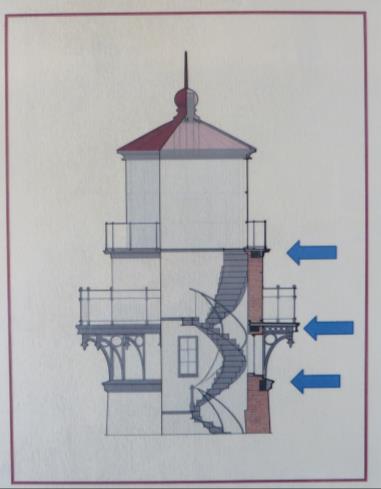 Tower (Upper Portion) – In 2019, the State allocated $9+ million to restore the upper portion of the tower. Because of COVID-19 and the 2020 wildfires, the bid package was never released. This work is being addressed in the new $18+ million bid package being developed for the entire tower. Work will include the lantern room, the decks and railings, the upper belt course and masonry.

(Sketch courtesy of Architectural Resources Group)
Recently Completed Ground-Level Projects
Fog Signal Building – The exterior of the fog signal building was completely refurbished. This included restoration of the fog horn trumpets on the ocean side of the building as well as stabilizing the observation deck.
| | |
| --- | --- |
| Before | After |
| | |

Keepers Office & Oil Room – At the base of the tower, the small Keepers office and adjacent oil room received lead abatement, painting and a new roof. The front door and windows were also refurbished. This allowed limited public tours to take visitors into the first level and tower base.
| | |
| --- | --- |
| Before | After |
| | |
Oil Bunker – The 1905 oil bunker received a complete makeover, including lead abatement and painting. New interpretive exhibits were installed expanding upon those in the fog signal building. New benches were also placed outside the bunker for visitors.
| | |
| --- | --- |
| Before: Oil Bunker Exterior | After: Oil Bunker Exterior |
| | |
| Before: Oil Bunker Interior | After: Oil Bunker Interior |
| | |
Picket Fence – A 200-foot stretch of dilapidated fence along the south bluff of the lighthouse was rebuilt by volunteers using donated materials.
| | |
| --- | --- |
| Before | After |
| | |