Progress Update
May 16, 2023
Restoration Funding
Good news! We have received the funding for the lighthouse restoration! If everything stays on schedule, we hope to see construction begin this fall.
Octobe 31, 2022 – Several updates for this month!
New Staff at Pigeon Point
Elizabeth Crowley is the new Interpreter I at Pigeon Point. Her primary responsibilities include the development of interpretive programs for students and the public and the development and management of the docent program. Elizabeth has both undergraduate and graduate degrees in history and has worked in historical interpretation for over a decade. Her experience includes leading school programs with the San Mateo County Historical Association. She also has a personal connection to the San Mateo Coast. Her great-grandmother, Hazel Downing, was the school teacher at Gazos Creek and boarded with the Steele family.

John McCaull is the new Senior Park Aide at Pigeon Point. He is a passionate Parks worker focused on California maritime history and coastal geography. In 2019, John received his bachelor's degree in geography from San Francisco State with a focus in resource management. He is fascinated by lighthouse history and the natural history of Pigeon Point. Some of John's main roles at Pigeon Point will be communicating with and supporting docents, leading virtual programs to schools and the public, and assisting with basic maintenance around the park.

Grant for 3D Virtual Tour of the Tower Awarded
San Mateo County Supervisor Don Horsley and the San Mateo County Board of Supervisors approved the request for a $10,000 grant under the Measure K process to create a virtual tower tour using the 3D model of the lighthouse recently developed by the CyArk team. CyArk is currently working to launch the virtual tour in time for the anniversary.

This web-based product will be provided to San Mateo County schools for use in their California history programs, especially targeting underserved communities. It will also provide a virtual experience to park visitors while the tower awaits restoration, and later for those unable to climb the iconic ten story historic structure.

Thank you to the Board of Supervisors for supporting Pigeon Point!

Upcoming 150th Anniversary Celebration
Join us on Saturday, November 12, 2022, from 1 to 5 pm for a fun day of activities and from 5 to 7 pm to see the first order Fresnel lens lighting inside the museum. Bring a flashlight and jacket.

Some of the special activities for the day's celebration include:
• Opening remarks, including the restoration project status, by California State Parks Director Armando Quintero
• Mid-afternoon remarks by State Senator Josh Becker
• A panel of "Lighthouse Luminaries" who have personal connections to Pigeon Point, including James "Bud" Stevens and Jerry Jolley, former lighthouse keepers, Bob Davis, great-nephew of Assistant Keeper Jesse Mygrants, the longest serving lighthouse keeper at Pigeon Point, and D'Ann Burns, whose grandmother died in the San Juan passenger steamer wreck, Pigeon Point's worst maritime disaster.
• Meet local maritime authors Jann Semones and Frank Perry who have written about Pigeon Point's history
• Take a "sneak peek" tour into the base of the lighthouse
• Visit exhibitors to learn more about local cultural and natural history
• Enjoy several children's activities
• Get a commemorative poster printed on a vintage printing press
• Purchase commemorative merchandise in our park store
• Eat at Alebrije's Oaxacan Kitchen food truck
• Listen to music provided by the Lighthouse String Band and the Half Moon Bay High School Jazz Band
• Close out your day from 5 to 7 pm by viewing the lighted Fresnel lens on display in the museum
Useful Links
Check this link for periodic updates: www.parks.ca.gov/PigeonPointLighthouseRestoration
Explore the park's website for more history of the park: www.parks.ca.gov/PigeonPoint
Our Facebook page provides a view to what's happening around the park, including special events, wildlife sightings – whales, birds, and more – as well as activities at neighboring parks.
Our Valued Partners
Coastside State Parks Association – www.coastsidestateparks.org
Friends of Santa Cruz State Parks – www.thatsmypark.org
Peninsula Open Space Trust – www.openspacetrust.org
California State Parks Foundation – www.calparks.org
California Lighthouse Society – www.calighthousesociety.org
Read past restoration progress updates
View photos of damage to be repaired


---
Projects on the Horizon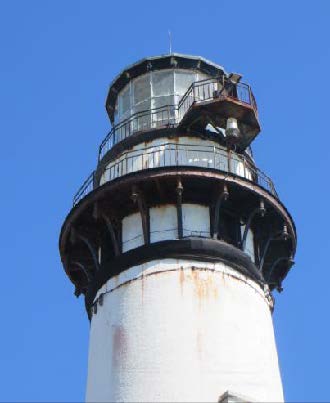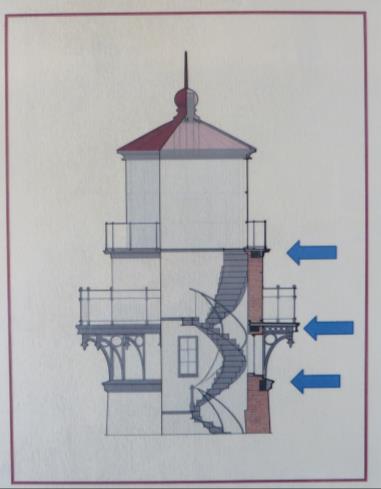 Tower (Upper Portion) – In 2019, the State allocated $9+ million to restore the upper portion of the tower. Because of COVID-19 and the 2020 wildfires, the bid package was never released. This work is being addressed in the new $18+ million bid package being developed for the entire tower. Work will include the lantern room, the decks and railings, the upper belt course and masonry.

(Sketch courtesy of Architectural Resources Group)
Recently Completed Ground-Level Projects
Fog Signal Building – The exterior of the fog signal building was completely refurbished. This included restoration of the fog horn trumpets on the ocean side of the building as well as stabilizing the observation deck.
| | |
| --- | --- |
| Before | After |
| | |

Keepers Office & Oil Room – At the base of the tower, the small Keepers office and adjacent oil room received lead abatement, painting and a new roof. The front door and windows were also refurbished. This allowed limited public tours to take visitors into the first level and tower base.
| | |
| --- | --- |
| Before | After |
| | |
Oil Bunker – The 1905 oil bunker received a complete makeover, including lead abatement and painting. New interpretive exhibits were installed expanding upon those in the fog signal building. New benches were also placed outside the bunker for visitors.
| | |
| --- | --- |
| Before: Oil Bunker Exterior | After: Oil Bunker Exterior |
| | |
| Before: Oil Bunker Interior | After: Oil Bunker Interior |
| | |
Picket Fence – A 200-foot stretch of dilapidated fence along the south bluff of the lighthouse was rebuilt by volunteers using donated materials.
| | |
| --- | --- |
| Before | After |
| | |