Project Update
July 16, 2021 — As a result of improved revenue projections in late 2020, the Governor's January Budget included $20 million for deferred maintenance projects within the State Park System, which was subsequently increased to $185 million in the 2021 May Revision. This additional funding enabled State Parks to increase its allocation for the Pigeon Point Lighthouse Project to fully-fund both phases of the restoration at a cost of approximately $18 million. The project is scheduled to go out to bid this fall and start construction next year.


California State Parks Secures Funding for the
Restoration of Pigeon Point Lighthouse
Aug. 29, 2019 — California State Parks today announced that it is one-step closer to restoring a shuttered icon of the California Coast – the Pigeon Point Lighthouse that has been closed to the public for almost 20 years. The department is dedicating $9.157 million to the Upper Lighthouse Stabilization and Restoration Project. Work on the lighthouse could begin as early as next spring.
---

Projects on the Horizon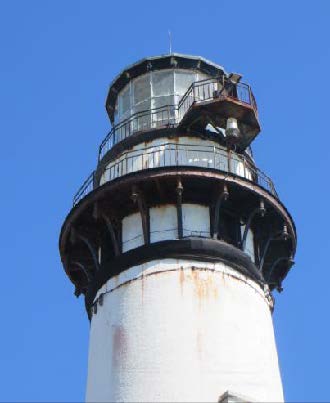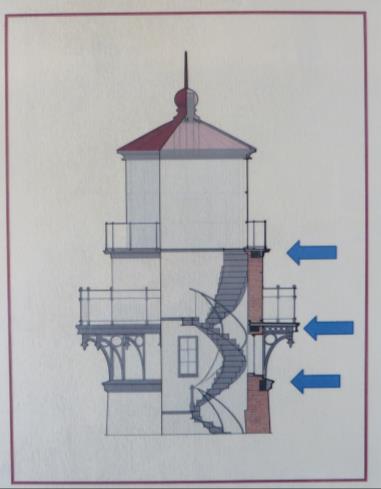 Tower (Upper Portion) – In mid-2020, a request for proposals for restoring the upper portion of the tower will be released using the $9+ million appropriated by the state in 2019. Work will include the lantern room, the decks and railings, the upper belt course and masonry.

(Sketch courtesy of Architectural Resources Group)
Recently Completed Ground-Level Projects
Fog Signal Building – The exterior of the fog signal building was completely refurbished. This included restoration of the fog horn trumpets on the ocean side of the building as well as stabilizing the observation deck.
| | |
| --- | --- |
| Before | After |
| | |

Keepers Office & Oil Room – At the base of the tower, the small Keepers office and adjacent oil room received lead abatement, painting and a new roof. The front door and windows were also refurbished. This allowed limited public tours to take visitors into the first level and tower base.
| | |
| --- | --- |
| Before | After |
| | |
Oil Bunker – The 1905 oil bunker received a complete makeover, including lead abatement and painting. New interpretive exhibits were installed expanding upon those in the fog signal building. New benches were also placed outside the bunker for visitors.
| | |
| --- | --- |
| Before: Oil Bunker Exterior | After: Oil Bunker Exterior |
| | |
| Before: Oil Bunker Interior | After: Oil Bunker Interior |
| | |
Picket Fence – A 200-foot stretch of dilapidated fence along the south bluff of the lighthouse was rebuilt by volunteers using donated materials.
| | |
| --- | --- |
| Before | After |
| | |