Architecture by Safdie Rabines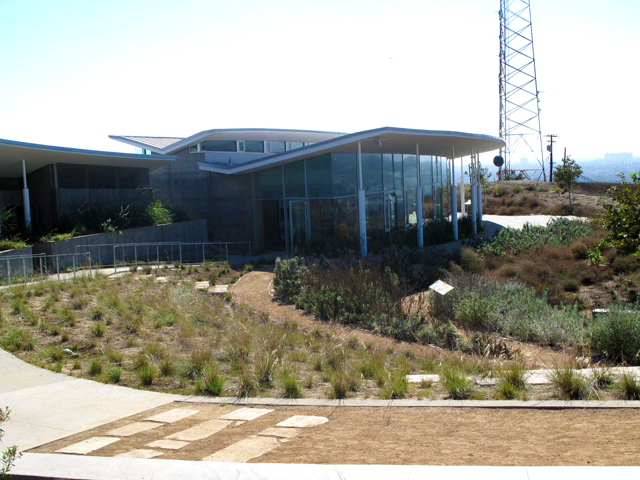 The San Diego based husband and wife team of Ricardo Rabines and Taal Safdie are the creative force behind the striking architecture of the Baldwin Hills Scenic Overlook. Safdie Rabines work includes educational and civic projects throughout Southern California such as UC San Diego's Eleanor Roosevelt College, the student center at UCLA and the Otay Mesa Library.
According to their website, Safdie Rabines is "Dedicated to producing architecture that is socially responsible and they believe in an architecture that responds to its natural and built environments as well as local climate and vegetation." Their sleek and modern design of the three-building complex at BHSO is unique for California State Parks and a fitting complement to the juxtaposition of natural habitat, oil fields and urban surroundings that characterize the park.
Christopher Hawthorne, architectural critic for the Los Angeles Times, said "The ensemble of architecture and reshaped topography comes together at the park in a compelling frank whole. The design strives to update the popular notice of what a state park can achieve architecturally, trading the ranger station tucked away in the shade of a pine tree for a crisp ensemble of buildings squeezed almost entirely dry of romanticism."
The architecture at Baldwin Hills Scenic Overlook is a critical element of California State Parks relevance to urban Los Angeles and indicative of State Park values evolution to encompass non-traditional park demographics and environments.