Update (June 2, 2021): Whether an experienced outdoor enthusiast or a new one, park visitors must continue to recreate responsibly in the outdoors as the pandemic is far from over.
COVID-19 Guidelines
Recreate Responsibly
Protect yourself, family, friends and your community from COVID-19 by following these prevention measures while recreating in California's State Park System:
Know Before You Go – Prior to leaving home, check the status of the park unit you want to visit to find out what restrictions and guidelines are in place. Have a back-up plan in case your destination is crowded. Stay home if you are sick.
Plan Ahead – Some restrooms will be temporarily closed to keep up with cleaning schedules. Bring soap/hand sanitizer.
Play It Safe – Find out what precautions you should take when exploring the outdoors, especially if this is your first time visiting the State Park System. Learn more at parks.ca.gov/SafetyTips.
Keep Your Distance – Avoid crowds. If there are too many people at a park or beach, please visit on a different day.
Wear a Mask – State Parks continues to follow guidance provided by the California Department of Public Health:
Everyone: In indoor settings, such as museums and visitor centers, face coverings are required regardless of vaccination status.
Fully Vaccinated Persons: Face coverings are not required outdoors except when attending crowded outdoor events.
Unvaccinated Persons: Face coverings are required outdoors any time physical distancing cannot be maintained.
Leave No Trace – Leave areas better than how you found them by staying on designated trails and packing out all trash. Do not disturb wildlife or plants.
Although law enforcement entities have the authority to issue citations, the expectation is that the public is responsible for adhering to the advice of public health officials, visitor guidelines and closures.
This park unit is partially open. Please take the time to read the information contained on this webpage to find out what is open and closed, and what COVID-19 guidelines are in place.

What is open now?
Anza Borrego Visitor Center (Saturdays, Sundays and Holidays, 9a.m. - 5p.m. with limited capacity).
Camping (developed and primitive).
Dispersed Backcountry Camping.
Peg Leg and Culp Valley Primitive Camping Areas.
Borrego Palm Canyon Full Hookup Campsites.
Arroyo Salado, Blair Valley, Yaqui Pass, Yaqui Well, Bow Willow, Mt. Palm Springs, and Fish Creek primitive camps.
Backcountry Unpaved Roads.
Hellhole Day-use Area: open for day-use activities only from sunrise to sunset.
Sunrise Trail Head Parking/Day-use Areas.
Borrego Palm Canyon Day-use (Borrego Palm Canyon Trail Map): open for day-use activities only from sunrise to sunset.
Group camps and group picnic areas.
Special events under 50 people.
Day Use Fees ($10 per vehicle) are currently being charged at the following locations:
Borrego Palm Canyon, Horse Camp and Tamarisk Grove Campgrounds
Visitor Center Parking Area
Hellhole Canyon Parking area
Sheep Canyon, Mountain Palm Springs and Bow Willow Primitive Camps

What is currently closed?
Tamarisk Grove Campground.
Vern Whitaker Horse Camp.
Coyote Canyon above seasonal closure gate.
Upper Coyote Canyon.
North Coyote Canyon/Turkey Track access gate is now closed.
Special events over 50 people and tours continue to be canceled until further notice.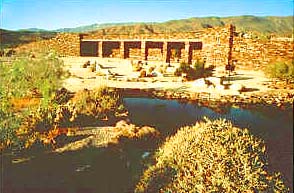 The Visitor Center
The Visitor Center is open at reduced capacity, and has some very informative exhibits, plus the award-winning 15-minute film, A Year in the Desert.
Desert Garden
A desert garden just outside the Visitor Center building provides a quick look at some of the vegetation typical of the 600,000-acre park, with the species identified. The desert garden includes a pupfish pond. Pupfish evolved from conditions during the Ice Age to today's precarious existence of fish in the desert. These pupfish can thrive in fresh water or water nearly as salty as the ocean, and they can survive temperatures from near freezing to as high as 108 degrees Fahrenheit. When the water gets too warm or too cold or nearly dries up, these fish burrow in the mud at the bottom of the pool. There's another pupfish pond near the Palm Canyon Trailhead in Borrego Palm Canyon Campground.
Wildflowers
There are more wonders in this desert than anyone could see in a lifetime, including wildflowers, which usually start blooming in force in late February or early March. Varieties of cactus bloom at all elevations but at different times, and for wildflower buffs they are the real prize. They tend to be "specimen" blossoms in colors ranging from red to yellow, and green. Other plants, such as the red chuparosa and the yellow brittlebush, show themselves as a mass of tiny flowers covering the surface of a shrub, or even a field of shrubs, or, in a good year, a broad expanse of pink sand verbena. It is often impossible to predict how desert plants will respond to the timing and amounts of rainfall and the fluctuations of temperature.
Pacific Crest Trail

The Pacific Crest Trail is the jewel in the crown of America's scenic trails, spanning 2,650 miles from Mexico to Canada through three western states. The trail passes through five California State Parks: Castle Crags and McArthur-Burney Falls in Northern California; and Silverwood Lake, Anza Borrego Desert and Mt San Jacinto in Southern California. The Pacific Crest Trail Association is an excellent source of information for anyone planning a trip on the PCT.