Redwood Parks Conservancy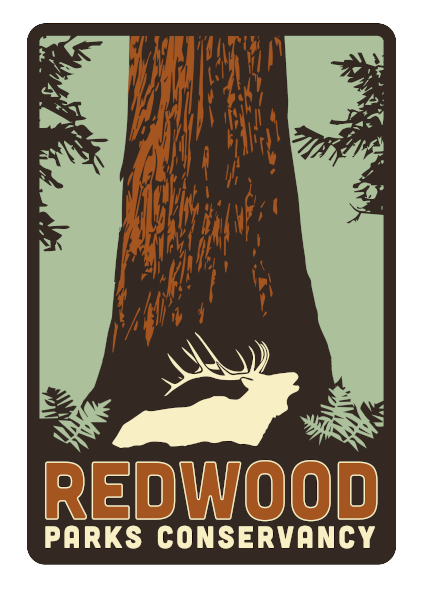 As a 501(c)3 nonprofit organization, the mission of Redwood Parks Conservancy (RPC) is to foster understanding, enjoyment, and stewardship by providing support to our partner agencies – the National Park Service, California State Parks, U.S. Forest Service, and the Bureau of Land Management – who are entrusted with the care of northern California's public lands.
On January 1, 2011, a merger of North Coast Redwoods Interpretive Association, established in 1976, and Redwood Park Association, established in 1985, became effective to create Redwood Parks Association. These two nonprofit associations were formed as cooperative associations with state and federal partners who manage public lands on California's far-north coast, and concentrated on sales in park visitor centers.
In March 2016, the Board of Directors met and changed the organization name to Redwood Parks Conservancy. The name change better explains the expanding possibilities to support our public lands through grants, fund raising activities, events and becoming a partner in recreation and resource restoration. RPC will continue its mission of supporting our partners in ways we have traditionally - by funding interpretive positions, programs, educational material, by providing visitor center services, educational programs, and sales of a wide variety of interpretive and educational gifts.
We are present in 7 visitor centers and support the following partnership lands: Smith River National Recreation Area, Tolowa Dunes State Park, Jedediah Smith Redwoods State Park, Crescent City Information Center, Del Norte Coast Redwoods State Park, Prairie Creek Redwoods State Park, Kuchel Visitor Center south of Orick, Sue-meg State Park, Humboldt Lagoons State Park, Fort Humboldt State Historic Park, and Headwaters Forest Reserve. RPC employees work very closely with our partners and support their missions with equal enthusiasm.
---
Redwood Parks Conservancy
1111 Second Street
Crescent City, CA 95531
Phone: (707) 464-9150