South Carlsbad State Beach
EFFECTIVE (November 14, 2020) - Thank you for your patience and continued support of California State Parks as we work to limit your risk for exposure to COVID-19 in the outdoors.
The COVID-19 pandemic continues to be dynamic and fluid. As such, information on this webpage may change. Prior to visiting us, please check this webpage again right before you visit the park to find out if new guidelines are in place.
As a reminder, Californians are encouraged to avoid road trips and stay close to home, maintain physical distancing, wear a face covering when a physical distance of six feet cannot be maintained from others, and avoid congregating. Everyone has the responsibility to slow down the spread of COVID-19. Visitors should also abide by their local county health orders.
Here are some additional guidelines for locals visiting South Carlsbad State Beach:
What is open now?
South Carlsbad State Beach including day use parking at North Ponto and South Ponto are open for active and passive recreation.
Volleyball courts at South Ponto are open for limited use. Players from the same family or household unit can play, but pick-up and multiple family unit games continue to be prohibited per the San Diego County Public Health Order and industry guidance.
Day-use fees may be paid through the automated pay machines installed at the park.
Campgrounds are open at full capacity but visitors should expect a different camping experience:

Campsites are limited to 8 people, all from the same household unit (strictly enforced)
Courtesy passes will not be issued during this time and visitors are not permitted.
Face coverings are required when unable to maintain 6 feet social distance.
Campsites are sold by reservations only, walk-ins are not permitted.

To make a reservation, visit www.ReserveCalifornia.com or call 800-444-7275. For more information about camping visit www.parks.ca.gov/COVID19Camping. We do not allow early registration prior to 2 p.m.
What is currently closed?
Group activities and athletics are permitted for household use only.
Park amenities such as drinking fountains are closed.
Group campsite is closed until further notice and group gatherings are not permitted.
Are there any new visitor guidelines?
Yes, please see below:
Stay Safer at 6 Feet: No matter the recreational activity, maintain a physical distance of 6 feet or more. No more than three households in a group is permitted, but campsites are limited to 8 people, all from the same household unit. Mixingbetween group gatherings, large gatherings or parties is not allowed. Visitors are being asked to leave if there are too many people to allow for the required physical distance.
Stay Clean: Be prepared. Bring soap/sanitizer and pack out all trash. Restrooms will be temporarily closed in order to keep up with cleaning schedules.
Stay Covered: The state requires you to wear a face covering when you cannot maintain physical distancing of six feet or more. For details, please visit www.covid19.ca.gov.
Statewide, California State Parks continues to work with locals on a phased and regionally-driven approach to increase access to state park units where compliance with state and local public health ordinances can be achieved. However, the situation remains fluid and park operations can change at any time. The need for Californians to slow the spread of COVID-19 in the outdoors remains critical.
For information on statewide current closures and available services, please visit
parks.ca.gov/FlattenTheCurve
.
Phone Number
(760) 438-3143
Max. Trailer Lengths
Trailer: 35 Feet
Camper/Motorhome: 35 Feet
Park Hours
Dawn to sunset. Call the park to confirm.
Dogs Allowed?
Yes
Dogs allowed only in campground. Dogs not allowed on beach.
Driving Directions to South Carlsbad SB
The beach is located 3 miles south of Carlsbad on Carlsbad Bl.
Take Interstate 5, exit Poinsettia Ln.
Go west to Carlsbad Bl, turn north.
Make a legal U-turn at Breakwater Rd (1st light). Proceed south on Carlsbad Bl to campground entrance on right.


Camping and Lodging
Visitors will be able to reserve campsites and lodging six months in advance from the current date. Bookings may extend from the arrival date to the desired departure date – based on availability and the park's maximum stay rules.
Upcoming Park Events
No events scheduled at this moment.
OVERNIGHT FACILITIES
Family Campsites
RV Sites w/Hookups
RV Dump Station
RV Access

TRAIL USE
Bike Trails

DAY-USE ACTIVITIES & FACILITIES
Picnic Areas
Env. Learning/Visitor Center
Exhibits and Programs
Fishing
Scuba Diving/Snorkeling
Beach Area
Swimming
Windsurfing/Surfing
Family Programs
Geocaching

OTHER FACILITIES & VISITOR INFORMATION
Parking
Restrooms / Showers
Restrooms
Outdoor Showers
Drinking Water Available
Wheelchair Accessible

Campground Information

This San Diego beach features camping, swimming, surfing, skin diving, fishing and picnicking. The large bluff-top campground is very popular, especially in summer. Stairs lead to the beach.
Upcoming Programs & Activities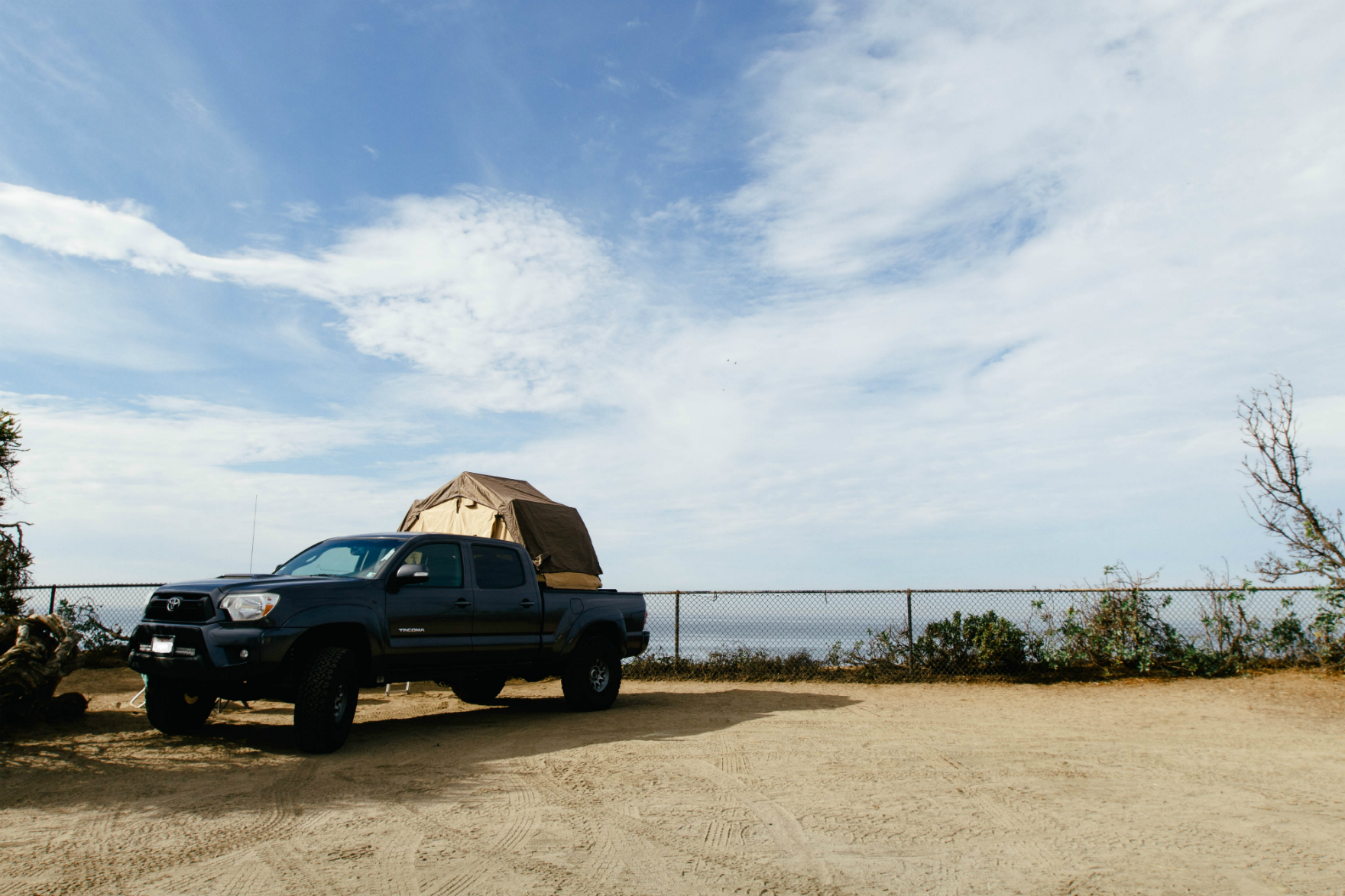 Travel Tips
Campground Address
7201 Carlsbad Blvd.
Carlsbad, CA 92008
Check in time is at 2:00pm. Please plan your travel times accordingly as there is not early check in available.
NOTE: The campground entrance is not accessible directly from Poinsettia Ln. Drivers must continue NORTH on CARLSBAD BLVD and make the first legal U-Turn at Breakwater Rd
Photos of South Carlsbad State Beach!

For additional visitor services at South Carlsbad SB click here.