Driving Directions to Cardiff SB
The beach is located one mile south of Cardiff on Old Highway 101.


Online reservations are not available for this park.
Upcoming Park Events
No events scheduled at this moment.
TRAIL USE
Bike Trails

DAY-USE ACTIVITIES & FACILITIES
Fishing
Scuba Diving/Snorkeling
Beach Area
Swimming
Windsurfing/Surfing
Geocaching

OTHER FACILITIES & VISITOR INFORMATION
Parking
Restrooms / Showers
Restrooms
Outdoor Showers
Drinking Water Available
Wheelchair Accessible

---
Living Shoreline Project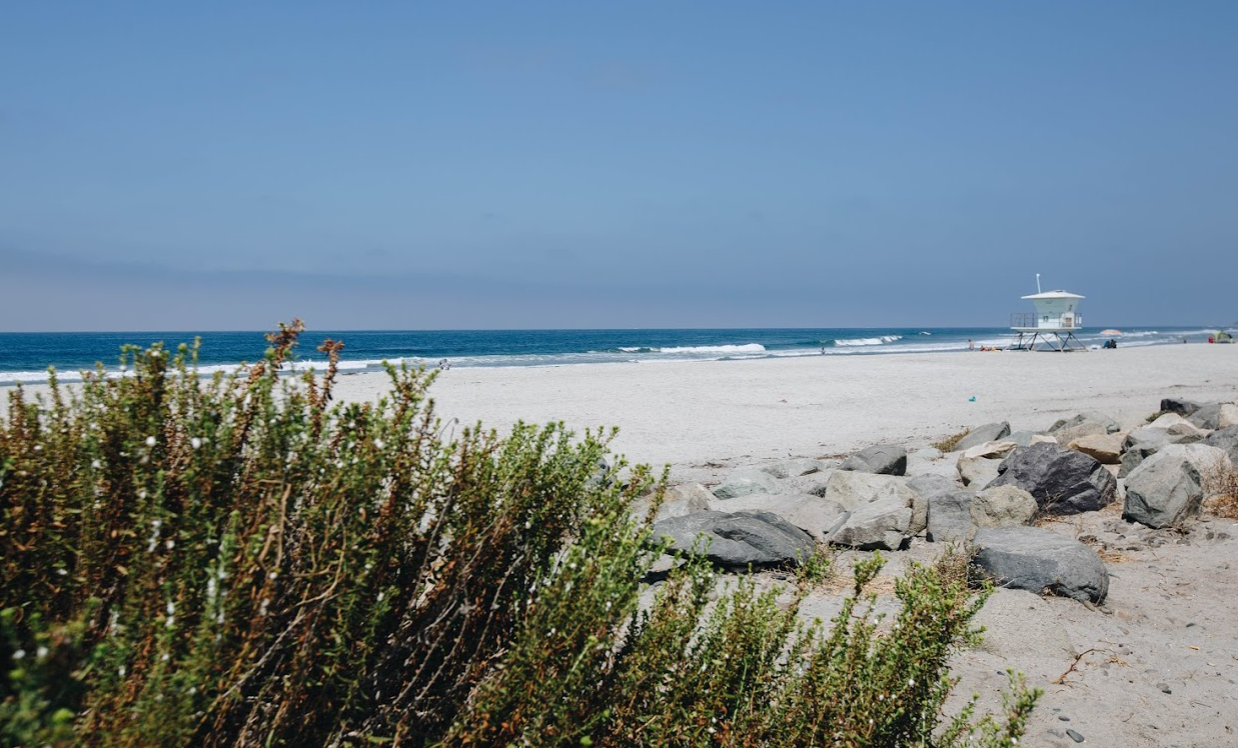 Pardon our dust (and sand)!
The Cardiff State Beach Living Shoreline Project is underway. The purpose of this project is to construct a dune system on the seaward side of Highway 101 on Cardiff State Beach to protect a vulnerable segment of the roadway while providing native dune habitat on this 0.5 mile segment of beach.
The project also includes a new, full-length trail between Highway 101 with designated beach access points through the dunes delineated with post and rope fencing. This project will beautify, protect and improve habitat along this stretch of Cardiff State Beach.
The living shoreline is a partnership between the Department of Parks & Recreation, the City of Encinitas, the California State Coastal Conservancy, the United States Fish and Wildlife Service, and the San Elijo Lagoon Conservancy.
The project should be complete in May 2019.
Information
Located on the San Diego Coast, which has been called the Riviera of the West, Cardiff State Beach has a gently sloping sandy beach with warm water. The site offers swimming, surfing and beachcombing.
Dogs on Beach
Dogs are permitted on Cardiff State Beach. All dogs must be on leash at all times.
Beach Wheelchairs
Beach Wheelchairs are now available for patron use. Check out the wheelchair with a photo identification at the San Elijo State Beach Campground entrance. There is no fee charged for the use of the wheelchair. It is available on a first come, first served basis.
Mobi Mat
During the summer season, a Mobi Mat is placed at Lifeguard Tower 15 to provide a firm access surface to the mean high tide line. This mat will permit an easier pathway to access the beach.
Lost and Found
Lost and found is located at San Elijo State Beach Campground.
Special Events
If you are interested in having a special event at Cardiff SB, please click here.

Surfline Surf Report



" />
To view additional visitors services at Cardiff SB click here.
Location - Directions
The beach is located one mile south of Cardiff on Old Highway 101.
Latitude/Longitude: 33.0100 / -117.2783
To view Cardiff SB posted orders please click here.