Chumash Painted Cave State Historic Park
This park unit is fully open.
State Parks will continue to use a monitor and adapt strategy to meet any new guidance it may receive from local and state public health officials as COVID-19 is still present and still deadly, especially for the elderly, immune-compromised and the unvaccinated.
COVID-19 Guidelines (June 21, 2021)
Recreate Responsibly
Protect yourself, family, friends and your community by following these prevention measures:
Know Before You Go – Prior to leaving home, check the status of the park unit you want to visit to find out what restrictions and guidelines are in place. Have a back-up plan in case your destination is crowded. Stay home if you are sick
Plan Ahead – Some restrooms will be temporarily closed to keep up with cleaning schedules. Bring soap/hand sanitizer.
Play It Safe – Find out what precautions you should take when exploring the outdoors, especially if this is your first time visiting the State Park System. Learn more at parks.ca.gov/SafetyTips.
Be COVID-19 Safe– State Parks continues to follow guidance provided by the California Department of Public Health:

Fully Vaccinated Persons

: Face coverings are not required in public outdoor settings.For indoor public settings, such as museums and visitor centers, all vaccinated individuals are to self-attest that they are in compliance prior to entry.

Unvaccinated Persons

: Face coverings are required in indoor public settings such as museums and visitor centers.

Leave No Trace – Leave areas better than how you found them by staying on designated trails and packing out all trash. Do not disturb wildlife or plants.
Phone Number
(805) 733-3713
Park Hours
dawn 'til dusk
Driving Directions to Chumash Painted Cave SHP
The site is three miles south of the San Marcos Pass: Take Highway 154 out of Santa Barbara and turn right on Painted Caves Road. The cave is located on the left, about two miles up a steep, narrow road. The pullout at the site will only accommodate one or two vehicles. Trailers and RVs should not attempt the road.


Online reservations are not available for this park.
No online brochures available for this park.
Upcoming Park Events
No events scheduled at this moment.
TRAIL USE
Hiking Trails

DAY-USE ACTIVITIES & FACILITIES
Historical/Cultural Site
Interpretive Exhibits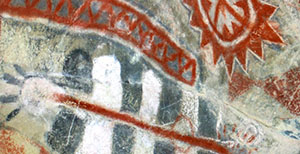 California State Parks has teamed with CyArk and Santa Ynez Valley High School to produce a detailed 3D laser scan of Chumash Painted Cave and its surroundings. This scan will not only preserve a record of the significant pictographs for use in future condition assessments, but it also provides park visitors with a closer view of the art not currently possible due to the protective grate across the cave opening. State Parks has also worked with Barbareño Chumash elder, Ernestine de Soto and the Santa Barbara Museum of Natural History to provide accurate interpretive information about the rock art, and its importance to modern Chumash descendants.

To learn more, visit CyArk Chumash Painted Cave Project and be sure to click on the mapped locations for 3D laser scan viewing!
---
The walls of this small cave carved from towering sandstone boulders contain some of the finest remaining rock art created by Chumash Native Americans. A steep path leads to the cave entrance, which is protected by heavy iron grillwork. Anthropologists estimate that the paintings date to the 1600's and earlier. The meaning of these enigmatic images has been lost.