Chumash Painted Cave State Historic Park
Update January 29. 2021:
With the Regional Stay at Home Order lifted, State Parks is reopening campground sites for existing reservation holders. The department will be using a phased approach to reopen other campground sites for new reservations, starting January 28. The public is advised that not all campground sites are open to the public due to the pandemic, wildfire impacts and other issues. Additionally, group campsites remain closed. Day use outdoor areas of park units currently open to the public remain open.
As State Parks increases access to the State Park System, it is critical that Californians continue to recreate responsibly in the outdoors as the pandemic is far from over.
Please take the time to read the information contained on this webpage to find out what is open and closed, and the COVID-19 guidelines for Chumash Painted Cave State Historic Park.
What is open now?
Day-use trail access – there are no facilities or parking at this park.
What is currently closed at this park and throughout the State Park System?

Statewide:
Some park units and campground sites continue to be temporarily closed due to the pandemic, impacts from wildfires or other issues. Please visit the webpage of your local outdoor destination to find out if it is open.
High public-use indoor facilities, including museums and visitor centers.
Special events and tours continue to be canceled until further notice.
Are there any new visitor guidelines?

State Parks has implemented the following guidelines to reduce the risk of exposure to COVID-19 in the outdoors:
Stay Local: Stay close to home during this pandemic period. If you or anyone in your household is feeling sick, please remain at home and plan your trip for another time.
Plan Ahead:

The ongoing pandemic response continues to be dynamic and fluid. Prior to leaving home, check the webpage of your outdoor destination you plan to visit to find out if it is open, if parking is available, and what visitor guidelines are in effect.
Learn what safety precautions you should take when exploring the outdoors at parks.ca.gov/SafetyTips.
SNO-PARKS: Make sure your vehicle is snow ready. A permit is required for each vehicle parked at a SNO-PARK site. Parking is on a first come, first-serve basis at all SNO-PARK sites. The public is advised that parking lots are filling up early in the day. Illegal parking is prohibited. More information can be found at ohv.parks.ca.gov/SNOPARKS.

Stay Safer at Six Feet: No matter the recreational activity, maintain a physical distance of six feet or more. Your guests should only include those within your immediate household. This means no guests or friends, and no gatherings or parties. If there are too many people to maintain the required physical distance, please visit us on a different day.

Boating: Do not raft up to other boaters or pull up onto a beach next to other recreators.
Off-highway Vehicle Recreation: Do not ride next to others or pull up next to someone else as it could put you in close proximity to others. Stage 10 feet or more from each other during unloading and loading.

Keep Clean: Be prepared as not all services may be available. Some restrooms will be temporarily closed to keep up with cleaning schedules. Bring soap/hand sanitizer. Please pack out all trash. Park units are experiencing heavy use and you can help alleviate the impact on park facilities.
Stay Covered: The state requires you to wear a face covering when you cannot maintain a physical distance of six feet or more. Individuals must have a face covering with them at all times.
Although law enforcement entities have the authority to issue citations, the expectation is that the public is responsible for adhering to the advice of public health officials, visitor guidelines and closures.
California State Parks continues to work with local and state officials on a phased and regionally driven approach to increase access to state park units where compliance with state and local public health ordinances can be achieved. However, the situation remains fluid and park operations can change at any time. For information on statewide current closures and available services, please visit
parks.ca.gov/FlattenTheCurve
.
Phone Number
(805) 733-3713
Park Hours
dawn 'til dusk
Driving Directions to Chumash Painted Cave SHP
The site is three miles south of the San Marcos Pass: Take Highway 154 out of Santa Barbara and turn right on Painted Caves Road. The cave is located on the left, about two miles up a steep, narrow road. The pullout at the site will only accommodate one or two vehicles. Trailers and RVs should not attempt the road.


Online reservations are not available for this park.
No online brochures available for this park.
Upcoming Park Events
No events scheduled at this moment.
TRAIL USE
Hiking Trails

DAY-USE ACTIVITIES & FACILITIES
Historical/Cultural Site
Interpretive Exhibits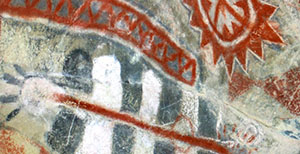 California State Parks has teamed with CyArk and Santa Ynez Valley High School to produce a detailed 3D laser scan of Chumash Painted Cave and its surroundings. This scan will not only preserve a record of the significant pictographs for use in future condition assessments, but it also provides park visitors with a closer view of the art not currently possible due to the protective grate across the cave opening. State Parks has also worked with Barbareño Chumash elder, Ernestine de Soto and the Santa Barbara Museum of Natural History to provide accurate interpretive information about the rock art, and its importance to modern Chumash descendants.

To learn more, visit CyArk Chumash Painted Cave Project and be sure to click on the mapped locations for 3D laser scan viewing!
---
The walls of this small cave carved from towering sandstone boulders contain some of the finest remaining rock art created by Chumash Native Americans. A steep path leads to the cave entrance, which is protected by heavy iron grillwork. Anthropologists estimate that the paintings date to the 1600's and earlier. The meaning of these enigmatic images has been lost.

Social Feed